Bitcoin has faced a strong correction over the past few days after peaking at $11,200 last week.
At the recent lows, BTC traded for $10,200, meaning it had dropped over $1,000 from those highs.
The coin now trades at $10,500 as of this article's writing, technically in no man's land.
A trader thinks that the prevailing trend is still bullish because the cryptocurrency held a pivotal support level during the drop.
Other signs also show that BTC is primed to continue its ascent as opposed to moving lower.
There is the wild card of legacy markets throwing a wrench into Bitcoin's trend, though.
The Silver Lining of the Recent Bitcoin Drop
Bitcoin has faced a strong drop over the past few weeks as legacy markets have also slowed their ascent. The coin is now down $1,000 from its local highs (set last week) and $2,000 below the year-to-date highs set in late August.
Despite the drop, an analyst thinks that Bitcoin remains in a structurally positive position from a medium-term timeframe. He shared the chart below on September 23rd, which shows that BTC has held the weekly support and 0.618 Fib level during the recent drop:
"$BTC #Bitcoin: Another bullish argument we can make here is the fact that we have held the weekly support at $10150 fairly well and is also confluent with the 0.618 Fib level where we bounced off strongly. Things don't look too bad for now."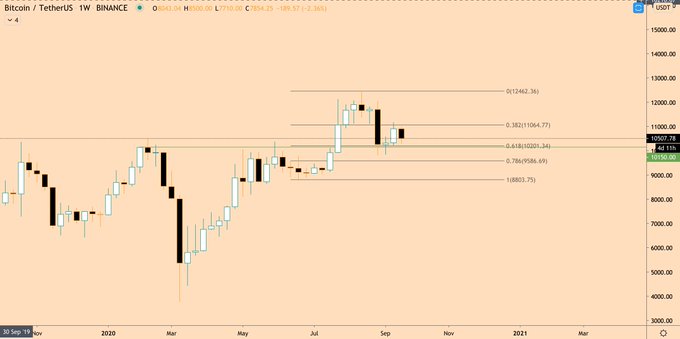 Chart of BTC's price action over the past few months with a Fib level analysis by crypto trader Steve (@TheTradingTramp on Twitter).
Chart from TradingView.com
If this trader is to be believed, Bitcoin's medium-term future is dependent on how it interacts with the low-$10,000s moving forward.
Stock Market Wild Card Could Throw Crypto Out of Wack
While the trader noted that Bitcoin's technicals in and of themselves are not "too bad," he added that a drop in legacy markets could send cryptocurrencies reeling:
"Obviously, if the whole world decides to take a dump again, we gonna dump too."
Another commentator suggested that there are a number of reasons why legacy markets could continue trending lower after their strong rallies over the past few months. These include but are not limited to:
A risk-off environment forming as the election nears due to uncertainity about who the victor may be and what policies they may impose.
COVID is still not better, sparking fears of a further collapse in businesses as stimulus slows down.
Willy Woo, a prominent Bitcoin analyst, though, thinks that BTC's correlation will soon begin to break with legacy markets. He did not give an exact timeline on this but noted that it could happen within the next few months.
Photo by Alex Azabache on Unsplash
Price tags: xbtusd, btcusd, btcusdt
Charts from TradingView.com
The Crucial Silver Lining to Bitcoin's Recent $1,000 Drawdown