Bitcoin's price has been on a clear uptrend since the lows of March at $3,500.
Data shows that despite the growing cost, the number of BTC whales (entities holding more than 1,000 coins) has increased.
This suggests that there is an increase in high net-worth individuals dabbling in the space.
This is a positive sign as it indicates a consistent flow of capital into Bitcoin and the broader crypto-asset market.
Other on-chain trends also indicate that there likely is a bull run brewing underneath the surface.
Coin Metrics, a top blockchain analytics and data firm, made this much clear just recently when it shared a number of these trends.
These trends include a decrease in the supply of BTC on exchanges and an increasing number of BTC transfers taking place on chain.
The Number of Bitcoin Whales Is Increasing Over Time, Data Shows
Bitcoin's price has been in a strong uptrend since the March lows of $3,500. Despite the increasingly prohibitive cost of entry, the number of BTC whales is growing. The metric is not at an all-time high value yet but the growth of this suggests an increasing amount of capital entering the space.
Glassnode, a blockchain analytics firm, reported just recently that the number of Bitcoin whales (entities holding in excess of 1,000 coins) recently pushed above 1,800. This is the highest that the metric has been at since the middle of the 2017 rally:
"The number of #Bitcoin whales (entities holding ≥ 1K BTC) has been on an upwards trend for the past months. An indication that more high-net-worth individuals are entering the space to invest in Bitcoin in expectation of $BTC price appreciation."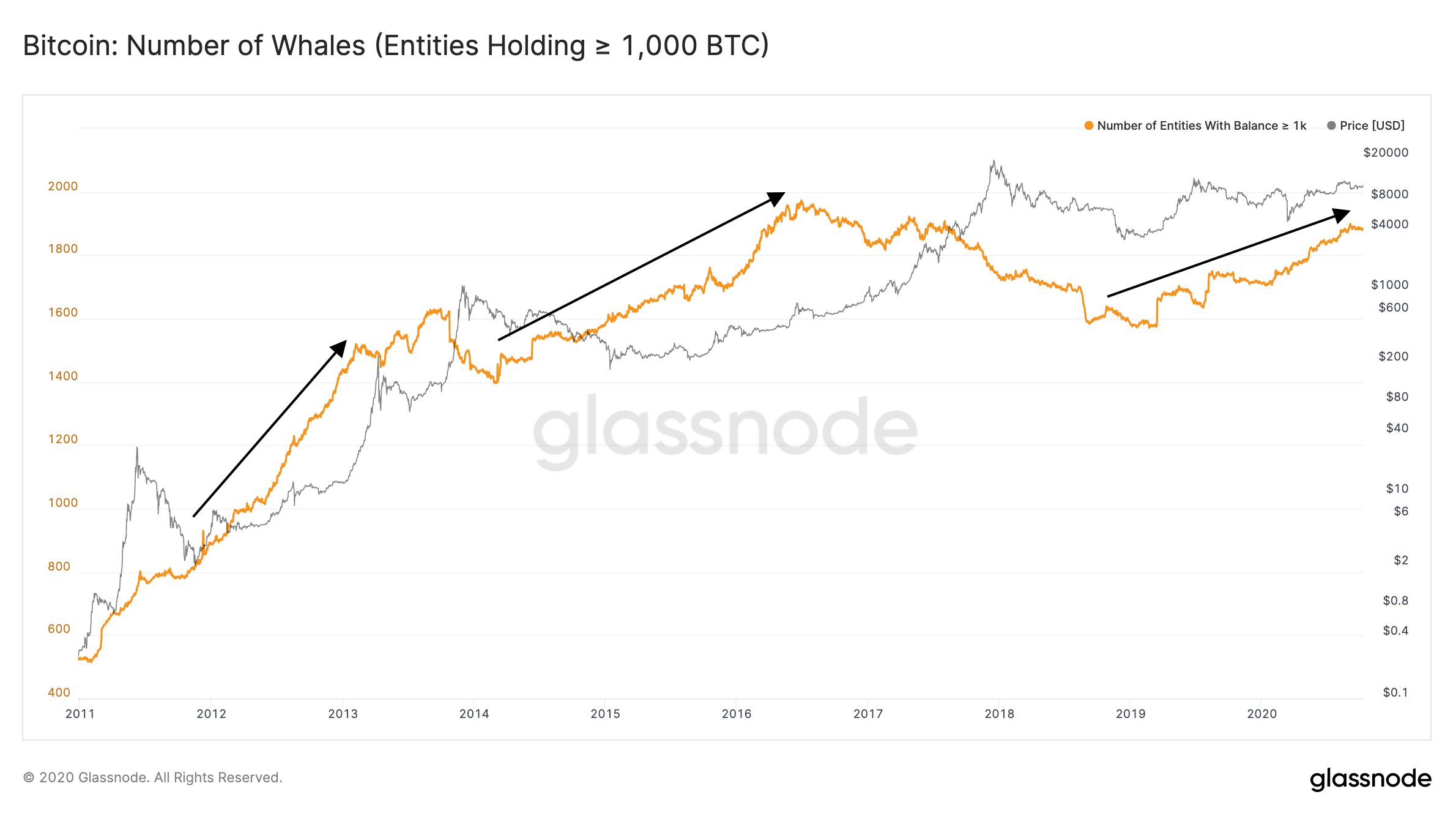 Chart of BTC's macro price action with number of whales overlay from Glassnode
Coin Metrics, a top blockchain analytics firm, recently shared a number of indicators that show why Bitcoin's price has been rather "remarkable" over the past few weeks despite a flurry of negative news events. Some of those indicators are as follows:
Bitcoin's Realized Cap "has been steadily increasing just as it did before the 2017 bull market took off. If it continues as it did in 2017, 2021 should be an interesting year."
Bitcoin's market value to realized value ratio is holding the same trajectory it did last bull market.
There has been a decreasing number of BTC held on exchanges.
1/9 Bitcoin has performed remarkably these past few weeks despite:
-Most of DeFi falling 50-80%
-CFTC charging BitMEX
-POTUS contracting Covid
-Delayed stimulus talks
-FCA announcing a derivative ban for retail

Why? Let's see what we can find on-chain

— CoinMetrics.io (@coinmetrics) October 9, 2020
Photo by Taylor Brandon on Unsplash
Price tags: xbtusd, btcusd, btcusdt
Charts from TradingView.com
The Number of Bitcoin Whales Is Soaring—and That's Good For BTC