In the past couple of years, the rise of cryptocurrencies has gained widespread attention from investors and traders who love trading options. Crypto options are appealing because they offer trading traders opportunities to trade big blocks of cryptocurrencies without having to deal with big financial commitments, with top exchanges such as Delta Exchange offering traders a plethora of options to choose from.
What are Crypto Options?
Crypto options are a type of financial derivative contract that gives its holder the right but not the obligation to buy or sell the underlying cryptocurrency at a particular price at a particular time.
There exist two styles of crypto options – American and European. In Americal options, a buyer can exercise the contract at a given time before the expiry date, whereas in European options, a buyer can only exercise the contract at the time of expiry.
Additionally, there are two types of crypto options – 'call' and 'put'. Call options provide its holder the right to purchase the crypto at the strike place on expiry. On the other hand, put options allow the holder to sell crypto at that specific strike pierce at the time of expiry.
Crypto Trading Volume and Market Interest
One of the best methods of predicting future movements of crypto options is via analyzing the open interest and trading volume of the crypto options. These two indicators are widely considered to be the lifeline of options contracts.
Open interest is a dynamic variable that shows the active interest of the trading community at the time. It refers to the number of active contracts in the market right now (i.e those that haven't expired). Therefore, a high open interest indicates that the options traders are very much interested in trading and holding the contract.
Similarly, the trading volume is an indicator that reflects the number of options contracts that have been traded during a particular period. It is a powerful and useful indicator that shows the strength of the price movement in a specific direction.
Data showing the rise of Bitcoin options contracts, Source: Bybt
On 21st February 2021, Bitcoin options interest reached a near all-time high of $13 billion, and again in October 2021, investor interest in the Bitcoin options market increased drastically, taking it to a record high of $14 billion. This was just a whisker away from its peak of $14.68 billion on March 24, 2021.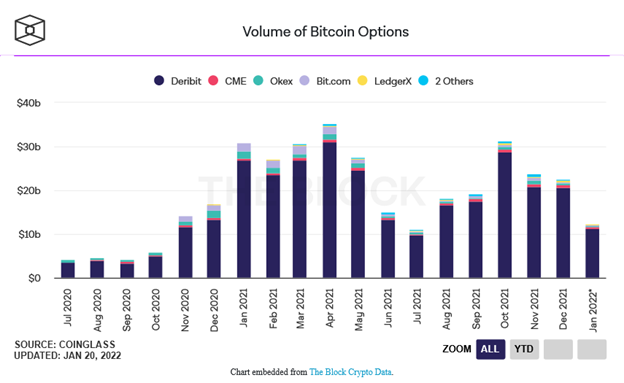 Source: The Block Crypto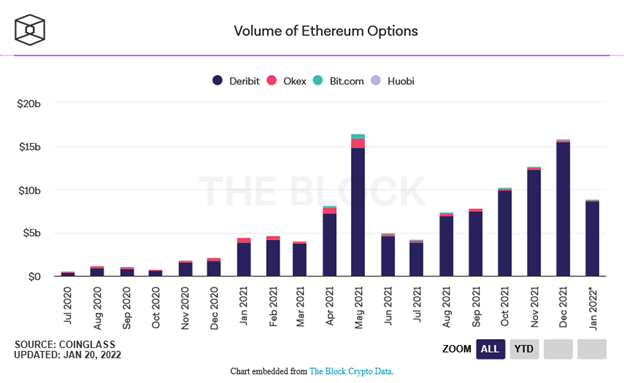 Source: The Block Crypto
According to The Block Research, the overall trading volume of Bitcoin and Ether options rose by 443% in 2021. The combined trading volume for both bitcoin and ether options was more than $387 billion in 2021, and the year before that, it was over $71 billion.
With this explosion of popularity in crypto options trading, where is all this trading occurring? Where would traders like to be, and where can you start?
Delta Exchange: A Leader in the Crypto Options Space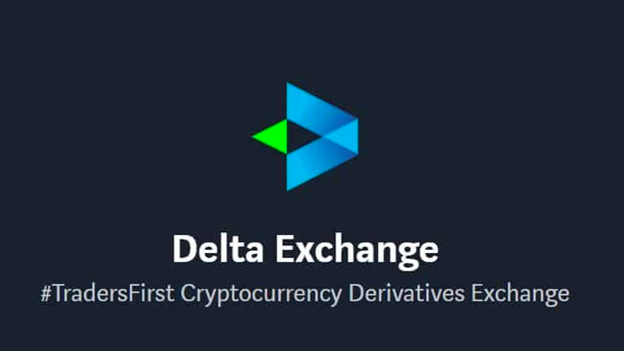 Delta Exchange is a leading crypto derivatives trading platform that offers many unique features and products, among which are Options, which includes options chains on Bitcoin and Ether along with daily options on XRP, LTC, ADA, and more. Its success is obvious in the sheer size of its community, the trading volume it witnesses on a regular basis, and several industry-first offerings in the market.
Delta offers two categories of options contracts on their platform, which are:
Vanilla Options: Delta offers call and put options on BTC, BNB, ETH, and more, all of which are European options available for several strikes and expiry dates.
MOVE Options: These types of options are a direct way to speculate the volatility of the underlying crypto assets.
There are many innovative features that stand Delta Exchange apart from its competitors, such as:
Cryptocurrency Settlement: All contracts on Delta are settled in crypto, which means that all the trade profits, losses, and trade settlements are calculated and settled in cryptocurrency terms.

Currently, Delta Exchange has two types of crypto contracts – Bitcoin settled contracts that are margined and settled in bitcoin & stablecoin settled future contracts that are margined and settled in USDT stablecoin.

Manage or speculate risk: Delta's futures contracts can be used to trade both rising and falling markets, meaning both long and short, either profitably or in order to hedge price risk.
Leverage: All of the derivative contracts that are traded on Delta have built-in leverage with a maximum allowed leverage of 200x that varies from contract to contract. This means that, say, for 1 BTC, you can take up to a position of 200 BTC.
Once you create an account on Delta Exchange, you need to fill your trading wallet with either BTC, ETH, or USDT in order to start trading options, futures, or interest rate swaps with BTC and 50+ altcoins.
Sign up now in just 30 seconds for a superior trading experience!