The reach for cryptocurrencies is ever-widening as PayPal has declared that it'll launch its services to buy, sell and hold cryptocurrencies in Luxembourg pretty soon. We see this broadening spectrum of digital currencies and their utilization in different sectors. The demand has undoubtedly surged with the expansion, and the idea sells like nothing else because it's the buyer it respects and grants authority to, unlike conventional means. Hence, more and more people buy this concept, and the industry will potentially grow in the future, given its utility. Despite that, there's plenty to select from, and it's pretty challenging to sift through the logs of projects without any idea about them. You can't just dive in on luck. The more data-driven you are, the more probable it is for you to double up your game. Let's start with the first on our list – Big Eyes Coin (BIG).
Big Eyes Coin (BIG) Is Giving Away 250k To One Random Fellow
Big Eyes Coin (BIG) is a meme coin with plenty to offer to its community. Unlike conventional meme currencies, it doesn't solely rely on the trade element of it. Unless a coin adds any value to lives, it hardly separates it from the noise. To set itself at the top, it caters to the meme community and the audience that favors the application-oriented side more. Now, one has the choice to have it all with Big Eyes Coin (BIG) because it's not just a meme coin but a complete package that supposedly will take care of all you expect from any cryptocurrency.
For instance, Big Eyes Coin (BIG) has pledged 5% of its share to donate, and this donation will likely impact marine life. This way, every stakeholder will get a chance to join the ocean-cleaning campaign with every coin bought. You'll be a passive participant in the project serving future generations. It gives this sense of contentment and fulfillment that nothing else can bring but this — with Big Eyes Coin (BIG), you get to influence the world and leave your mark.
Ethereum (ETH): The Second-Largest Cryptocurrency By Market Share
Ethereum (ETH) is unconventional as it was the very first that introduced the operational value of smart contracts and practically displayed how viable they would be if industries were to introduce automated models. Based on market share, it stands right next to the top spot-holder, Bitcoin (BTC).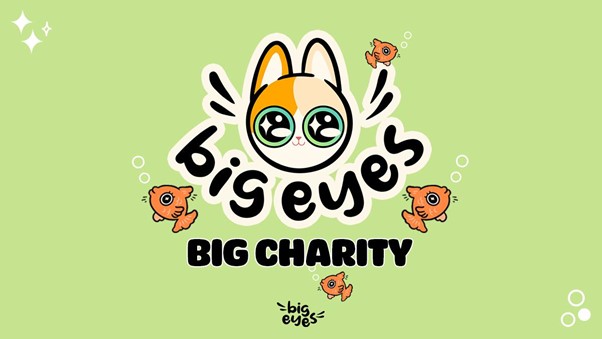 XRP (XRP): A Quick Channel
XRP (XRP) is an efficient model when it comes to carrying data at a relatively quicker pace; it doesn't take much time to verify the transactions with Ripple (XRP) network. Hence, it definitely is a viable option in the business space.

Big Eyes Coin (BIG)
Presale: https://buy.bigeyes.space/
Website: https://bigeyes.space/
Telegram: https://t.me/BIGEYESOFFICIAL
Disclaimer: This is a paid release. The statements, views and opinions expressed in this column are solely those of the content provider and do not necessarily represent those of Bitcoinist. Bitcoinist does not guarantee the accuracy or timeliness of information available in such content. Do your research and invest at your own risk.