Another action-packed week in the crypto market is coming to a close. While large-cap coins like bitcoin and ethereum have given a lukewarm performance with no major highs and lows, these five cryptos are glowing hot.
1. Tamadoge (TAMA)
To say Tamadoge had an eventful week would be an understatement. TAMA token was listed on MEXC Global and LBank exchanges on Wednesday, and the first collection of Ultra-rare Tamadoge Pet NFTs dropped on OpenSea on Thursday. These triggered a massive surge in demand for TAMA tokens, sending them up close to 20X from their presale price.
Tamadoge 1-week price chart, 7 Oct 2022, Source: CoinMarketCap
Crypto analysts predict that the token will reclaim its all-time high of $0.1957 in the next weeks, with more exchange listings and NFT launches lined up. There are also rumors around TAMA's Binance listing, which could take the price further up to $0.3.
Attention #TamadogeArmy!?#Tamadoge Ultra Rare NFTs Are Up For Sale Now!?

Start Price: 1 WETH
Listing Type: Fixed Time Auction
Auction Length: 7 days

Buy Now On @opensea And Get A 90% Better Chance Of Being In The Top 3 On Our Global Leaderboards?⬇️https://t.co/hUtUDoLqzh pic.twitter.com/AiSfNTD9HX

— TAMADOGE (@Tamadogecoin) October 6, 2022
Tamadoge began its exchange listing with the OKX exchange on 27th Sep 2022, after completing a meteoric presale that hit an ambitious hard cap of $19M in a matter of weeks. The meme coin project has also built a vast following on Twitter and Telegram in a short time.
Much of its popularity during the presale stage can be attributed to the project's vibrant play-to-earn ecosystem that features NFT, metaverse, and augmented reality integrations. However, the project has been successful in maintaining strong demand even after its public launch, thanks to a utility-packed roadmap.
The series of top-tier exchange listings and the prompt launch of the Tamadoge Pet NFT collection have further helped the project maintain consistent engagement in the community. Tamadoge is considered one of the best cryptocurrencies with lower risk-returns in 2022.
Attention #TamadogeArmy!

A Reminder That $TAMA Will Also Be Listed On @c0insbit

Date 07th Of October
Time 1 pm BST

Official Coinsbit Statement Herehttps://t.co/Av4lXuXtAo pic.twitter.com/K8igaocGKr

— TAMADOGE (@Tamadogecoin) October 6, 2022
2. IMPT (IMPT)
Web3 carbon offsetting project IMPT opened its presale on 3 Oct 2022. The presale is progressing at a rapid pace, having raised $1,530,046 already.
IT'S OFFICIAL #IMPT CREW

$1 Million USD Raised In The FIRST 3 DAYS

WE ARE SELLING OUT FAST!!

Tag Your Friends And Get Involved Before Stage 1 Sells Out!
https://t.co/OqP59jXBbe#environment #sustainability #blockchain #presale #climatechange pic.twitter.com/IyBxhf2YCk

— IMPT.io (@IMPT_token) October 6, 2022
This confirms the speculations that the first stage of the presale would not wait until 25 Nov to sell out. This is the best time to buy IMPT tokens, as the price of the green crypto would increase from $0.018 to $0.023 during the second stage. The third stage will see the price further increase to $0.028.
According to industry experts, IMPT is one of the best green cryptos of 2022. The project introduces a large Web ecosystem that simplifies carbon offsetting for brands, businesses, and individuals. At the heart of it, IMPT connects high-impact environmental projects with businesses and individuals who want to compensate for their carbon footprint.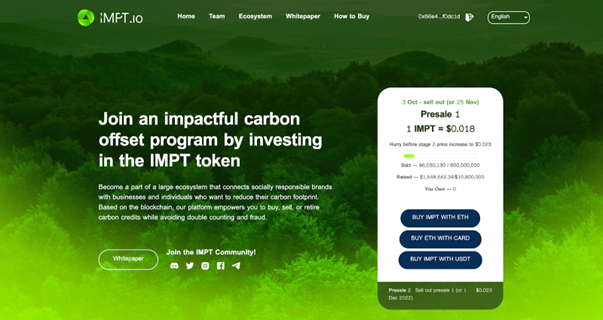 IMPT presale-1 is progressing at a rapid pace, source: IMPT.io
In a first-of-its-kind approach, IMPT allows anyone to earn carbon credits via shopping. Interestingly, it converts carbon credits into NFTs, thus mitigating double counting and scams that run rampant in the carbon market. IMPT's pioneering vision has already secured high-profile partnerships and non-crypto traction for the project.
3. Elrond (EGLD)
Elrond is the next project that you should consider adding to your watch list this week. The project has gained 13.91% value in the last 7 days. The token price is $55.66 at the time of writing, with a 24-h trading volume of $62,743,968.
Elrond 1-week price chart, 7 Oct 2022, Source: CoinMarketCap
Elrond is a creative blockchain protocol that features impressive transaction speeds and low transaction costs by making use of sharding. The growing adoption of Elrond has largely built the buying demand.
4. Maker (MKR)
MakerDAO's decision to invest $500M in US government bonds has resonated with the audience, as revealed by MKR's 11.53% leap in the last seven days. The token's price stands tall at $853.65 at the time of writing.
Maker 1-week price chart, 7 Oct 2022, Source: CoinMarketCap
One of the oldest DeFi projects, MakerDAO, is setting aside $500 million in US Treasuries and corporate bonds as the digital-asset space faces an overall bear market https://t.co/Fz75xBhINZ

— Bloomberg (@business) October 6, 2022
5. Polygon (MATIC)
Ethereum scaling platform, Polygon, announced a partnership with the Ocean Conservation Exploration and Education Foundation (OCEEF) as part of building awareness around ocean literacy through Web3.
A new wave in ocean conservation @oceef_, a world class ocean conservation NGO, is working with #Polygon towards a next-gen ocean conservation initiative.

The aim is to offer interactive experiences via a governance platform where participants can assist in key decisions. pic.twitter.com/N40r3iu54f

— Polygon – MATIC (@0xPolygon) October 6, 2022
The news, combined with Polygon's recent partnerships and integrations, has helped MATIC climb up 10.30% over the week.
Polygon 1-week price chart, 7 Oct 2022, Source: CoinMarketCap
Image by David Schwarzenberg from Pixabay