After rallying just over 150% from March's capitulation lows, the Bitcoin bull trend has tapered off over recent weeks.  Instead of a clear uptrend, the cryptocurrency has found itself caught in a tight range with deviations from said range failing.
With BTC still trapped under the $10,000-10,500 resistance, the consolidation has injected uncertainty into the crypto markets.
One trader noted that the consolidation that Bitcoin has seen over the past two weeks looks extremely similar to the formations seen prior to crashes in November 2019 and February 2020.
A growing perfect storm of technical signals shows that BTC is poised to rip higher in the coming weeks.
Bitcoin Prints Confluence of Technical Signals
Bitcoin's price action may have been tepid over the past few weeks, but a crypto trader sees four technical reasons why the asset could trend higher in the coming months:
Bitcoin has flipped the top of the range, $9,700, into support.
Every price dip gets strongly bought.
Bitcoin's "AO" reading failed to return to a reading of "0," suggesting the bull trend has persisted.
A number of exponential moving averages have seen "golden crosses."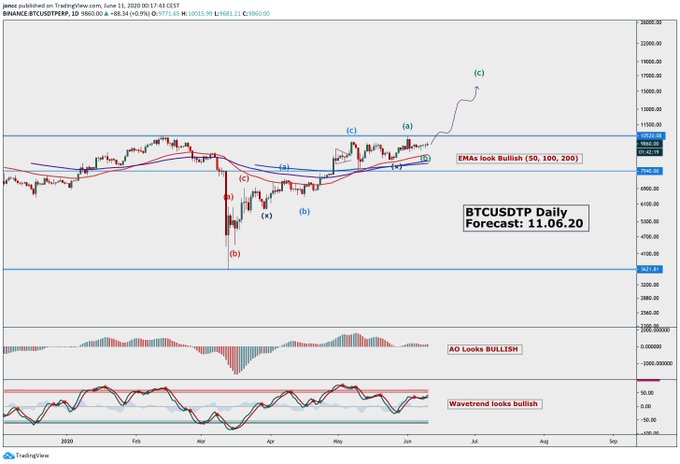 According to the analyst, this confluence of signs suggests that Bitcoin will rally to $15,000 by early to mid July.
"Alright I give up. I keep trying to find reasons to be bearish but Im running out of ideas," the analyst commented on the bulish sentiments that can be drawn from the chart.
The Start of an Even Greater Rally 
Bitcoin breaking past $15,000 could mark the start of a greater rally, according to Arthur Hayes of BitMEX. The notable industry executive commented when BTC broke past $10,000 last week:
"The basis is starting to get juicy. It sure beats earning 0% at the bank, thanks Jay. But this rally ain't real until we take out $15k."
The basis is starting to get juicy. It sure beats earning 0% at the bank, thanks Jay. But this rally ain't real until we take out $15k. pic.twitter.com/8nLXodzipp

— Arthur Hayes (@CryptoHayes) June 2, 2020
Hayes did not identify why $15,000 was so important, but $14,000 was the point at which BTC topped in 2019.
In turning "real," the BitMEX chief executive thinks Bitcoin will hit $20,000 by the end of 2020. He previously cited the influx of "funny money" by central banks and governments as reason for the leading cryptocurrency to trend higher in the year ahead.
He cemented this sentiment in a recent interview with Raoul Pal of Real Vision, referencing how the stimulus could act as a catalyst for Bitcoin to head higher. Hayes specifically identified the $1,200 cheques in the U.S., explaining that after they bought what they needed in terms of food, assets like equities and crypto could have been the next thing to buy.
Featured Image from Shutterstock
Price tags: xbtusd, btcusd, btcusdt
These Four Technical Signs Show Bitcoin Rallying to $15,000 Is Imminent