It's hard to predict which altcoins are going to take off in the market, but sometimes you get glimpses of potential in certain projects. You see the activity on social media or the analytics on DEXTools, and you get a sense that you are on to a token that has a lot of potential to explode.
Two tokens that look like they have all the signs are COPIUM and YPRED, which are the native tokens of Copium and yPredict respectively. These two have been making the rounds in the crypto world. We explain why here, along with why they stand a chance to become the top gainers of 2023.
COPIUM Sparks Hope In Investors
The objective of Copium is to create a light-hearted and self-ironic community that provides support to traders who are seeking comfort following the recent frenzy surrounding meme coins. Whether individuals missed out on significant increases in token value or ended up with devalued assets, Copium offers a community of like-minded meme coin traders. The project highlights the potential for humor to contribute to financial success, even for those who bought at the highest point.
This idea is expected to resonate with cryptocurrency traders, many of whom have experienced volatile fluctuations in the meme coin market in recent weeks. For example, PEPE experienced a remarkable surge of over 6,000% before undergoing a significant crash, leaving an opportunity for redemption for those who purchased at its peak. Consider acquiring COPIUM on Uniswap.
90% of Tokens Being Unlocked Over 3 Weeks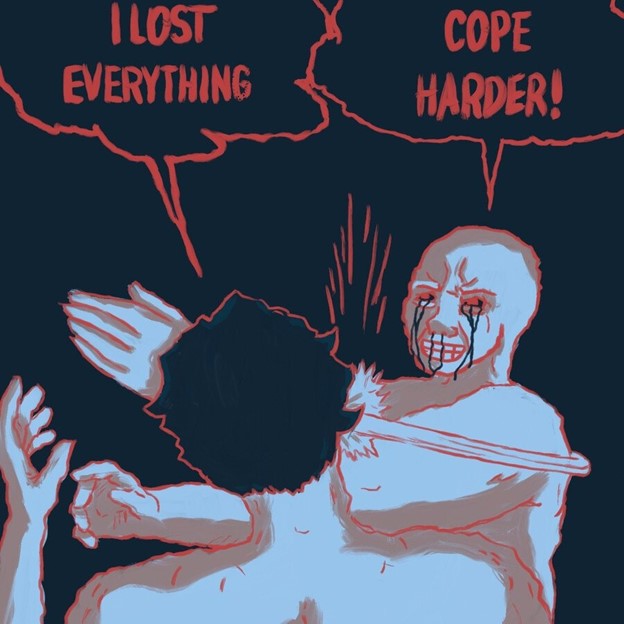 Unlike previous meme coin projects, only 10% of the COPIUM owned by presale investors became available prior to the launch on the decentralized exchange (DEX). The remaining 90% of tokens will gradually unlock over the next three weeks. This approach marks a significant departure from the usual practice and ensures that early investors cannot abruptly exit the market, even as new traders eagerly join the COPIUM ecosystem.
This particular aspect plays a crucial role in the anticipation of crypto influencers who expect COPIUM to experience an astounding 100-fold increase in value. A fair launch attracts a wider range of traders, and with more than a quarter of the COPIUM supply locked up at the initial launch, the stage is set for explosive price dynamics.
Copium Club Also Worth Joining
The team behind Copium Club has introduced an additional incentive to enhance the appeal of the token's launch: a rewarding airdrop. Shortly after the launch, the top 200 investors in Copium will have the opportunity to receive an NFT. This NFT can later be redeemed for an airdrop of COPIUM tokens, which is scheduled to take place two weeks after the initial launch. To determine the top 200 investors, a snapshot will be taken two hours after the launch.
The quantity of COPIUM tokens allocated to each investor in the airdrop will depend on their holdings and the duration of their ownership. The NFT is represented as a tank that gradually fills up to 5% each day, based on the investor's continuous token holdings. After the two-week period, the top 200 investors will be able to claim their airdrop by utilizing their NFT. The amount of COPIUM they receive will correspond to the level of filling in their tank.
This establishes a compelling motivation for investors to obtain a substantial quantity of COPIUM prior to the two-hour snapshot after the launch. As a result, the major token holders are incentivized to hold onto their investments for a duration of two weeks, refraining from selling. This strategic choice effectively limits the availability of supply precisely when the demand for COPIUM is highest.
There's more that makes Copium quite an attractive token.
Despite having a limited and exclusive presale, which initially limited its exposure in comparison to other emerging meme coins, the recent launch of COPIUM on Uniswap has quickly captured the attention of cryptocurrency traders and influencers.
COPIUM has gained support from prominent figures in the crypto industry, including renowned influencers such as Faze Banks (with 2.8 million Twitter followers), DeeZee (250k followers), Cozomo de' Medici (289k followers), and foobar (130k followers).
Moreover, COPIUM is swiftly building its own dedicated social following. The Twitter account has amassed over 14,000 followers, and although the official COPIUM Telegram community has yet to be launched, it has already attracted nearly 1,000 members.
yPredict is Another Major Token To Watch Out For
yPredict is an innovative decentralized platform that harnesses the power of blockchain technology to establish a transparent and secure prediction market. Built on the Ethereum blockchain and powered by the YPRED token, this platform aims to offer users a decentralized alternative to traditional prediction markets.
With the utilization of smart contracts, yPredict enables participants to create and participate in prediction markets spanning various domains, including finance, politics, and sports. By doing so, it provides users with an opportunity to engage in decentralized prediction trading.
Furthermore, yPredict introduces an exceptional feature known as "Social Trading," allowing users to track and replicate trades executed by highly skilled traders on the platform.
The primary objective of yPredict is to democratize the prediction market industry, granting users an open and decentralized method of participating in prediction trading that is characterized by transparency and fairness.
Several Features On Offer
📷 Breaking News: yPredict, the AI-powered crypto trading platform, enters the sixth stage of its presale with the #YPRED token price climbing to $0.09. The highly anticipated listing on major exchanges later this year at $0.12 could result in substantial multi-X gains.… pic.twitter.com/Xc9k8PVWff

— yPredict.ai (@yPredict_ai) May 25, 2023
The yPredict.ai Market Predictions platform is designed to be an inclusive and easily accessible platform that offers complimentary access to price predictions for coins and securities. These predictions are generated using a combination of in-house developed predictive models and carefully selected third-party developer models. The primary goal of providing these free predictions is to demonstrate the capabilities of AI/ML-driven tools in analyzing price trends on the yPredict platform.
The analytics platform of yPredict encompasses a range of features, including pattern recognition, sentiment analysis, indicator analysis, and transaction analysis. The yPredict Analytics platform follows a freemium pricing model, offering three tiers of membership: free, active, and pro trader.
The marketplace facilitates developers to offer the prediction outcomes of their models as a subscription service called "Results as a Service." Investors and traders can subscribe to these models on a monthly basis, gaining access to immediate results through the yPredict platform.
This approach allows developers to generate a passive income stream while focusing on their primary task of constructing AI/ML models, without the need to engage in trading activities. At the same time, traders have the opportunity to choose from a wide selection of predictive models and subscribe to those that align with their preferences. Additionally, the yPredict Terminal is a sophisticated trading platform designed specifically for advanced traders.
yPredict Will Have a DAO
Operating on the Polygon blockchain, yPredict tokens offer numerous advantages, including compatibility with Ethereum, scalability, security, and an overall positive experience for developers. While other blockchain alternatives may also provide some or all of these benefits, the Polygon community is widely recognized for its inclusivity and attractiveness to developers.
In order to maintain a reasonable value for each token as the number of holders grows, the supply of YPRED tokens is limited to 100 million.
The project also incorporates a DAO (Decentralized Autonomous Organization). The listing and delisting of models on the marketplace are determined through a DAO model, where YPRED holders have the opportunity to cast their votes and contribute to the decision-making process. This democratic approach ensures transparency and fairness in the decision-making process.
Furthermore, the integration of the DAO Governance mechanism for model submission by developers enables yPredict to uphold high analytical standards on the platform. This enhancement further appeals to traders, investors, and other developers who seek a reliable and trustworthy marketplace.
The future undeniably belongs to AI, as seen through the substantial investments being made in this technology. The convergence of AI and decentralized technology holds immense potential, and the present moment presents an opportune time for collaboration between these two domains.
yPredict showcases a range of innovative features and use cases, positioning it as a promising project with extensive capabilities. As a dark horse of 2023, this platform has the potential to revolutionize the crypto market. The ongoing first stage of the presale offers a valuable opportunity that is worth exploring.
The token is being sold for a price of $0.09 in the current presale stage, with a listing price of $0.12. It has raised over $1.7 million so far.
Conclusion
Both COPIUM and YPRED are setting themselves up to be some of the biggest tokens of 2023. If either of them has caught your attention, we suggest looking up their presales. There is still a chance to get in early and they have a lot of potential.