Bitcoin has undergone a strong 25% rally over the past two weeks.
The coin currently trades for $13,700.
Analysts think that the cryptocurrency may undergo a retracement in the near term.
Cole Garner shared the chart below recently.
It shows that Bitcoin is now flashing technical signals last seen prior to the August high.
The signal that seems poised to form was also spotted at the highs of February, prior to the brutal March breakdown.
Bitcoin Likely Nearing a Top Soon: Indicator
According to an important Bitcoin technical indicator, the peak of this rally is likely soon to come. Cole Garner, a crypto-asset analyst, shared the chart below, which shows Bitcoin's price action over the past three years along with a custom indicator.
Prior to multiple medium-term highs during 2019's rally and the 2017 exponential surge, this indicator flashed a warning. That same warning is starting to flash now. The indicator suggests that Bitcoin may soon reach a medium-term/local peak, at which point a pullback or period of consolidation will take place.
Of note, the final local top signal has yet to be spotted. But considering historical precedent, it may appear in the coming weeks or even days.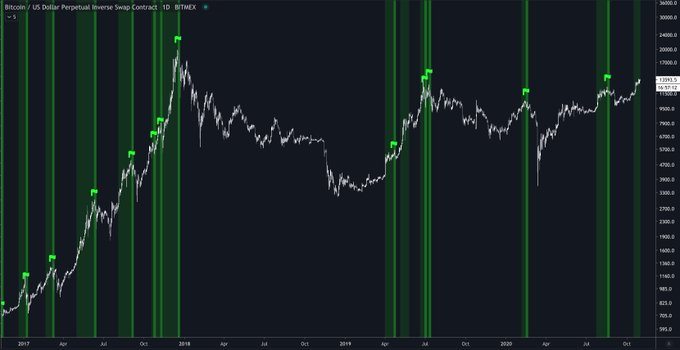 Chart of BTC's price action over the past three years with a custom indicator. Chart shared by Cole Garner (@ColeGarnerBTC On Twitter). 
Source: BTCUSD from TradingView.com
JP Morgan analysts also think that Bitcoin is near a peak on a short-term basis.
The bank's analysts released a report on cryptocurrencies the week before last. The report indicated that per the CME futures market, Bitcoin may be overextended to the upside in the near term.
JP Morgan cited a positioning index/indicator, which suggested that certain investors are the most bullish they have been this year. The index reached highs above those seen during the summer, namely those seen right before the 25% decline at the end of August and start of September.
Expect All-Time Highs This Year
While Bitcoin may face a short-term drawdown or consolidation, analysts are confident that a new all-time high is imminent. Tyler Winklevoss recently stated:
"I do think we will see an all-time-high price for #Bitcoin before 2020 is over. Even though the price has climbed from 10k to almost 14k in less than a month, it hasn't really gone on a breakout run yet. When we start to see 3-5k surges then the bulls will be on the run."
Fundamental trends seem to indicate that the cryptocurrency is poised to move higher in the weeks ahead.
Featured Image from Shutterstock
Price tags: xbtusd, btcusd, btcusdt
Charts from TradingView.com
This Crucial Indicator Suggests Bitcoin Is on the Verge of Hitting a Top