IMPT is one of the most popular crypto projects of 2022, as proven by its massively successful presale that raised 14.5M amid the FTX collapse and the persistent bear market. IMPT has already secured listings on top-tier exchanges, which include Changelly Pro, LBank, and Uniswap in the first stage. The public launch of IMPT is scheduled for 14 Dec 2022.
According to top industry experts and crypto financial analysts, IMPT will climb up to 10X on public launch. It could go up to 50X by the first half of 2023. Whether you're looking for short-term or long-term returns, IMPT makes a good investment choice. That is, if the project unfolds as laid out in the white paper. Here is an analysis of the IMPT ecosystem and why it is one of the most promising crypto projects of 2022.
The Three-Pillared IMPT Ecosystem Dedicated to Carbon Offsetting
IMPT is a large Web ecosystem dedicated to bringing more efficiency and transparency to the carbon market. It realizes this through a three-pillared system that simplifies and gamifies carbon offsetting. Let's see how it works.
1. The IMPT carbon marketplace
IMPT carbon marketplace is a one-stop shop to buy, sell, and retire carbon credits without relying on centralized agencies and other middlemen. It gives you NFT carbon credits collected from credible environmental projects. The tokenization of carbon credits allows their seamless transfer across countries through immutable tracking enabled by blockchain. It goes a long way in mitigating carbon credit double-spending and scams.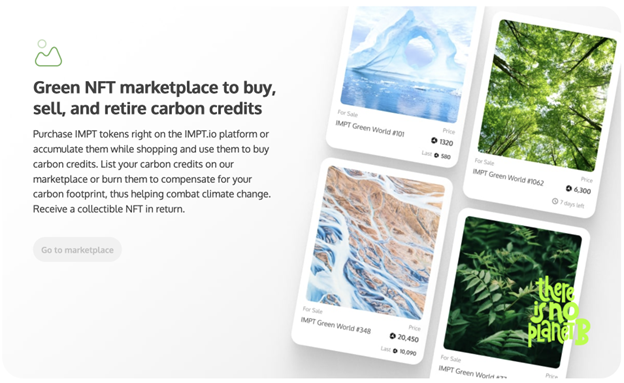 When you retire a carbon credit on the IMPT marketplace, you earn a specially designed NFT artwork as a token of appreciation. If IMPT secures more partnerships and expands its user base, IMPT artwork NFTs are expected to claim high collectible value.
2. IMPT shopping application
IMPT shopping application aims to raise awareness about climate action and carbon offsetting among everyday users. This is made possible through carbon credit incentivization. How does it work? Every time you purchase from an environmentally-conscious business via the IMPT shopping application, you earn carbon credits. They are distributed in IMPT tokens, which you can later convert to carbon credits via the IMPT marketplace.
IMPT has already partnered with leading global retailers to give a wide array of options to users. The partnered brands will allocate a share of their sales margin to the IMPT carbon credit program.
3. IMPT social platform
IMPT social platform is a place for friends, family, and businesses to connect and track their contribution to climate action. IMPT helps users stay on top of their carbon offsetting goals through IMPT score. You can improve it by buying products from the IMPT shopping application, buying carbon credits, signing up your businesses on the shopping application, and retiring carbon credits, among others.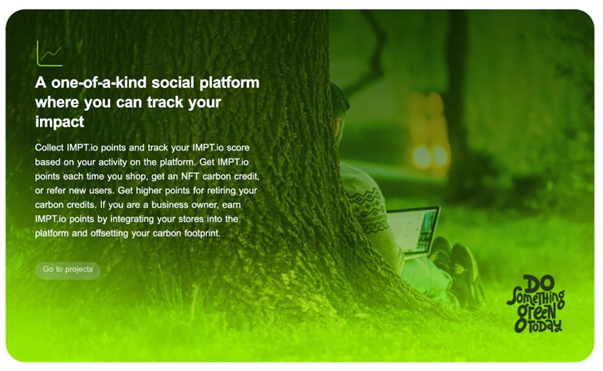 The feature stands out because of its Social-Fi elements that nurture engagement in the carbon market.
Attention 📣

Click the link below and check the official statement from the CEO of IMPT, Denis Creighton, regarding the end of the presale, listing price, and more exchange listings ⬇️https://t.co/RWr2RtFnVi pic.twitter.com/bs9POTTU2b

— IMPT.io (@IMPT_token) December 6, 2022
Why IMPT Tokens are Fast Selling Out
The IMPT presale comes as a pleasant shock to the crypto community due to its anomalous behavior during the bear market. Despite the crashes triggered by the FTX fall and the ongoing downturn, IMPT has raised $14M in just a few weeks. The success of the presale can be attributed to the solid carbon offsetting ecosystem put forward by IMPT.
It is still a great time to enter our $100,000 giveaway! 🔥

🏆 Check it out now and try your luck!

The #IMPT presale ends in just 6 days!

Make sure to get your hands on the $IMPT token before the price increases ⬇️
https://t.co/qzMj0sSs8Q pic.twitter.com/1gxuQMwEoA

— IMPT.io (@IMPT_token) December 5, 2022
Carbon offsetting is gaining more momentum among voluntary and mandatory participants. Businesses have to retire a definite amount of carbon credits every year, depending on the jurisdiction. Companies are retiring more carbon credits than they are legally asked, to build positive brand recognition. People are more conscious about their carbon footprint, too. In essence, both mandatory and voluntary carbon markets are fast-growing. Our traditional carbon market is not built to meet the rising demand, due to its inherent limitations.
This is where IMPT steps in. The platform uses blockchain technology to host a fair and transparent carbon marketplace. It is complemented by a shopping application and a social platform that gamify carbon offsetting. They are designed to popularize carbon offsetting through strategic incentivization and lower entry barriers.
Another factor that has contributed to IMPT's popularity is its high-profile partnerships with global brands including Samsung, Microsoft, River Island, Harry Brown, Tripadvisor, Dyson, AEG, Bloomingdales, Macy's, Dominos, Lego, and many more. And IMPT has a stringent vetting process that verifies the authenticity of projects that offer carbon credits through the platform. Third-party platforms will be a part of the process.
"We are developing IMPT.io to help businesses and individuals reduce their carbon footprint through an efficient, secure, and transparent ecosystem of products. Our goal is to offer an easy solution for everyone who wants to contribute to sustainable development," says Denis Creighton, CEO, IMPT.io.
Mark Your Calendar
IMPT trading will begin on 14 Dec 2022 on Uniswap and investors can claim their IMPT tokens from the 12th of December. For this, you just need to connect your wallet (that was used to purchase the token) to the official website and click the claim button. The DEX launch will be followed by centralized exchanges, beginning with LBank and Changelly Pro.
If you haven't already purchased IMPT presale tokens, there isn't much time left. The presale ends in a few days. You can buy the token from the website using ETH or USDT. It also gives the option to make the purchase using a credit or debit card.
📣 Don't forget, #IMPT Crew! 📣

🤯 Only 6 days left until the end of the presale!

Don't miss out and grab some $IMPT now ⬇️https://t.co/8KSvC4GHjF pic.twitter.com/z9SnqxZ2rU

— IMPT.io (@IMPT_token) December 5, 2022