Investing in cryptocurrency is the new buzz as everyone is trying to get in on it. But when it comes to choosing the right one, it becomes difficult to do so, as a lot of people are scared of making the wrong choice. However, we have made it easier for you.
Newcomers like Parody Coin (PARO) are already making waves in the crypto world and are seen to bring profits to investors in the coming years. In this article, we shall be treating three cryptocurrencies that some investors have taken a keen interest in.
Elrond (EGLD)
Elrond (EGLD) was created in 2017 by Lucian Todea, Beniamin, and Lucian Mincu, with the backing of Elrond Network, a Malta-based corporation dedicated to the project's expansion.
Elrond (EGLD) is software designed to encourage a distributed network of computers to run a smart contract platform focusing on scalability and low transaction fees. Elrond (EGLD) accomplishes this by utilizing two distinct features:
* Adaptive State Sharding – dividing the Elrond infrastructure to support additional transactions and applications.
* Secure Proof-of-Stake (SPoS) — A consensus mechanism for synchronizing different network components to a single ledger.
Additionally, the Elrond (EGLD) Integrated Development Environment will be used by developers to design and run customizable applications that mimic commodities and services on the platform. The EGLD coin, Elrond's native money, is used to interface with programs, send transactions, and encourage users that support the network.
Elrond's cryptocurrency was known initially as ERD coin; however, once the project's mainnet opened in July 2020, the name was changed to EGLD coin. After that, the project conducted a transitory event where investors could exchange their ERD for Elrond's new EGLD cryptocurrency.
Elrond (EGLD) is positioned to compete with significant blockchains such as Ethereum (ETH) to develop a decentralized application and cryptocurrency ecosystem.
With these features, investing in this token is not such a bad idea after all!
Axie infinity (AXS): Safe haven for gamers
Axie Infinity(AXS) is another crypto that mixes earning and fun. With the emergence of Non-Fungible Tokens (NFTs), AXS' future appears bright and is currently one of the most popular and most prominent cryptocurrency games.
Players in the DeFi game can buy, collect, combat, and trade Axies, which are NFTs. Axie Infinity (AXS) is also one of the first 'play-to-earn' (P2E) gaming systems where players earn tokens for their efforts. Furthermore, some gamers have claimed to be making thousands of dollars each day in AXS gaming tokens, enabling the game's stock price to jump at the beginning of 2021 to a whopping amount at the beginning of 2022.
As a result, it's clear that it's a terrific investment opportunity in the Metaverse, intending to cater to a large gaming population.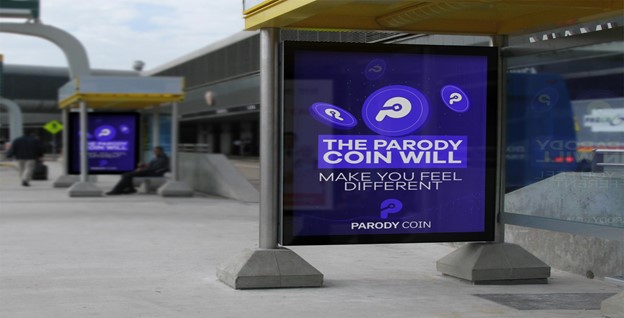 Parody Coin (PARO): The NFT take over
In its presale stage, Parody Coin (PARO) was created to address the outrageous prices of some NFTs on the market. It allows for the minting, trading, and use of parodies of popular NFTs. The minting and selling of parodies of NFTs on the open market, staking on the BNB Chain, earning through the reflection system, and finally benefiting from a wide variety of 'ParoRewards' are all examples of passive revenue sources available to investors.
Parody Coin (PARO) is based on the Binance Smart Chain (BSC) and features three distinct features: Parody Swap, Parody Bridge, and Parody Market.
Parody Swap allows users to easily swap crypto across any blockchain for the same volume of Parody coins. The Parody Bridge allows coins to be sent to different blockchains.
In addition, Parody Coin (PARO) is working on its metaverse, dubbed the Paroverse, that will provide users with access to a range of dApps. With these features, this is definitely a coin you don't want to miss out on.
For more information on Parody Coin (PARO), visit:
 Presale: https://presale.parodycoin.io/
Website: https://parodycoin.io/
Telegram: https://t.me/PARODYCOIN_OFFICIAL
Twitter: https://twitter.com/ParodyCoin
Instagram: https://www.instagram.com/parody_coin/
Disclaimer: This is a paid release. The statements, views and opinions expressed in this column are solely those of the content provider and do not necessarily represent those of Bitcoinist. Bitcoinist does not guarantee the accuracy or timeliness of information available in such content. Do your research and invest at your own risk.