Who doesn't love rewards and rebates? The cashback concept appeals to pretty much everyone and goes some way towards assuaging the guilt that tends to follow an indulgent spending spree. Earning a modest percentage of your transaction value back in the form of in-store credits, discounts or cashback is a fixture of the modern commerce experience, with new schemes even granting rewards in cryptocurrency. If you're keen to generate a passive income in your preferred digital asset, these crypto back solutions are worth a look.
StormX
The proposition of StormX is simple: earn anywhere, anytime, from any device. And that message is obviously resonating with users, 2.5 million of whom have signed up to date. Available on the App and Google Play stores, and also as a Chrome add-on ("StormShop"), the popular microtask and earning platform is a truly global service, currently available in over 187 countries. The rewards aren't middling either: shoppers can earn up to 40% crypto back, with five supported digital assets comprising BTC, ETH, LTC, DAI, and STMX, the latter being the platform's native token. As for retailers, over 500 have signed up thus far, including the likes of Samsung, Microsoft, Macy's, Nike, New Balance, Adidas, Gamestop, Groupon, Acer, Dell, and Sephora.
StormX CEO Simon Yu recently explained the company's business model on Twitter, noting: "Our revenue stream is through small transaction fees of each activity. When a user earns rewards from shop or play, we make money. The more users earn, we earn. It's a great model. We make money when our users make more money."
StormX works on a tiered system. For example, basic members earn 2% crypto back on all Samsung purchases, from TVs and laptops to smartphones and accessories – but 7% when they become Diamond members. Those on a higher tier also wait less time to obtain rewards. The key to increasing your level over time is to shop often and accrue StormX (STMX) tokens.
NBX – Norwegian Block Exchange
Thanks to Oslo-based crypto payment startup, Norwegian Block Exchange or NBX , rewards of Norwegian Airlines are available to shoppers across Scandinavia and beyond. Cash Points is the name of its loyalty scheme, which comes with a number of perks for regular travellers – which is sure to appeal to the jet-setting crypto community. Register your Norwegian Reward Number with your NBX account, for instance, and you'll be entitled to 10% cash back, which can be redeemed for tickets, extra baggage, seat reservations, and booking changes.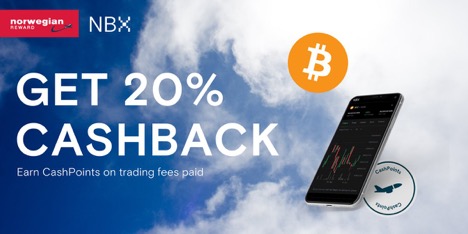 Because NBX points can be earned through trading on the company's cryptocurrency exchange, traders are incentivized to ply their craft in the knowledge that they'll effectively receive a rebate. Trade on NBX and then use the accrued points to snap up a discounted flight to over 150 global destinations. Now that's a deal that crypto users can get with.
Crypto.com
The crypto back offered by Crypto.com flows into users' accounts whenever they make purchases with their MCO Visa card. As with StormX, rewards are paid out in a tiered fashion, with 1% of transaction value being paid on purchases made with the free Visa card, and 2, 3, 4, and 5% paid for each of the other levels. Numerous high-profile merchants have already opted in, including Spotify, Amazon Prime, Netflix, Expedia, and Airbnb, and you can actually get a 100% rebate from the streaming platforms depending on your tier. Users can also take advantage of interbank exchange rates to withdraw cash around the world, and with the top two tiers of cards, you get special lounge access at selected airports.
The MCO Visa card is available in the U.S., Canada, Europe, and APAC regions including Australia and New Zealand. If you're a frequent shopper, you could easily earn hundreds of dollars worth of crypto per year – even while using the free card.
Cashback Is the Future of Rewards
Crypto cashback projects are an evolution of the old bitcoin faucets that dispensed generous rewards in the early days. Sadly, faucets these days disburse insultingly low payouts, making them virtually useless. Crypto back options like those summarized above represent a worthwhile endeavor, helping you earn a passive crypto income while indulging in a little retail therapy. They might also play an important role in bringing more mainstream users to crypto, particularly since e-retail revenues are forecasted to grow to $6.54 trillion in the next two years.
With the e-commerce market rising, and the cashback concept already familiar to shoppers here's hoping we see more cryptoback projects emerge in the near future.