Every surge in attention to bitcoin ignites the launch of new crypto projects: exchanges, payment services, apps, and media. And, all these projects seem to now be launching an affiliate program.
However, not all programs are equally convenient. Some have ambiguous conditions, while others are quite modest when it comes to the payout.
In this post, we'll look into the key factors for a smooth affiliate experience and examine 5 of the top crypto affiliate programs of early 2022.
Types of crypto affiliate programs
The specifics of a crypto affiliate program depend on the type of business that the company runs. Crypto exchanges incentivize trading, thus compensating affiliates for new active traders in the form of a paid commission. Wallets, apps and other solutions are on the hunt for new users, so they reward affiliates by CPL (Cost Per Lead) or CPS (Cost Per Sale) models.
Crypto exchange services that allow for instant swaps between cryptocurrency pairs or crypto and fiat, want to maximize the number of exchange transactions. Such programs have the most convenient conditions for affiliates.
Here's why:
Exchanging crypto is a service with a low entrance requirement. These services allow you to swap crypto in small amounts, starting from $20-30. This makes them appealing to a broader audience and thus are easier to promote.
Such programs usually have clear conditions and simple reward systems, which is especially convenient if you're not a professional affiliate marketer.
Crypto exchanges usually provide affiliates with a variety of promotion tools, from traditional referral links to widgets and API integration.
All of these features are presented in the following affiliate programs, which makes them a great tool to generate a revenue stream.
Top 5 most profitable exchange affiliate programs
1.    SimpleSwap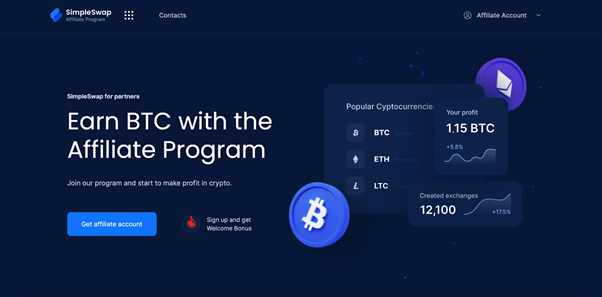 Payout amount: 4% of the exchange amount / flexible
Payout currency: BTC
Minimum payout: 008 BTC
Payout regularity: 3 days after request
Cookie duration: 30 days
Portfolio: 300 cryptocurrencies
Referral tools: referral links, banners, widgets, API
Statistics dashboard
Customer support: ⭐⭐⭐
SimpleSwap is an instant service for crypto-to-crypto and fiat-to-crypto exchanges. Its affiliate program has a standard 0.4% revenue share and a cookie duration of 30 days.
Requiring no sign-up, the service allows you to attract new users with the help of referral links, pre-made banners, widgets and API integration.
The analytics dashboard is updated continuously, allowing you to monitor your performance at any time. A profit calculator helps you understand your potential rewards, and with no cap on payout size, the sky's the limit.
2.    ChangeNOW
Payout amount: 4% of the exchange amount
Payout currency: BTC / fiat (on demand)
Payout regularity: monthly
Portfolio: 380+ cryptocurrencies
Cookie duration: Unlimited
Referral tools: referral links, widgets, WordPress plugin, API
Statistics dashboard
Customer support: ⭐⭐⭐
ChangeNOW claims to be the limitless crypto exchange service. Its affiliate program is designed for social media influencers, bloggers, website owners and platform developers. Its affiliates can monetize their traffic with referral links, widgets, a WordPress plug-in and API. The newly-revamped profile page features an intuitive design that allows for a smooth experience.
The real-time statistics page helps affiliates track their progress and income on the go. And with the profit calculator, one can estimate how much they'll be making over a period of time.
3.    FixedFloat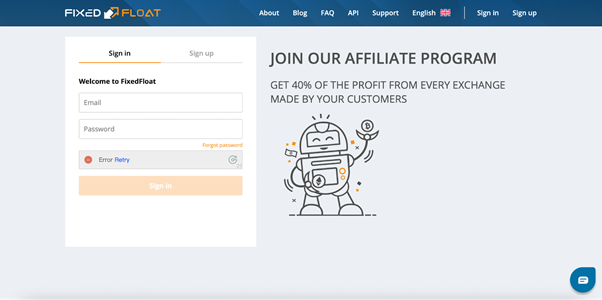 Payout amount: "40% of the profits from each exchange by your customers", which means 40% of the commission
Payout currency: BTC
Minimum payout: 001 BTC
Cookie duration: 30 days
Portfolio: 40 cryptocurrencies
Referral tools: referral links
Customer support: ⭐⭐⭐
FixedFloat is a crypto exchange that, as you may have guessed from its name, allows users to exchange cryptocurrencies at a fixed or a floating rate. The company's affiliate program grants participants a 40% revenue share. However, it has a smaller scale than other programs in this list with only 40 coins in the portfolio and referral links as the only tool for referral.
4.    Swapzone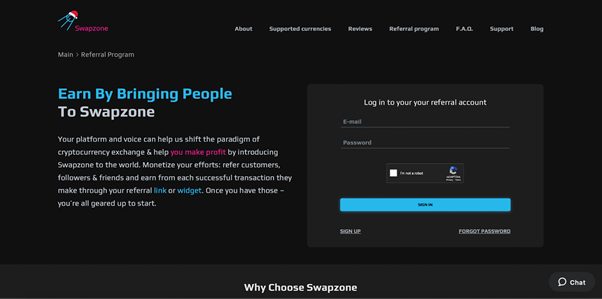 Payout amount: 05 — 0.25% based on the affiliate's level
Payout currency: BTC
Minimum payout: 01 BTC
Cookie duration: Unknown
Portfolio: 400+ cryptocurrencies
Referral tools: referral links, widget
Statistics page
Customer support: ⭐⭐
Swapzone is an exchange aggregator service with a big crypto portfolio. Its affiliate program offers a progressive reward scale, which means affiliates with high turnover get higher rates. The cookie duration is not specified, however, so it's not clear for how long the user will be attributed to an affiliate. The minimum payout is 0.01BTC so, if you don't have a steady traffic flow, it might take you a while to be able to withdraw your rewards.
Moving on
Various crypto affiliate programs, especially if the companies that launched them operate in the same domain, are in fact quite similar when you consider the amount of the payout and the conditions. But regardless of which program you stick with, keep the basics in mind. Cryptocurrencies are a financial instrument and require if not utter expertise but at least caution and diligence. So, when promoting a crypto-related product to a broad audience, use disclaimers and be sure to warn your audience not to rush into things and be prepared for the ultimate volatility of the crypto market.
Image: Pixabay