If you're planning to buy cryptocurrencies before they begin their uptrend this year, you've come to the right place. In this article, we analyze the top projects in the crypto market that are currently underrated. We take you through their vision, core features, functionalities, and roadmap to uncover how they are on the edge of an upturn. Without further ado, let's begin!
Best Crypto Tokens to Buy This Year
Here's a quick look at the best cryptocurrencies to invest in right now.
Tamadoge (TAMA) – Hottest New Meme Coin Ready to Explode in 2022
Crypto Snack (SNACKS) – Trending iGaming Token with Massive Growth Potential
Chiliz (CHZ) – Top Sports Token to Buy Ahead of FIFA World Cup 2022
STEPN (GMT) – Move-to-earn Token with Lifestyle Use Cases
Earthling (ETLG) – Top Crypto Token with a Social Mission
1. Tamadoge (TAMA) – Hottest New Meme Coin Ready to Explode in 2022
Meme coins have always had a special place in the crypto market. They have also made the most returns for early-stage investors in the recent past. The latest meme coin to capture the attention of crypto investors is Tamadoge. The token is currently moving ahead towards the end of its presale, with overwhelming support from the community. At the time of writing, 60% of the total allocation of TAMA tokens has sold out.
What's the big deal about this project, and why are investors stocking up on TAMA? Let's find out.
Meme coin with diverse utilities
While early meme coins like Dogecoin and Shiba Inu earned billion-dollar market caps with the support of communities, they have mostly been a disappointment this year. The primary cause of this is the lack of utility. Speculation alone can't drive token value for long. You need to keep building value to gain value.
Tamadoge bets big on the meme coin mania with diverse utilities across the play-to-earn, NFT, and metaverse arenas. At the heart of the project is Tamadoge Pet NFT. It will drive the play-to-earn mechanism of the ecosystem. The design of the game takes inspiration from Tamagotchi, digital pets that were the craze of the 90s.
You need to nurture your pets into adulthood by feeding and taking care of them using other in-game assets in the ecosystem. Once they're fully grown up, you can sign them up for battles with other Pets and earn rewards. If you top the leaderboard, exciting rewards with real-world value await you. The Pet NFTs will go live by the end of this year.
Into the Tamaverse
Tamaverse is the metaverse of the Tamadoge ecosystem. The project realizes its metaverse mission through an augmented reality app, where you can play with your Tamadoge Pet NFTs in an immersive environment. The app is scheduled for launch in the last leg of 2023. However, you can integrate them into metaverse environments much earlier. This is made possible by the fully rigged-up, animated 3D model of Tamadoge Pet NFTs that make them compatible with existing metaverse environments.

Deflationary tokenomics sustains TAMA 
TAMA has a total supply of 2B. However, the token supply reduces over time through a burn mechanism. This ensures that your TAMA token holdings gain value over time, with the potential to give 100X returns to early investors.
Strong meme coin community
Tamadoge has a strong community across different social media platforms. The project boasts around 50,000 followers on Twitter and 30,000 members on Telegram at the time of writing.
2. Crypto Snack (SNACKS) – Trending iGaming Token with Massive Growth Potential
Crypto Snack is the world's fastest-growing iGaming token that's reinventing the online casino gaming industry through cheap and fast transactions. In a short space of time since launch, the project has attracted a wide network of high-profile partners. The most prominent of these is CoinsPaid, a leading crypto payment gateway.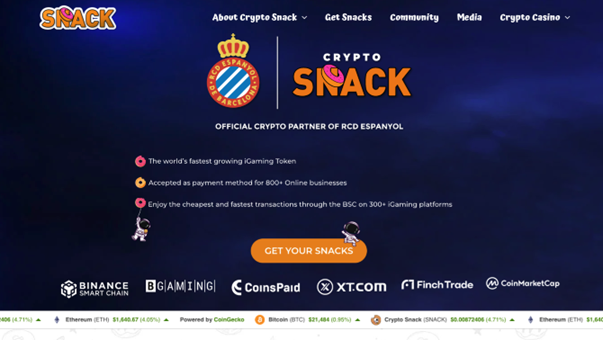 Although CoinsPaid typically lists high market cap projects like DOGE and BTC, it made an exception for SNACKS. The partnership paved the way for the integration of SNACKS into 800 online business platforms, 300+ of which are iGaming websites. That fueled the token's reputation in the iGaming sectors. It is currently integrated into top iGaming content providers like BGaming, which allows the use of SNACKS as currency for 80 different products. This includes video poker, lottery games, card games, and video slots.
However, SNACKS is diversifying into more potential industries. For example, it signed a partnership with RCD Espanyol de Barcelona in May 2022, marking the first official integration of crypto payments by a La Liga Club. The project is now actively exploring collaborations with more European clubs.
Crypto Snack also recently secured a $50 million investment commitment from GEM Digital Limited, a digital asset investment firm that invests in utility tokens. The funding goes onto prove the long-term growth potential of the project.
You can now buy SNACKS tokens on PancakeSwap and XT.com.
3. Chiliz (CHZ)  – Top Sports Token to Buy Ahead of FIFA World Cup 2022
Chiliz is the core crypto token of Socios.com, one of the earliest Web3 startups dedicated to the sports industry. The application changed the way we have known fan engagement and monetization using blockchain technology and cryptocurrencies. The project has joined forces with some of the leading sports clubs, including FC Barcelona, Juventus, Paris Saint-Germain, AS Roma, Atlético de Madrid, and more.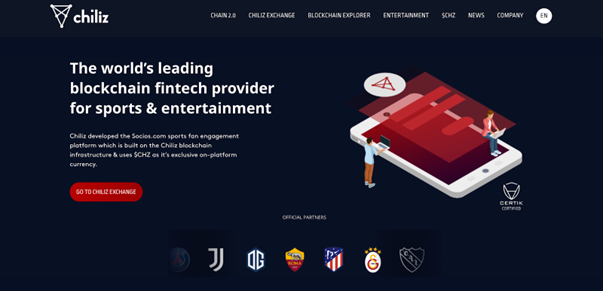 As a result, Chiliz is one of the hottest crypto tokens in the market right now. The token is used to mint fan tokens dedicated to each team. The tokens allow you to vote for your favorite sports clubs and register your opinion regarding real-world decisions that concern the teams. Although the matters of discussions are mostly trivial, they go a long way in boosting fan engagement. Given that FIFA World Cup is only a few weeks away, it is best to stock up Chiliz ahead of the bull run.
4. STEPN (GMT) – Move-to-earn Token with Lifestyle Use Cases
The next token we recommend is STEPN, a crypto lifestyle application that successfully combines social-fi and game-fi elements.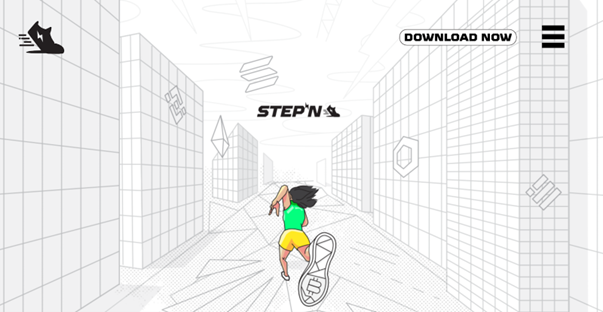 The move-to-earn app allows you to generate crypto income by engaging in physical activities. Yes, you can earn GMT tokens by walking, jogging, or running. The app combines health and wealth into one.
And what do you do with your GMT tokens? They can be used to buy in-game assets and step up your position. Or, you can sell them on crypto exchanges. The project holds a vast trove of potential as metaverse becomes an integral part of our lives. It is actively collaborating with fitness applications to grow the user base of the application.
5. Earthling (ETLG) – Top Crypto Token with a Social Mission
We wrap up this list with a token that marks itself off from the crowded crypto market with a social mission — Earthling. The project's goal is to use the decentralized, inclusive ecosystem put forward by blockchain technology to save earth.
Earthling backs ventures that combat climate change and ecological collapse by giving a hand to more individuals, families, and businesses in eliminating carbon, restoring nature, and becoming carbon-neutral.
ETLG and Carbon token are the core assets of the platform. While the ETLG token acts as the native currency and governance token of the ecosystem, Carbon Token is an asset backed by carbon credits. You can also use it as a digital certificate that lets you emit 1 tonne of CO2.
Earthling's social mission has the potential to take off among both crypto and non-crypto communities. It will innovate the carbon credit market, where companies are increasingly on the lookout for new methods to meet their offsetting goals.
How to Buy TAMA tokens
Tamadoge (TAMA) token is the hottest crypto token of this season. The project capitalizes on the meme coin mania with a utility-driven vision and an engaging play-to-earn narrative. We expect the token to give attractive returns to holders this year as the project unfolds its roadmap. Make sure you buy them early during the presale to make the most of the upcoming bull run.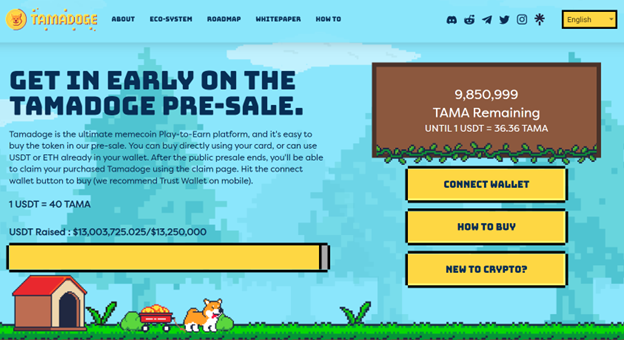 Step 1: Download a crypto wallet
It is best to use Metamask wallet on a desktop device. If you're using a mobile device, we recommend Trust Wallet. (Any other wallet supported by Wallet Connect will also do.)
Step 2: Purchase ETH or USDT
If you don't have ETH or USDT in your wallet already, get them from a crypto exchange of your choice. Tamadoge also provides the option to buy ETH from the official website via Transak using your debit/credit card.
Step 3: Connect your wallet to the Tamadoge presale page
Go to the Tamadoge presale page, click [Buy], and then click [Connect Wallet].
Step 4: Buy TAMA
Click [Convert ETH] or [Convert USDT] and type in the amount of TAMA you wish to purchase. Follow the instructions on-screen to complete the purchase.
Step 5: Claim TAMA
You can claim your TAMA tokens once the presale ends and the [Claim] button on the website is active.