These five cryptocurrencies are gearing up for a bull run this month, owing to a wide range of reasons, from COP27 to the FIFA World Cup. Here's a quick look at each project, and how it makes a great investment.
1. Dash2Trade (D2T)
Dash2Trade has been trending on social media platforms for the last few weeks. The D2T presale is already in its third stage, after receiving widespread traction from the community. The craze can be attributed to the underlying crypto analytics and intelligence platform, which is designed to cater to both novice and seasoned crypto traders.
Dash 2 Trade dashboard
Dash2Trade helps users keep tabs on the market using relevant data points that can change the course of their portfolio. The platform offers advanced trading signals, a bespoke presale scoring system, social sentiment and on-chain analytic tools, strategy builder tools, and new cryptocurrency listing alerts.
Once Dash 2 Trade launches its dashboard and begins beta testing in early 2023, the token is predicted to climb 50X-60X from its presale value.
ttps://twitter.com/dash2_trade/status/1589611170717212675
For the latest updates about Dash2Trade, join the community on Twitter and Telegram.
2. IMPT (IMPT)
The carbon offset market is growing in the mandatory and voluntary sectors, thanks to the new generation of woke businesses and consumers. IMPT is a green token that aims to make carbon offsetting accessible to a wide spectrum of users through blockchain technology and gamification.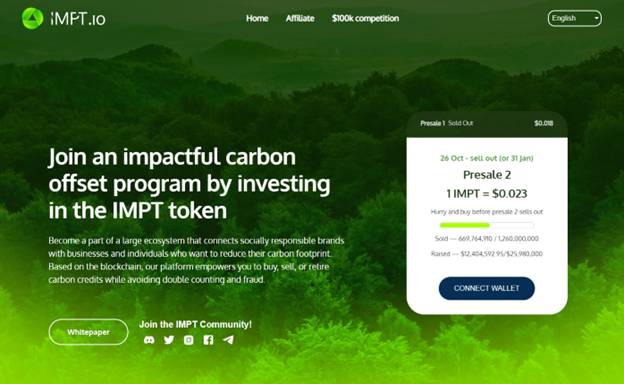 It realizes the goal through a three-pillared ecosystem:
The first of these is the IMPT marketplace, a platform that facilitates seamless trading of carbon credits, collected from credible initiatives that work on restoring and regenerating the planet. Anyone can buy, sell, and retire tokenized carbon credits on the IMPT marketplace.
The next is the IMPT store, where anyone can earn rewards in exchange for responsible shopping. Users who buy products via the platform will receive IMPT tokens. IMPT has partnered with leading global brands like Samsung and Bloomingdale's to give an array of options to shoppers.
IMPT also has a social platform in the offing, where businesses and individuals can track their IMPT scores.
IMPT's unique approach to gamifying carbon offsetting makes it one of the best and most effective green crypto projects of 2022.
Exciting News, #IMPT Crew! ?

? Our $100,000 giveaway is still live! Don't pass by! ?

Try your luck now ⬇️
https://t.co/qzMj0sSs8Q pic.twitter.com/FpizAZHAR6

— IMPT.io (@IMPT_token) November 7, 2022
Join the IMPT community on Twitter and Telegram to get the latest updates about the project.
3. Dogecoin (DOGE)
Dogecoin is on most crypto portfolios this month, thanks to godfather Elon Musk and the ongoing hoo-ha around the acquisition of Twitter. According to rumors, Dogecoin will be integrated into the social media platform with a wide range of use cases, sooner or later.
Whether that is true or not, the coin is making the most of the pump. As long as Musk continues to stir up controversies and drops mentions of Dogecoin, it will reward investors lucratively.
4. Mask Network (MASK)
Mask Network is on the hot-crypto list this month, thanks to the protocol's announcement of a  next-gen, cross-DID social mobile app that is launching soon.
???Introducing Firefly???

Backed by Mask Network, @thefireflyapp is the next-generational, cross-DID social mobile app that is launching soon!

We invite web3 frens to join us, be the first to test out the Firefly beta, and stand to win future benefits. pic.twitter.com/Ni8R6avB0g

— Mask Network (Bridge to Web3 @Mask.io) (@realMaskNetwork) November 3, 2022
Mask Network came to the forefront with its unique technology that allows users to send encrypted messages over Twitter and Facebook. It is touted as a bridge between the internet and a decentralized network.
Over the years, Mask has widened its ecosystem to allow crypto payments, decentralized finance, decentralized storage, e-commerce (digital goods/NFTs), and decentralized organizations (DAO). That is, on existing social networks without migrating. The team's dedication to building the first-of-its-kind infrastructure is paying off.
5. Algorand (ALGO)
We wrap up this list with Algorand, one of the world's first sustainable blockchain projects with an institutional-grade Web3 infrastructure. Algorand helps global organizations, businesses, and governments with their green missions.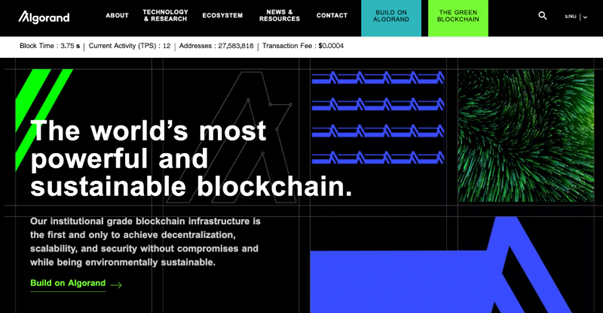 In May 2022, Algorand announced its official partnership with FIFA. As predicted, ALGO is reaping the benefits now, having already climbed 30% on the fortnight charts. The bullish momentum will pick up pace as the FIFA World Cup commences on 20 November 2022.