The Tora Inu beta sale is now officially 90% complete. Investors are quickly flocking to the new era memecoin as they believe it will be the next evolution of the sector as the P2E ecosystem, combined with its redistribution and deflationary mechanism, is set to elevate industry standards.
In addition to the high standards Tora Inu aims to achieve, investors are aware of the team's competence as they prepare for a massive marketing campaign to attract TORA listings on major tier-1 exchanges.
Tora Inu Beta Sale Almost Completely Sold Out
The beta sale for the new era memecoin, TORA, is almost totally sold out. The sale opened on October 20th, with a goal to raise $250,000. Well, just six days later, the Beta Sale is almost entirely gone. The Beta Sale is the best price to purchase TORA, so you better quickly snap up what's remaining.
It seems that memecoin investors are rushing to the project that brings a twist to a sector that constantly produces repetitive projects with little-to-no innovation. Tora Inu is slated to be the evolution of the memecoin industry as it comes accompanied by an intuitive burn and redistribution mechanism. Furthermore, it also features an exciting play-to-earn game that allows users to earn a secondary income through the ecosystem.
Deflationary Redistribution Twist for TORA
The central selling point for Tora Inu is its deflationary tokenomics and redistribution mechanisms.
We all know that making an asset more scarce increases its value over time. The TORA token itself experiences deflation through its burning mechanism, which sees a small percentage of TORA being burnt during each transaction on the blockchain. The small percentage burnt is sent to a burner wallet to prove its removal from existence.
As a result, the supply of TORA shrinks as the ecosystem becomes more popular. When a falling supply meets a rising demand, the asset's value explodes as there are fewer TORA tokens to share amongst the growing audience that requires them. Furthermore, as the demand for TORA increases, so does the pace at which it experiences deflation. This provides incredibly dynamic tokenomics that might help TORA climb to the heights of Floki Inu – or even possibly Shiba Inu.
The redistribution mechanism rewards the most loyal TORA holders in the ecosystem. A small percentage is redistributed through each transaction to all TORA holders, and those with the most tokens receive higher amounts. This incentive is designed to encourage TORA holders to keep holding – even through the worst possible downturn.
Play-to-Earn (P2E) Continues to Excite Potential Investors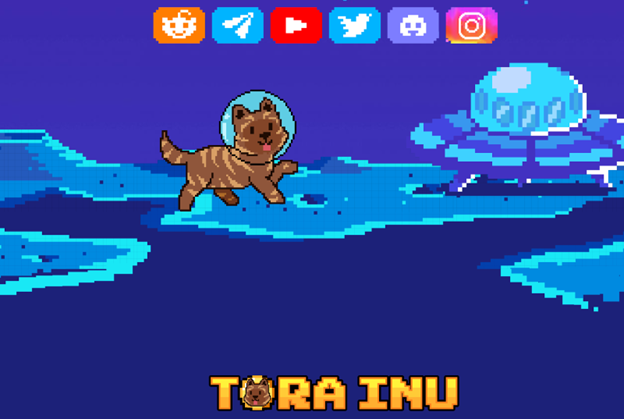 In addition to the innovative tokenomics for the project, Tora Inu can also boast an exciting P2E game that allows players to earn additional TORA tokens. To participate in the game, players must first purchase an NFT, which slowly levels up after completing a series of mini-games against other players or the environment.
Players earn rewards after every victory, and their NFTs increase in value as their stats increase through gameplay.
In addition to the P2E game, Tora Inu plans to launch an exciting metaverse further down the line.
Massive Marketing Campaign Lined Up Alongside Tier-1 Exchange
The team behind Tora Inu is highly competent. They understand that memecoins require large communities and buying pressure to take off and reach peak levels within the sector. As a result, the team has planned a massive marketing campaign to promote the token on some of the most viewed publications in the industry.
Furthermore, the team is endorsed by multiple high-tier venture capitalists with extensive marketing experience through social media channels such as Telegram, Twitter, and Reddit. As a result, we can expect the mentions of TORA to start surging on these platforms as they begin the first stages of their marketing campaign.
In addition to the marketing campaign, the TORA team also understands that their token needs to be listed on many tier-1 exchanges. This is evident as they have a CEX marketing drive listed as one of the top priorities on their roadmap, intending to have TORA listed on multiple Tier-1 and Tier-2 exchanges. In fact, Tora Inu have stated that they already have a Tier-1 exchange ready to list the token after the presale is complete – but they are keeping the specifics a secret until closer to the listing.
Speaking of competency, Tora Inu has been fully audited by Solidproof with no high or medium criticality issues.
Overall, the Beta Sale for Tora Inu is quickly selling out due to the innovative features of the project and its highly experienced team.
Disclaimer: This is a paid release. The statements, views and opinions expressed in this column are solely those of the content provider and do not necessarily represent those of Bitcoinist. Bitcoinist does not guarantee the accuracy or timeliness of information available in such content. Do your research and invest at your own risk.