Since the beginning of October 2022, Dogecoin (DOGE) has increased by 130% with the 2x price coming after Elon Musk's takeover of Twitter.
Known for being a keen supporter of DOGE, Musk's acquisition has led to speculation over the token's future adoption on the social media platform.
Following this bullish price increase, investors believe exciting presale projects Dash 2 Trade, IMPT and Calvaria to be the next 3 altcoins to multiply by 2x in 2022.
Let's examine why these 3 cryptocurrencies can become some of the top performers by the end of the year.
The 3 Best Altcoins to 2X Just like Dogecoin
Apart from Dogecoin (DOGE), here are the three new cryptocurrency assets which can potentially grow by 2x and more by the end of 2022.
Dash 2 Trade (D2T) – Best New Cryptocurrency Offering High Growth During Presale
Dash 2 Trade is a crypto analytics and social trading platform that offers D2T – the native cryptocurrency of the ecosystem.
Currently available to buy through a 9-stage presale, D2T has raised more than $4 million in just over a week.
Throughout the presale, the price of D2T will rise by 39% – from $0.0476 in stage 1 to $0.0662 by the 9th presale round.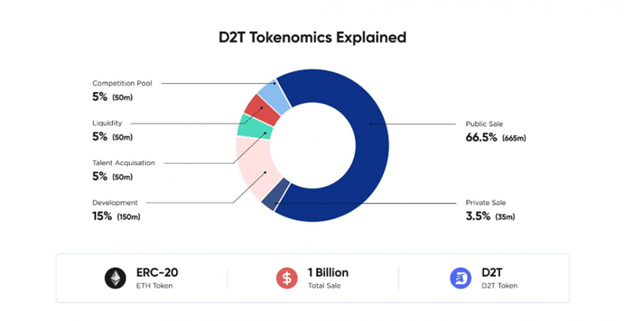 One of the best utility tokens in 2022, D2T, gives direct access to many trading tools, signals and rewards on the Dash 2 Trade platform, with the Dash 2 Trade whitepaper stating that the dashboard features will include access to new token listings, presale projects and even auto-trading bots.
Using on-chain analysis, Dash 2 Trade will leverage technical indicators and social sentiments to identify potentially profitable trades.
For instance, Dash 2 Trade tracks socio-cultural price movements by analyzing the social media trends of popular crypto assets.
For beginners, Dash 2 Trade will implement backtesting features where one can test out future trading strategies. To determine an individual's risk appetite, the platform will also incorporate risk profilers to customize one's trading strategy.
Dash 2 Trade offers three subscription levels – a Free tier, Starter tier and a Premium tier. The latter two can be purchased with D2T tokens – costing a monthly fee of 400 and 1,000 D2T, respectively.
Currently, D2T is in stage 2 of its presale round, with tokens costing $0.05 each and D2T can be purchased at current levels before a 32.4% price hike to $0.0662 by the 9th presale round.
Compared to Dogecoin, D2T's limited token supply of 1 billion can help control supply and demand issues.
D2T has a hard cap of $40 million with 700 million tokens on sale during the presale with no vesting period.
After the cryptocurrency is listed on global exchanges – with LBank already confirmed at this early stage – a 2x price increase is possible due to the multiple use cases that traders can leverage.
Join the Dash 2 Trade Telegram Channel to keep track of the presale updates and upcoming project information.
1.    IMPT – New Carbon Reducing Platform on Presale
One of the most sustainable cryptocurrency assets in 2022, IMPT implements a carbon offsetting program to help reduce the carbon footprint of individuals and businesses.
By leveraging the IMPT token, the platform aims to offer tokenized versions of Carbon Credits – permits that can be purchased to offset CO2 emissions and reduce a carbon footprint.
The project is now in stage 2 of its 3 presale rounds after investors raced to buy IMPT tokens in stage 1 –  raising $11 million in just three weeks to sell out the allocation four weeks ahead of schedule.
The IMPT whitepaper states that it has partnered with hundreds of businesses willing to offer a part of their sales margin as cashback on IMPT's shopping platform.
When consumers buy products from businesses, the sales margin is sent to their online wallets as IMPT tokens.
IMPT can eventually be used to purchase the Carbon Credit NFTs on the platform. Minted on the Ethereum blockchain, the Carbon Credits can be burnt by holders on-chain – eliminating the emissions they represent.
By burning the NFTs, users are rewarded with new NFTs – giving them part ownership of the asset.
In stage 1 of IMPT's presale, the project raised $10.8 million by selling 600 million tokens – representing 20% of the supply.
The second presale round has listed 660 million coins – with a target of $15.8 million.
Stage 2 of the presale has already raised nearly $2 million, with tokens currently available for $0.023 each.
Investors can purchase IMPT before the stage 3 presale price rises to $0.028 – a 21% price increase.
Follow the IMPT Telegram Channel to stay updated with this crypto project.
2.    Calvaria – New Play-to-Earn NFT Cryptocurrency Project on Presale
Another popular token which can 2x in price is Calvaria (RIA) – a play-to-earn (P2E) gaming project.
By staking $RIA, the native cryptocurrency, investors can acquire eRIA – the in-game currency.
To compete in tournaments on the Calvaria ecosystem, players can purchase Battle Cards, in-game virtual items minted as NFTs via smart contract functionality.
RIA tokens are rewarded by competing and winning in community-wide competitions, with 10% of all tokens spent distributed to the platform's staking protocol, while the rest is allocated to the prize pools.
RIA can also be staked to access the Calvaria DAO (decentralized autonomous organization) – which offers voting and decision-making rights on the platform.
With a total supply of 1 billion, 300 million tokens are available through a 10-stage presale and throughout the 10 stages, the price will increase from $0.01 to $0.055 – a 450% price increase.
Currently, on stage 3, RIA can be purchased for only $0.02 per token. Thus, investors can already stand to earn a near 2x price increase by entering the presale right now.
Read the Calvaria whitepaper and follow the Telegram Channel to learn more about this cryptocurrency.