Mexico's biggest cash cow is under siege as Donald J. Trump threatens to tax or halt remittances to the country in order to pay for his border wall.
---
Western Union Shares Dive

Following Trump's executive order to start building the southern border wall issued on Wednesday, markets are already taking into account the possibility of a tax on remittances from the U.S. to Mexico. This is already being felt by such remittance giants as Western Union whose shares dropped 2.44% today.
As a whole, the legacy remittance industry has been facing increasing competition from fintech and money transfer apps, many of which use Bitcoin for remittances. MoneyGram, the biggest competitor to Western Union, has just been bought by Ant Financial Services Group, which can be a game changer for the money transfer landscape.
Remittances are the biggest cash inflow Mexico has, which surpasses even that of oil exports (around $23 billion). Between January and November of 2016, $24.6 billion USD entered Mexico through remittances, most of which come from the United States.
Moreover, Reuters reports that remittances to Mexico increased tremendously after Donald Trump was elected, the biggest jump since March 2006. In November, Mexicans abroad sent nearly $2.4 billion in remittances home, 24.7% higher compared to the same period last year.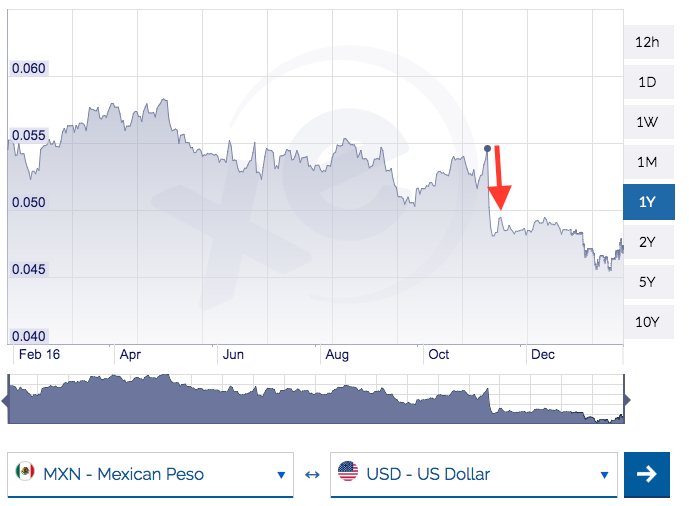 Remittances are essential in Mexico's economy, which has been reeling from Donald Trump's election victory and probable tariffs on Mexican-produced goods. The Peso has also shed around 20% since Trump's election victory in November. 
'…and Mexico is Going to Pay for It'
During his campaign, Trump repeatedly stated that Mexico would pay for his proposed wall. He reiterated this on January 11th saying,
They will reimburse us for the cost of the wall. That will happen, whether it's a tax or a payment — probably less likely that it's a payment, but it will happen.
Since remittances are Mexico's biggest cash cow, Mexican President Enrique Peña stated that they're indispensable for national development and for millions of Mexican families. In result, Peña has canceled a meeting scheduled for next week with Donald Trump, following the executive order and a tweet by the president of the United States:
The U.S. has a 60 billion dollar trade deficit with Mexico. It has been a one-sided deal from the beginning of NAFTA with massive numbers…

— Donald J. Trump (@realDonaldTrump) January 26, 2017
 Bitcoin as an Exit
Although it is unclear if the ban or taxes would also apply to companies that use Bitcoin for remittances, the cryptocurrency will remain the best and most private option to transfer money in and out of any country. 
Bitcoin, which has been growing in popularity in the country, can be transferred directly for a negligible fee compared to intermediary services, which often charge as much as 20%. To add insult to injury, it is often that the poorest countries are subject to the highest fees.
Although the "last mile" (i.e. cashing out into local currency) in Bitcoin remittances is still an issue, startups like Abra and Spare are tackling this problem, allowing customers to convert Bitcoin to fiat at local stores using a mobile app.
Moreover, since Bitcoin is not connected to a specific country, it would not be feasible to tax these transactions, which are pseudonymous and offer greater privacy for the user. Even if Bitcoin transactions from the U.S. to Mexico were somehow to be taxed or banned, such a law would be impossible to enforce as there is no real way of tracking the geographical path of this 'cloud money.' 
Thus, if the U.S. does impose a tax on remittances, Bitcoin and other fintech startups will undoubtedly rush to fill this $25 billion dollar gap. Simply put, this can be great news for Bitcoin, which is known to thrive in the midst of geopolitical and economic uncertainty.
Will Mexico increasingly turn to crypto for remittances if Trump's policies are enacted? Share your thoughts below!
---
Images courtesy of