TSURUGI FINANCE, an NFT project that democratizes Japanese art & culture has announced the launch of an NFT escrow system to enable buyers and sellers to transact in a seamless, efficient, and secure way. This launch is part of TSURUGI's commitment to building an inclusive NFT ecosystem that meets and exits the needs of traditional artists, helping them to unleash their talent to the world.
The project is leveraging its NFT marketplace and live streaming application to enable Japanese traditional artists to offer their creativity to the world and enjoy higher earnings by turning their artworks into liquid, tradeable, and verifiable masterpieces.
TSURUGI Is Tokenizing The Finest, Rarest Japanese Cars
TSURUGI FINANCE is making an NFT of the finest classic cars that have been fully restored by Ferrari's authorized Japanese distributor CORNES. TSURUGI will tokenize the "Ferrari Dino 246 GT," a super shortage, luxury car made in 1971, roughly 50 years ago. This Dino was purchased by the Japanese 50 years ago and has since been transferred to the Japanese owner to this day.
According to TSURUGI, there is a document called "Record Book" in Japan that describes the repair history of automobiles in chronological order. This "record book" which describes the repair history of such cars in chronological order is unique to Japan, and any classic car with such a record book is known to be very valuable. The Ferrari Dino 246 GT has its own record book.
History has it that the Japanese have a very strict and careful habit of handling cars, and Japan is the best place in the world to maintain and safe-keep classic and exotic cars. It is fully anticipated that the value of this Dino246GT will continue to be on the high side by careful and timely maintenance.
The 50 years old 246 GT is in perfect maintenance, so it is possible to actually run it. However, there are some issues that need to be resolved in order to seamlessly trade this enthusiast's coveted high-priced premium car via NFT. TSURUGI FINANCE proffers a solution on how to safely, and securely transact these cars as NFTs
The TSURUGI' Approach To Tokenizing The Dino246GT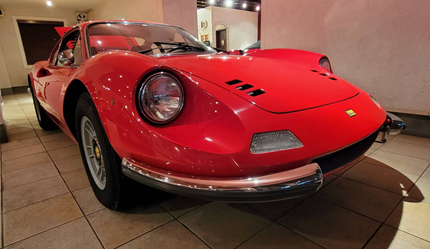 To solve this bottleneck, The TSURUGI NFT marketplace has introduced an escrow system to eliminate the anxieties of both the buyer and seller and provide a mechanism that allows both parties to trade comfortably.
TSURUGI noted that "During a purchase process, the NFT buyer's funds will go into an escrow wallet without depositing directly into the merchant's wallet. When the payment is confirmed in the escrow wallet, the ownership of the car will be transferred to the SPC managed by escrow, and the SPC will issue an NFT." This is designed to ensure that NFT owners are able to reliably purchase Ferrari's NFT with actual Ferrari collateral.
In Japan, where the Ferrari exists, there is a foundation called the Digital Asset Management Foundation, which manages assets in Japan for NFT investors. TSURUGI ensures that the NFT's underlying assets will be transferred to the bankruptcy-remote SPC, and will be properly maintained and managed by a specialized property management organization so that the value of the assets will remain on the high-end.
If the NFT owner wishes, it is possible to burn the NFT and deliver the actual car to the NFT owner. In that case, the export procedure will be carried out by Digital Asset Management Foundation, which manages NFT assets in Japan.
Additionally, TSURUGI FINANCE GROUP is on track to tokenize Japanese bonsai as digital collectibles, Japanese swords to NFT, expensive jewels to NFT, and other precious items. These collectibles will ultimately be exhibited at the TSURUGI NFT marketplace in batches.
About TSURUGI FINANCE.
TSURUGI FINANCE democratizes the Japanese art & culture industry by creating a new blockchain-enabled ecosystem to connect Japanese artists with a worldwide audience. The project provides a hassle-free Japanese culture distribution channel for Japanese culture amateurs, collectionneurs, and international investors
TSURUGI Finance aims to bring the wonderful world of Japanese culture into the mainstream DeFi and build a new economic sphere by providing individuals the means to securely own and trade valuable assets, TSURUGI gives everyone globally an equal opportunity to become a part of Japanese traditions and own rare collectible physical items represented digitally as NFTs on the TSURUGI NFT marketplace.
The ecosystem will support domestic craftsmen and artists. With the TSURUGI NFT marketplace and live streaming application, Japanese traditional artists will be able to offer their creativity to the world and enjoy higher earnings by turning their artworks into liquid, tradeable, and verifiable masterpieces.