One of the worst results following the All-Time Highs (ATH) reached in late 2021 is the crypto market's halving in 2022. Some projects are succeeding despite the catastrophe, though. IMPT.io Token (IMPT) and Big Eyes Coin (BIG) are the top alternative currencies for 2022.
Big Eyes Coin (BIG): A compelling sustainable investment opportunity
A majority-community-owned coin called Big Eyes Coin (BIG) is now bursting into the seventh stage of its presale. The Dogecoin (DOGE) and its offspring-dominated meme coin market have a cat-shaped vacancy that the Big Eyes team wanted to address. This cat is aware that being adorable is a vital instrument it plans to use to protect the environment and transfer money to DeFi.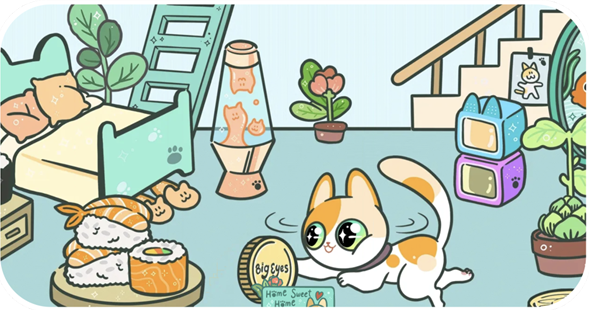 Protecting and maintaining life in our oceans and seas is a primary goal for Big Eyes Coin (BIG). As a result, 5% of its 200,000,000,000 BIG tokens will be invested in a charity wallet that can be seen by the public and given to a group that actively works to remove waste from our seas. The continuous rise in its presale is a testament to its ability to sell itself to numerous segments within the cryptocurrency industry—creating an appealing investment opportunity.
IMPT.io Token (IMPT): Reducing Business Carbon Footprints
In contrast to Big Eyes Coin's (BIG) marketing strategy, which intends to draw in a diaspora audience, IMPT exclusively wants to draw in companies and people interested in reducing their carbon footprints. By addressing some of this group of investors' investment criteria, also referred to as Environmental Social Governance (ESG) screening techniques, IMPT hopes to draw their attention.
The auditing procedure carried out by a third-party organization of each sustainable organization that IMPT.io (IMPT) supports is therefore described in full in the whitepaper from IMPT is well-positioned to draw a large number of companies and individuals that need to know their investment is 100 percent green thanks to this degree of transparency.
How Does IMPT.io Token (IMPT) Work?
A blockchain platform called IMPT.io was created to support carbon offsetting operations. The protocol links companies and people to groups that try to reduce the amount of CO2 in the atmosphere. By acquiring carbon credits on the blockchain, businesses may securely support these programs. Then, they may keep tabs on the development and examine how the money was spent on carbon footprint offsets. Big Eyes Coin (BIG) has had remarkable results, but IMPT is the greatest of the lot. For the project's initial holders, good prospects have been created. As the project develops, additional holders can take advantage of more significant advancement. The initial listing price of IMPT is set at $0.0253, which is 10% higher than the token price at the end of the presale.
According to some industry experts, IMPT.io could be a hit with a platform that capitalizes on the desire of businesses, investors, and consumers to offset their environmental impact while bringing transparency to the blockchain. IMPT.io Token (IMPT) also works with thousands of the largest retail brands that allocate a percentage of their sales profits to environmental projects. Accumulated in the user's account in the form of IMPT tokens. Users accumulate these tokens until they reach their chosen required carbon credits. So, users can continue shopping as normal while helping the planet.

For more information on Big Eyes Coin (BIG), you can visit the following links:
Presale: https://buy.bigeyes.space/
Website: https://bigeyes.space/
Telegram: https://t.me/BIGEYESOFFICIAL
Disclaimer: This is a paid release. The statements, views and opinions expressed in this column are solely those of the content provider and do not necessarily represent those of Bitcoinist. Bitcoinist does not guarantee the accuracy or timeliness of information available in such content. Do your research and invest at your own risk.