Bitcoin has dropped slightly since establishing highs of $11,730 on Monday.
The leading cryptocurrency currently trades for just over $11,400.
Bitcoin is expected to see some volatility as announcements are expected from China about blockchain or its digital currency.
From a technical standpoint, BTC is expected to retrace in the coming days as the bullish uptrend exhausts.
One analyst outlined two core reasons why the cryptocurrency could drop towards the low-$11,000s in the days ahead.
While there is this risk, fundamental trends with the U.S. dollar suggest Bitcoin should keep a bid in the coming weeks.
Whether or not this will be enough to stop a short-term drop, though, remains to be seen.
Bitcoin Could Correct After Moving $1,000 Higher: Key Technicals
Bitcoin has undergone a strong rally over the past week, gaining over $1,000 from last week's lows to this week's highs. Even after a slight drop, the cryptocurrency is still up by nearly 10% in the past seven days.
While this is a stark reversal from the market "chop" that BTC was stuck in for five weeks, more consolidation is expected.
One crypto-asset trader recently shared the chart below, noting that there is a confluence of trends indicating a pullback is to be expected. The chart shows that Bitcoin has formed a Tom Demark Sequential "Sell 9" candle just recently, suggesting an imminent bearish reversal. The same trader added that the crypto-asset has formed key bearish divergences on its four-hour chart between price action and the RSI and MACD.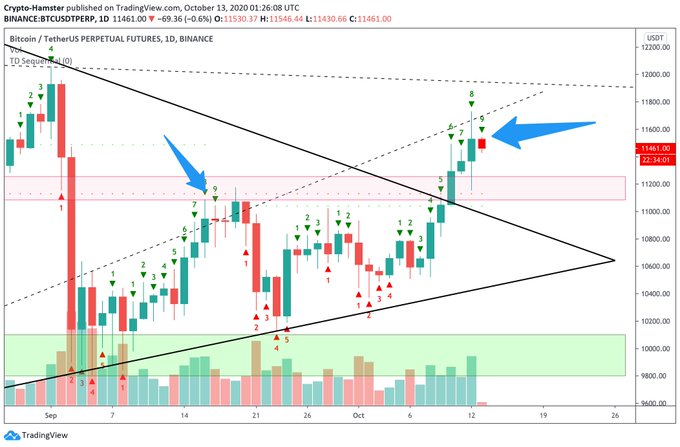 Chart of BTC's price action since the end of August with analysis by crypto trader CryptoHamster (@Cryptohamsterio on Twitter).
Source: BTCUSD from TradingView.com
Adding to the expectations of downside, Bitcoin's CME futures gap from this weekend's price action is still present on the charts.
Because BTC exhibited volatility on the weekend, a $300 gap between futures trading on Friday and the Sunday evening open has formed.
75% of CME Bitcoin futures gaps close within the week that they open. This suggests that there is a decent likelihood Bitcoin retests the $11,100 in the coming days, prior to the Friday futures close.
Dropping Dollar Could Stop BTC Decline
A dropping U.S. dollar could stop a Bitcoin decline from current levels.
Goldman Sachs recently said that the U.S. dollar could drop as the odds of former vice president Biden increase, as another stimulus bill nears, and as a vaccine is well in the works.
Bitcoin stands to benefit from this as the cryptocurrency has rallied over recent months when the U.S. dollar has fallen. It follows a similar path and narrative to that of gold.
Photo by Simon Schwyter on Unsplash
Price tags: xbtusd, btcusd, btcusdt
Charts from TradingView.com
Two Key Trends Show That Bitcoin Will Correct After $1k Rally