Online video music platform Viuly is in the midst of a massive airdrop campaign, distributing all of its native VIU tokens to about 1 million Ethereum users. With an active crypto community now owning their share of VIU tokens, Viuly's goal of changing the way the world watches, shares, and earn rewards from videos is well and truly underway.
---
On November 5th, the Viuly team took a snapshot of the Ethereum blockchain, identifying about 1 million addresses holding between 0.1 ETH to 3,000 ETH to be included in the automated airdrop. Distributions commenced on November 12th, with all qualifying Ethereum holders expecting to receive 20 VIU tokens for every 1 ETH held, for a maximum of 60,000 VIU. A total of 500 million VIU tokens will have been distributed at the end of the airdrop.
This strategy was undertaken by Viuly to achieve the widest possible distribution to an active and widespread community of Ethereum users. Their use and onward distribution of VIU tokens are expected to boost early adoption of Viuly's revolutionary solution for the online video sharing industry.
VIU Tokens – A Digital Asset with Immediate Value
VIU token holders will be able to use them immediately on the Viuly video sharing platform as native currency to transfer value to each other, as well as perform a number of interactions within the network. As users, VIU tokens can be used to pay for premium content or purchase subscriptions to favorite channels. As advertisers, VIU tokens can be transferred directly to users as rewards for watching advertisements. As content creators, revenue from video uploads are earned through VIU tokens.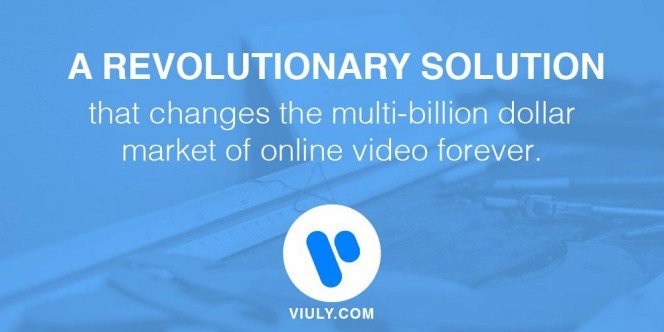 Through Viuly's decentralized distribution ecosystem, all network participants will be able to share, upload, and watch videos, immediately earning rewards for interacting within a fair, unrestricted environment. Without the need for a centralized third-party to manage content and levy high commissions on both advertisers and content creators, the result is a more equitable model of revenue generation and distribution. For the first time, even users share in the revenue from watching ads.
In addition, on November 19th, VIU tokens will commence trading on Bit-z, one of the most popular Bitcoin and cryptocurrency trading platforms around. As VIU tokens are limited in supply, increasing demand for them has the potential to improve its value over time. Their availability for trade on the open markets thus creates an additional revenue stream for VIU token holders. Users are advised to register for an account on Bit-z now to prepare for trading.
Viuly and the Revolution of the Online Video Sharing Industry
Despite the success of online videos, the current landscape consists of a monopoly by a few major platforms that act as centralized middle parties, conducting intermediate deals between advertisers and content creators. Only about half of the revenue generated from ads is distributed to creators, with users getting little or nothing from all the views and shares they generate.
Viuly's platform will take control of content away from these centralized institutions, placing it within the network itself. Creators earn bigger shares of revenues. Viewers also see some of the rewards, while advertisers benefit from lower commissions and more efficient marketing.
Based on the IPFS protocol, the platform's decentralized distributed network means that individuals can be compensated for contributing storage. This does away with single points of failures since there are no shared control centers. Without centralized censorship, content is unrestricted, and creators are free to create, while viewers have no limits to access.
About Viuly
Viuly hopes to leverage on blockchain innovations of decentralization and transparency to disrupt the multi-billion dollar industry of online video sharing. It envisions a fair video network with an equitable revenue-sharing model.
Its solution has already attracted a commitment of 150,000 EUR from Ukraine-based blockchain investor Krypton Capital as part of its "smart money" strategy. Together with Krypton Capital, Viuly will be able to partner with relevant companies for mutual benefit, adding value on both sides.
To learn more about Viuly, visit their website and read their whitepaper.
---
Images courtesy of Viuly.