Freename, a leading web3 top-level (TLD) and second-level (SLD) domain service, has announced a new integration with Mailchain, a company building a new communication layer for Web3. The integration will allow Freename domain owners to communicate directly using their blockchain-minted domains on Mailchain's end-to-end encrypted email platform, according to an upcoming press release provided to Bitcoinist.
Enter Web3 domains
Digital identities and naming services are crucial for a user's Internet experience and shape the way people communicate online. However, the current ownership model makes it challenging for users to own these domains and identities without relying on a third party. With Web3 unlocking new opportunities for users to own their data, Freename has made it possible to own a blockchain-based top-level domain outright and create domains on it.
Through the integration with Mailchain, users can now create an inbox and register the wallet address that their Freename domain resolves to, allowing them to privately send messages using their Freename domain name. The end-to-end encrypted email platform operates without charge or gas fees, allowing individuals and companies to communicate securely with their digital identities. The platform is designed for easy and organized Web3 communication and operates similarly to traditional email functionality.
Freename's mission is to empower users to take control of their Web3 identities and mint domains on a top-level domain. With Mailchain's integration, anyone can use their own domain to communicate privately, domain-to-domain and wallet-to-wallet.
Use Web3 emails
To use Web3 emails, Freename domains owner can simply log in Mailchain or use the Freename Browser Extension, a plugin for Chrome, Brave and Firefox with several utilities such as: send emails, register new TLDs and domains, navigate the internet with web3 domains and send or receive tokens.
Fig. 1. Freename Browser Extension
"Web3 identities will underpin how people communicate and interact online. Integrating a top-level domain service like Freename empowers users to own and control how they express themselves, and how their identity is used. It is a big step forward in bringing new users to Web3,"  said Tim Boeckmann, CEO & Co-Founder of Mailchain.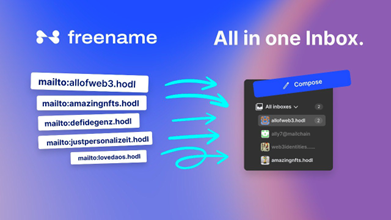 Fig. 2. Send and receive email with Web3 domains
Freename CEO Davide Vicini stated, "We are proud to partner with Mailchain, who is bringing real value to Web3 users. Freename is all about delivering user-owned Web3 domains and top-level domains with utility, so enabling our users to message easily through Mailchain signals a new way for them to connect and build their identity."
Mailchain is a new communication layer for Web3 that offers a simple and sleek inbox for users to send and receive private messages using public blockchain addresses. With Mailchain, projects, DAOs, exchanges, and protocols can communicate directly with their users, wallet-to-wallet. Freename, on the other hand, is a leading Web3 TLDs and domains platform where users can register and mint their own Web3 TLDs and domains, and even receive royalties if others buy a domain on their TLD.
The integration of Freename and Mailchain is a significant step in bringing more value to Web3 users and enhancing their online communication and identity ownership experience.