There have been a lot of trends coming and going in the crypto market and among them is play-to-earn. This trend is clearly here to stay and it has become widespread enough that it is no longer something that people think will go out of fashion. From new projects popping up every day to established AAA companies, many entities are considering blockchain technology and NFTs, and P2E is the natural evolution of that.
One project that is working on improving the idea of P2E is Meta Masters Guild, a mobile gaming guild in the Web3 space. It takes the best idea of the P2E space and executes them even more effectively. It has the potential to light a fire in the fast-growing mobile gaming space. The team describes the model as "Play & Earn and not Play2Earn" which, as we shall see, has some important implications.
Let's take a close look at what Meta Masters Guild is, what its ecosystem is composed of, the games available on the platform, and the details of its presale.
Meta Masters Guild Has the Potential to Transform P2E
P2E is not a barren space when it comes to projects. There are several projects executing various ideas, but few of them are doing any that have truly transformative ideas. Competition tends to breed quality, and it's clear that Meta Masters Guild is one of the few projects with great potential.
This is because Meta Masters Guild focuses on creating games that are actually playable and fun. They want this to be the main priority of the project and they believe that everything else will follow. Gamers came about the game most, with everything else following.
Of course, there are multiple ways to earn, which we learn about shortly. However, the earning is a bonus so to speak, and an attractive feature that is secondary to the actual games.
What is the Meta Masters Guild?

Specifically, Meta Masters Guild is a mobile gaming guild for Web3. Think of it as a hub where users congregate to play various games, using their rewards in various features of the ecosystem.
Among the features that Meta Masters Guild has to offer are the ability to play games to win gems, exchange those gems for MEMAG tokens, win or buy NFTs from a store, stake NFTs to earn yields, and exchange MEMAG for other tokens like ETH and USDT. There will also be NFTs, so collectors can use these to build their portfolios and generate revenue.
The Ideas Underpinning Meta Masters Guild
Meta Masters Guild has a few main ideas underpinning its design. These are fun comes first, players truly owning their assets, communities driving the games, and playing to earn.
So as you can see the primary idea is to create engaging games which are fun and the blockchain or tokenization elements are secondary to that. The team wants all the assets that players have to be owned by them, making sure they are 100% tradeable. The community will also be centrally involved in the decision-making process that drives development.
It is worth emphasizing again that Meta Masters Guild is a Play and Earn platform, not a Play-to-Earn platform. The team thinks that this fits in better with the principle that earning mechanics should be sustainable.
With all this in mind, the  Meta Masters Guild team hopes to foster a playground for Web3 enthusiasts. It is the world's first mobile-focused Web3 gaming guild, as we mentioned. The mission has been described as building "high quality, blockchain integrated mobile games that will form a decentralized gaming ecosystem, allowing members to sustainably earn rewards in exchange for their contribution to the ecosystem."
The Meta Masters Guild Ecosystem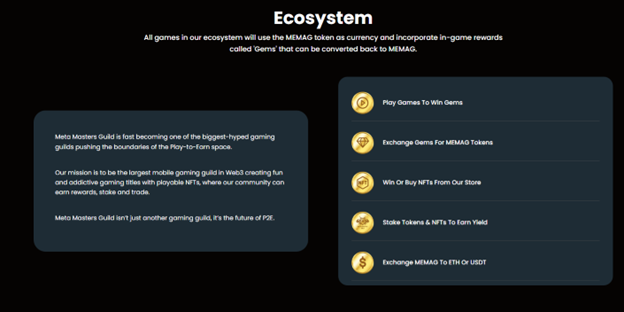 Powering the Meta Masters Guild ecosystem is the MEMAG token, which is currently undergoing its presale. Every game rewards players in the form of Gems, which can be converted to the MEMAG token. These tokens can then either be cashed out or reinvested into the Meta Masters Guild ecosystem. This will incentivize players to spend more time and resources in the ecosystem because it compensates them fairly.
Premium, in-game NFTs can be purchased from the Meta Masters Guild store on the website. These will be held in the wallet and can be used in-game. Premium items have better stats and will give players a better chance of winning in various games and in turn increase the number of gems that they earn.
The team is encouraging developers to work with them to build good games and it is eager to establish partnerships for this purpose. Players who are highly skilled at a game will also be rewarded for their efforts. Top-level players will receive better rewards and the team wants to foster an eSports scene.
Meta Masters Guild is also seeking to support eSports teams and content creators. The project will support any official eSports team and any creators who wish to play its developed titles.They could use this to market the titles and give them access to some of the better in-game items, to show what the possibilities are.
The MEMAG Presale is Heating Up
Stage 3 of the $MEMAG token presale has begun, and tokens are selling fast! 💰

Be a part of the #MMG gaming ecosystem with the power of $MEMAG. 🚀

Buy $MEMAG in Stage 3 of the presale before the next price increase! 🎮

➡️ https://t.co/HzrnZe7NYC #presale #p2e #nftgames pic.twitter.com/MDwYDcEnEa

— Meta Masters Guild (@MEMAGgames) January 26, 2023
Meta Masters Guild is currently conducting the presale for its MEMAG token. The token is currently in the third stage of its presale, with 1 MEMAG costing 0.013 USDT. It has managed to raise over $1.4 million in its presale, with 31.1 million tokens remaining in the third stage.
The current presale stage will end in just over 5 days, after which the MEMAG token will see the price increase to 0.016 USDT. The token has been seeing a tremendous amount of interest from the crypto community, which is why the token has raced into the second stage of its presale.
The token can be purchased through one of three options: ETH, USDT, and a card. This offers a good few options to users and the fiat option is especially helpful for crypto beginners.
Meta Masters Guild is also running a $100,000 giveaway contest at the moment. The contest is a simple one, with participants only having to complete a few minor tasks. Most of these have to do with social media. Examples include following the project on Twitter, joining the Telegram group, tweeting about the project, visiting the subreddit, and so on.
There is a total supply of 1 billion tokens. The ecosystem has a 5% NFT royalty fee which goes back to the Meta Masters Guild treasury. There is no cap for individual purchases.
The presale has been allotted 35% of the supply i.e. there are 350 million tokens being sold in the presale. 15% each has been dedicated to the ecosystem and marketplace, so that makes up 300 million. 10% each has been dedicated to company reserve, team and exchanging listings, amounting to another 300 million. The remaining 5% has been budgeted for liquidity purposes.
To summarize, here's the tokenomics:
Presale – 35%
Ecosystem – 15%
Marketplace – 15%
Company reserve – 10%
Team – 10%
Exchange listings – 10%
Liquidity – 5%
How to Buy MEMAG
Purchasing MEMAG is a straightforward process that even crypto newbies should find easy to get into. We explain all of the steps you have to take to participate in the MEMAG presale below.
Step 1: Get a Wallet
The first step is of course that you'll need a crypto wallet. There are several wallets that are supported. MetaMask and Trust Wallet are good choices as they are widely supported and reliable. You can do this either on a desktop or on mobile devices.
Step 2: Connect Your Wallet
After you've created your wallet, you'll need to connect it to the official Meta Masters Guild. It is important to make sure you are on the official Meta Masters Guild website.
Click on the big white button that says "connect wallet" on the top of the page. Remember, you'll want to get in as early as possible to purchase MEMAG at the lowest price possible.
Step 3: Buy MEMAG
Now you can actually get to buying MEMAG. You have a few options when it comes to the asset you can use for the purchase. Your choices are ETH, USDT, or using a card. In order to make the purchase, choose how much MEMAG you want to buy, regardless of whether it's ETH or USDT.
When buying with a card, the platform uses Transak to purchase ETH which you can then use to make the MEMAG purchase. There is a quick KYC process and the purchase happens directly in the widget.
Remember that you must account for gas fees to confirm the transaction.
Step 4: Claim Your Tokens After the Presale
You will be able to claim your MEMAG once the presale is over. All you will have to do is visit the Meta Masters Guild claim page and make the claim when it is available. Do watch the project's social channels to learn when this will happen.
MeMag Already Has a Bunch of Games
As mentioned earlier, the team is building several quality games. The games that have been announced are Meta Kart Racers, Meta Masters World, and Raid NFT.
Meta Kart Racers is a racing game developed by Gamearound which is in the early stages of development. Built for mobile devices, this PvP game sees players compete against each other in the Meta Kart Championship. Players will have to escape from the evil Meta overlords. For their success, they will earn gems that can be traded for MEMAG.
Meta Masters World is a metaverse that has an expansive world for players to explore. This focuses on exploration so expect a strong open-world game with various mechanics. Meta Masters Guild states that players will have full autonomy in this gaming world and they can participate in such activities as exploring, collecting resources, and entering competitions. This is still in the conceptualization stage.
Raid NFT is quite a different game from the other two. It is a turn-based fighting game where players can choose from several different warrior classes. Once selected, they battle other players in a turn-based game in harsh environments. Players earn gems for defeating other players and completing challenges. What's more, players can either play by themselves or against other players – so there's something for single-player enthusiasts as well. It is currently in the design stage.
These games are very different when it comes to their genre, which should keep players happy as they offer such varied experiences.
What Does the Future Hold for Meta Masters Guild?
While the team already has a lot in the pipeline, the medium and long-term future of the project is also quite exciting. The team has a lot prepared for the future and plans to grow Meta Masters Guild as much as possible.
2023 is where things got really exciting as the team will focus on several key priorities that will actually be usable.
The first quarter of 2023 focuses on a soft launch of the platform, the NFT store launch, a soft launch of staking, and of course the MEMAG presale. The next quarter focuses on listings on CoinGecko and CoinMarketCap, listings on various centralized and decentralized exchanges, beginning animation on the Raid NFT game, expansion of NFT characters across games, continuous game development, and new partnerships with Web3 game developers.
In the second half of 2023, the team expects to launch the Meta kart demo. It will also focus on project expansion and scaling, and the development of new games and platform features.
Meta Masters Guild is Making Waves in the Industry
Meta Masters Guild is a unique platform that has all the potential to change how P2E and Web3 work. The fact that there are already multiple quality games in the pipeline speaks to its potential.
Those interested in the project should take a look at the presale, which is running out quickly. Getting in early means you'll get the token at a lower price, which will be very handy when the Meta Kart Racer game launches later this year.