P2E games are a transformative model that is bringing huge changes to the gaming industry. Everyone is clear on this and the model has even been noticed by AAA gaming studios, some of which have begun working blockchain tech and NFTs into their projects. This is only going to become even more common as technology improves and becomes more accessible.
The P2E model has the potential to make Web3 become a household thing. It's taken about 18 months to get here, but this milestone of adoption is on the verge of happening. One of the projects doing this is Meta Masters Guild, which is a Web3 mobile gaming guild.
We explain all about Meta Masters Guild here, including how it is bringing the changes that Web3 needs to become a worldwide success.
Web3 Needs the Solutions Meta Masters Guild is Building
The world of Web3 has definitely taken the world by storm, but there are challenges in this space. There are both usability and feature-related issues, and it's not quite at the point where it can achieve mass adoption.
At the same time, the video games industry is also facing its own issues. This is a rapidly growing industry, one that is set to expand even further as technology improves.
Meta Masters Guild is solving issues in both these industries by building a platform that incorporates the P2E model into a mobile gaming guild effectively. The team does not hold back when it comes to criticizing the gaming industry. Its calls the gaming industry "among the most predatory industries in our world today." Among the issues cited is the release of unfinished games or poor-quality games and predatory monetization techniques.
With its Web3 mobile gaming guild, Meta Masters Guild will analyze player feedback and give them a chance to earn from their hobby. The main idea is to create games players can enjoy, and the time and effort that they put in can help them earn rewards. They are clear in their belief that the games must come first, however, and that the earnings are independent of that.
As such, Meta Masters Guild calls the model Play-and-Earn, not Play-to-Earn. Players earn play games not to earn, but because they enjoy the game.
What is the Meta Masters Guild?
The simplest definition of Meta Masters Guild is that it is a mobile gaming guild for the Web3 space. To that end, it has multiple games and features that will encourage players to take part in the ecosystem with the goal being to be the "future of P2E." The project is putting together numerous ideas into one cohesive unit, which creates an ecosystem with individuals that play off of each other very well.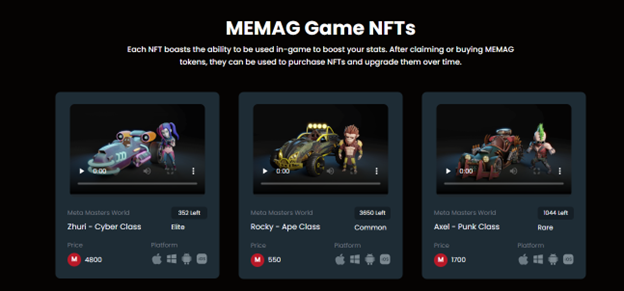 NFT collectors should also find reasons to be happy as the project will feature NFTs that will have their own value. Players will have multiple ways to earn in addition to these NFTs.
The key focus of the team is to create good games. They believe that this is what will attract players to the ecosystem and encourage them to continue playing. These games will offer the ability to earn, stake, and trade. With good games as the foundation, the team hopes that the additional features will take the platform into the future with great momentum.
What Does Meta Masters Guild Have to Offer?
As a playground for Web3 enthusiasts, Meta Masters Guild will offer players a wealth of opportunities to invest in the gaming space. This platform is the world's first mobile-focused Web3 gaming guild. The mission has been described as building "high quality, blockchain integrated mobile games that will form a decentralized gaming ecosystem, allowing members to sustainably earn rewards in exchange for their contribution to the ecosystem."
Here are some of the features planned for the ecosystem:
The ability to play games to win gems
Exchanging those gems for MEMAG tokens
Winning or buying NFTs from a store
Staking tokens and NFTs to earn yields
Exchanging MEMAG for other tokens like ETH and USDT
These features are designed on the idea that fun comes first, players truly own their assets, communities drive the games and, of course, gamers can play to earn rewards.
What the team is trying to do is create games that can stand on their own, with the fact that you can earn from them being ancillary. They want the assets that players earn to be fully tradeable. The community will be centrally involved in the decision-making process that drives development.
Check Out the Meta Masters Guild Presale
The Meta Masters Guild Ecosystem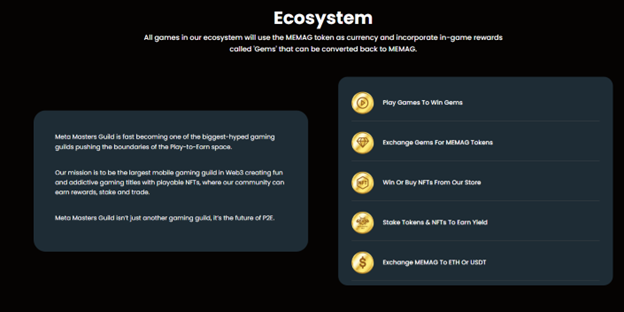 There are of course several ecosystem activities where the aforementioned features come into play. All of this is powered by the MEMAG token, which currently has its presale going on.
In the activities, players will earn rewards in the form of Gems, which can be converted into the MEMAG token. Then, they can cash out or reinvest these tokens into the Meta Masters Guild ecosystem. The idea is that this will incentivize players to spend more time and resources in the ecosystem.
Additionally, there are premium, in-game NFTs that can be purchased from the Meta Masters Guild store. These will be stored in the wallet and can be used in games. Premium items have better stats and will give players a better chance of winning various games and, in turn, increase the number of gems that they earn.
As you can see, the team is highly focused on building a robust ecosystem. With that in mind, Meta Masters Guild is keen on working with developers so that good games are built. This includes partnerships
Furthermore, players who are highly skilled at a game will also be rewarded for their efforts. Top-level players will receive better rewards and the Meta Masters Guild team wants to create an eSports scene. There will also be an effort to support eSports teams and content creators. The project will support any official eSports team and any creators who wish to play its developed titles.
Meta Masters Guild has also had its contracts audited and verified by SolidProof, with the team's KYC credentials checked by Coinsniper.
Check Out the Meta Masters Guild Presale
Meta Masters Guild Already Has a Bunch of Games
Currently, there are three games in development in the Meta Masters Guild ecosystem. These are Meta Kart Racers, Meta Masters World, and Raid NFT. They're all very different games and will give players a wide-ranging experience and appeal to a multitude of tastes.
Meta Kart Racers is a racing game developed by Gamearound which is in the early stages of development. Built for mobile devices, this PvP game sees players compete against each other in the Meta Kart Championship. Players will have to escape from the evil Meta overlords. For their success, they will earn gems that can be traded for MEMAG.
Meta Masters World is a metaverse that has an expansive world for players to explore. This focuses on exploration so expect a strong open-world game with various mechanics. Meta Masters Guild states that players will have full autonomy in this gaming world and they can participate in such activities as exploring, collecting resources, and entering competitions. This is still in the conceptualization stage.
Raid NFT is quite a different game from the other two. It is a turn-based fighting game where players can choose from several different classes that are warriors. These characters are used to battle other players in a turn-based game in harsh environments. Players earn gems for defeating other players and completing challenges. What's more, players can either play by themselves or against other players – so there's something for single-player enthusiasts as well. It is currently in the design stage.
The Team Behind Meta Masters Guild
The Meta Masters Guild project has 7 individuals working on it. Collectively, they have experience in gaming, finance, art, and product and strategy. The project's CEO is Gabriel who is also the founder. Matthew Fishtal and Hassan Naveed serve as the project's advisors, and they have experience in advising crypto projects, product marketing, and strategy.
Joel Carpenter is the platform's game concept advisor and he has over 10 years in digital and traditional illustration. He has worked with Headstrong Games, Titan Entertainment, Channel 4, Rocakbox, Bravdo Merchandising, Harley Davidson, and 2000 AD on AAA games development.
Patrick Hegarty serves as the project's brand ambassador, and has over 3 years of experience in crypto. He will help with engaging with the community.
Gamearound will serve as the platform's lead game developer. The team has experience working with NFTs, games, music, movies, entertainment, art, sports, and virtual real estate. Games include Broken Civilization, Time Travel Racing, Pure Golf, and Stride N Seek, among others.
Meta Masters Guild has also partnered with RWaltz, Ruskin Felix, and Pushed for various purposes. They will help with various aspects of platform and game development.
Check Out the Meta Masters Guild Presale
The MEMAG Presale is Heating Up
🚨 #MEMAGFAM, get ready for the next stage! 🚨

🚀 Stage 3 of the $MEMAG presale is now live! 🚀

Don't miss out on owning a piece of the future – buy $MEMAG today! 💰

Thanks for the support and belief in our project! 🛡️

➡️ https://t.co/SBqVjX5mWn#mmg #memag #memagpresale pic.twitter.com/7tbhx8wqOm

— Meta Masters Guild (@MEMAGgames) January 24, 2023
Meta Masters Guild is in the third stage of its presale, with only about 6 days remaining in this stage. It has managed to raise over $1.3 million in USDT so far. Currently, the tokens are priced at $0.013 USDT, with the next stage seeing it go up to $0.016. As such, investors will want to get in as quickly as possible.
The token can be purchased through one of three options: ETH, USDT, and a card. This offers a good few options to users and the fiat option is especially helpful for crypto beginners.
Meta Masters Guild is also conducting a $100,000 giveaway contest. The contest is a simple one, with participants only having to complete a few minor tasks. Most of these have to do with social media. Examples include following the project on Twitter, joining the Telegram group, tweeting about the project, visiting the subreddit, and so on.
The tokenomics of MEMAG is fairly straightforward. There is a total supply of 1 billion tokens. The ecosystem has a 5% NFT royalty fee which goes back to the Meta Masters Guild treasury. There is no cap for individual purchases.
The presale has been allotted 35% of the supply i.e. there are 350 million tokens being sold in the presale. 15% each has been dedicated to the ecosystem and marketplace, so that makes up 300 million. 10% each has been dedicated to company reserve, team, and exchanging listings, amounting to another 300 million. The remaining 5% has been budgeted for liquidity purposes.
To summarize, here's the tokenomics:
Presale – 35%
Ecosystem – 15%
Marketplace – 15%
Company reserve – 10%
Team – 10%
Exchange listings – 10%
Liquidity – 5%
What Does the Future Hold for Meta Masters Guild?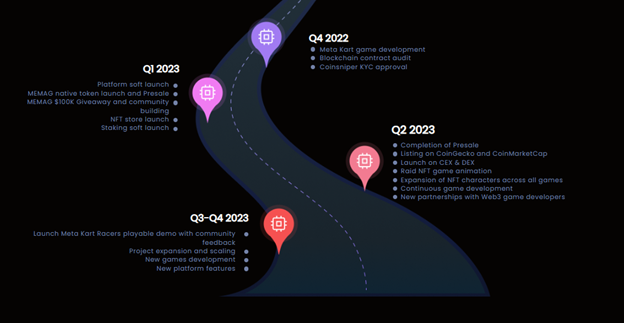 The roadmap for Meta Masters Guild is also exciting. The team has a lot lined up for both the medium-term and long-term and investors will be pleased to know.
Q1 2023 will focus on some of the fundamental releases, like the launch of the NFT store and the staking feature, as well as the completion of the MEMAG presale.
In Q2 2023, the team will turn its attention to listings on CoinGecko and CoinMarketCap, listings on various centralized and decentralized exchanges, beginning animation on the Raid NFT game, expansion of NFT characters across games, continuous game development, and new partnerships with Web3 game developers.
The second half of 2023 will focus on the launch of the Meta Kart Demo, as well as project expansion and scaling, and the development of new games and platform features.
Meta Masters Guild Can Help Transform Web3
The Meta Masters Guild platform can be the next big push that Web3 needs to become a household phenomenon. The project has all the ingredients to reach mass appeal and the focus on making good games is a key factor in that.
Take a look at the MEMAG presale before it hits the next presale stage. There is a lot of opportunity here and it could potentially be one of the best performers of the year.
Check Out the Meta Masters Guild Presale