Cryptocurrencies have experienced bull-ish trending since the start of 2023: Bitcoin (BTC) has grown by 2.24% in the last seven days, with Ethereum (ETH) doing marginally less, growing 2.02% in the same time period. The market is seemingly trending upward – although analysts debate whether we are entering a bull market or whether there's another cycle of this bear market to contend with.
In other news, Big Eyes Coin (BIG)'s presale is drawing to an end: as we move into the final days of its 200% promotion, it has raised a whopping $21 million. To compare it to Dogecoin (DOGE) is perhaps a little obvious, but Dogecoin is the pioneer meme coin that all other meme cryptocurrencies have tried to emulate and improve on. Big Eyes Coin (BIG) is no different: despite it being a meme coin, it has serious intentions and aims within the crypto landscape, and is trending to grow past Dogecoin after it launches.
Dogecoin's History: Why It Set The Blueprint For Success
When you think of meme coins, you think of Dogecoin (DOGE). It's a natural association – the biggest meme coin in terms of market capitalization and coin ranking, it has set the blueprint for success for other meme coins. But how?
Dogecoin came about after Bitcoin's meteoric rise – it was initially a cryptocurrency aimed to poke fun at Bitcoin and the hype behind BTC, but has ended up being an important part of the crypto landscape. It gave birth to an entirely new and thriving sector of cryptocurrency – meme coins. To mix the fun and freshness of internet memes with the power of blockchain technology turned out to be a stroke of genius. Dogecoin has created serious wealth for many investors – as an example, the cost of DOGE at the time of speaking is $0.092, but during the last bull run, hit an all-time high (ATH) of $0.69, meaning that would equal a 7.5 multiplication of any Dogecoin investment today.
Dogecoin raised the legitimacy of meme coins and showed there are serious wealth opportunities when investing in meme cryptocurrencies. However, much like Bitcoin, Dogecoin only really functions as a digital currency – it lacks a significant ecosystem or utility, which has drawn some criticism and raised some questions about whether it'll ever reach its ATH again.
Biggest Presale In 2 Years: Why Big Eyes Coin Has Set Sights On Top Meme Coin
Raising $21 million in a presale during the longest bear market crypto has seen is nothing short of remarkable – and yet, it is exactly what Big Eyes Coin (BIG) has achieved. But why have so many people bought into this new meme coin's hype?
For a number of reasons, our research indicates. Unlike Dogecoin, it looks to develop and offer a fully-fledged ecosystem upon launching. It will not solely be a digital currency, and will look to offer much more than just this. One of these offerings will be non-fungible tokens (NFTs) of Big Eyes art. Users will be able to buy their very own Big Eyes NFTs, as well as trade them on a marketplace. Ownership of these Big Eyes NFTs also means membership in the exclusive club Sushi Crew, where members will be rewarded with Big Eyes merch, airdropped bonuses, and exclusive content. Big Eyes Coin is also a decentralized finance (DeFi) token, meaning it can be exchanged on decentralized exchanges (DEX), keeping the users' wealth secure and private. Additionally, as Big Eyes Coin is built on the Ethereum network, it works on a proof-of-stake (PoS) system, making it more energy-efficient and far more secure.
Big Eyes Coin has also looked to redress the lack of charitable output with cryptocurrencies with its own charity wallet that stores 5% of all BIG tokens. It has and will continue to make donations to charities and foundations that aim to conserve our planet's oceans and marine life – to maintain a healthy fish population for its adorable mascot, the Big Eyes cat!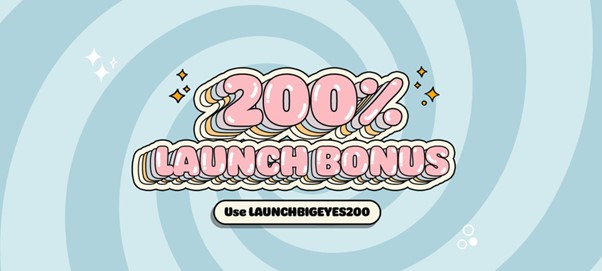 Finally, the Big Eyes Coin's final promotion – a whopping 200% bonus on any BIG purchase – ends on the 3rd of February. Use code LAUNCHBIGEYES200 when clicking on the buttons and links below to validate your offer, instantly tripling your profits from the moment you click buy!
For More On Big Eyes Coin (BIG)
Presale: https://buy.bigeyes.space/
Website: https://bigeyes.space/
Telegram: https://t.me/BIGEYESOFFICIAL
Disclaimer: This is a paid release. The statements, views and opinions expressed in this column are solely those of the content provider and do not necessarily represent those of Bitcoinist. Bitcoinist does not guarantee the accuracy or timeliness of information available in such content. Do your research and invest at your own risk.