Bitcoin has crashed 20% in the past four days as bears have finally begun to sell the cryptocurrency after a notable rally.
BTC now trades for $10,300 after hitting a local low of $9,800.
Analysts remain optimistic about BTC's prospects.
One historically accurate trader says that right now isn't the time to be bearish or short Bitcoin.
He cites BTC's macro chart, which suggests that the coin is sitting on a notable level of support.
Bitcoin Remains Bullish, Don't Look For Shorts Now: Analyst
Bitcoin remains bullish on a macro time frame according to the trader that predicted BTC would hit the $3,000s in 2020 months in advance.
He shared this chart below on September 6th, writing that BTC remains in a good state:
"We are currently testing a key level as support (S/R flip). It was ok to be bearish at 12k, but not now. Bullish and bearish scenarios explained on chart. Play the levels."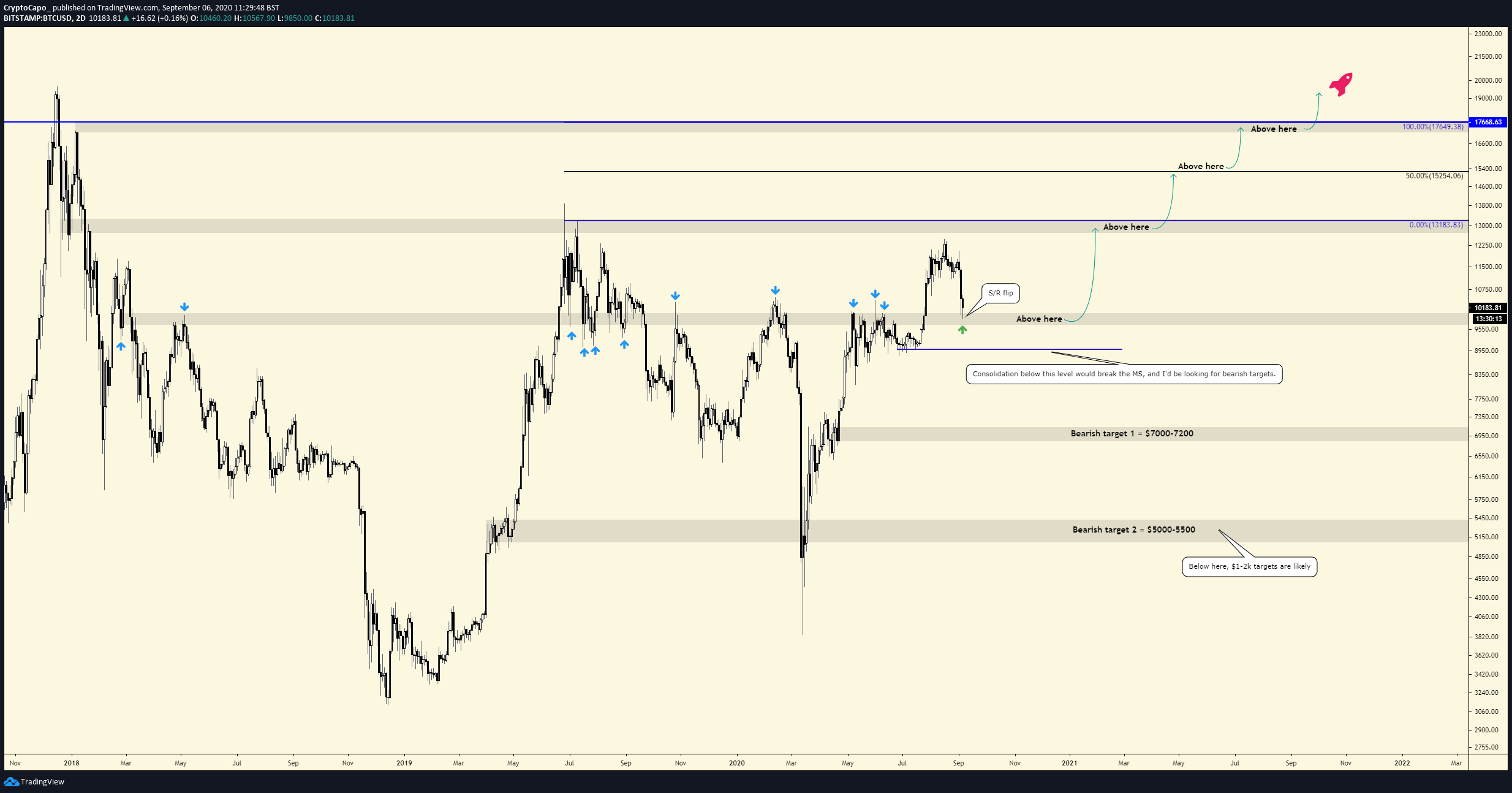 Chart of BTC's price action over the past two years with analysis by crypto trader il Capo of Crypto (@CryptoCapo_ on Twitter). Chart from TradingView.com
Long-Term Outlook Remains Bullish
Whatever happens to BTC in the near term, analysts are confident that Bitcoin's long-term outlook remains bullish.
Raoul Pal, a former head of Goldman Sachs' hedge fund sales division and the CEO of Real Vision, recently remarked that Bitcoin will likely be the only asset worth owning for the foreseeable future:
"In fact, only one asset has offset the growth of the G4 balance sheet. Its not stocks, not bonds, not commodities, not credit, not precious metals, not miners. Only one asset massively outperformed over almost any time horizon: Yup, Bitcoin. My conviction levels in bitcoin rise every day. Im already irresponsibly long. I am now thinking it may not be even worth owning any other asset as a long-term asset allocation, but that's a story for another day (I'm still thinking through this)."
Pal believes that the ongoing situation with monetary stimulus, along with underlying issues in society and in finance, will drive records amounts of capital into Bitcoin.
Another individual discussing this sort of sentiment is Robert Kiyosaki, the author of "Rich Dad Poor Dad." He recently commented:
"GOLD is up 35% in 2020. S&P only 3%. Silver is still the best, still 30% below all time high. Best because it is limited in quantity, used in industry and still affordable for those with tight budgets. The sleeper is Bitcoin. I suspect it is about to become the fastest horse."
How well Bitcoin performs remains to be seen.
Featured Image from Shutterstock
Price tags: xbtusd, btcusd, btcusdt
Charts from TradingView.com
Why a Historically Accurate Analyst Thinks It's Unwise to Be Short on Bitcoin Now