Crypto prices are moving strongly this week, with Bitcoin rising by 3% and reclaiming the $17,000 level. A handful of altcoins are also performing better than Bitcoin, with Ethereum surging 8.5% to hit $1,300, Dogecoin surging 26% to hit $0.105, and Link climbing 12% to hit $7.55.
With people questioning why crypto is on the move this week, we have found five of the best cryptos you need to buy before 2023 begins.
Why are Crypto Prices Rising This Week?
Bitcoin reclaiming the $17,000 handle is a promising signal for a recovering market. The cryptocurrency had spent the best part of November beneath the $17,000 handle in the wake of the FTX collapse. The recent push higher has started to bring some optimism back into the market;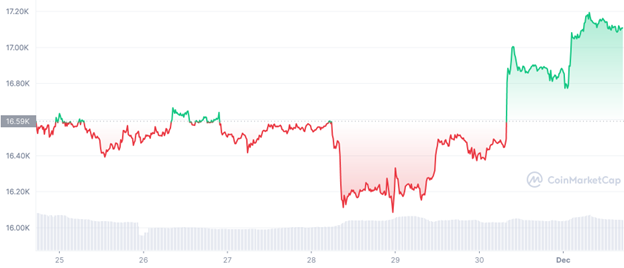 With Bitcoin surging, altcoins are also faring well from the price movement. For example, Ethereum exploded by 8.5% this week, allowing the coin to head back toward the $1,300 level;
Dogecoin is also performing very well after seeing a 26% price jump over the week as traders anticipate a payment integration into Twitter;
With cryptos starting to move, investors are seeking answers as to why the market is beginning to rebound.
One potential driving force is that mentions of the "market bottom" are making rounds on social media again, as investors seem to think enough time has passed since the bear market started. Data from Arcane Research suggests that the current bear cycle is now matching the bear market cycles of 2014 and 2018;
Great insights from @ArcaneResearch's Ahead of the Curve report:

"BTC's bear market has now lasted at lengths comparable to the bear markets of 2014-15 and 2018." pic.twitter.com/I61RG1tB70

— Jaran Mellerud (@JMellerud) November 30, 2022
Other potential driving forces are related to global macroeconomics. For example, the rampant inflation in the economy caused the US Federal Reserve to hike interest rates at the most aggressive pace since 1980 this year. The increased interest rates were the primary driving force behind the overall bear market in crypto and traditional markets.
Well, a recent speech from the US Fed Chairman, Jerome Powell, suggests that the central bank might start to slow the aggressive pace of interest rate hikes, which could begin as soon as the upcoming December meeting.
In a recent speech at the Hutchins Center on Fiscal and Monetary Policy, Powell stated the following;
"It makes sense to moderate the pace of our rate increases as we approach the level of restraint that will be sufficient to bring inflation down."
This is likely the primary driving force behind this week's market rebound.
With cryptos rebounding, we've found five of the best cryptos to buy before 2023 hits.
5 Best Cryptos to Buy Before 2023
Following are 5 of the best crypto opportunities to buy before 2023;
1.    Dash 2 Trade

Dash 2 Trade tops our list due to the sheer amount of traction its presale has gained over the past few weeks. In a short space of six weeks, the presale for the D2T token has managed to raise over $7.5 million as investors pile into the presale for the crypto analytics dashboard;
🎙️ NEW MILESTONE ACCOMPLISHED 🎙️

🔥 $7.5 Million raised 🔥

Only $1,257,000 left until we reach the FINAL stage of this amazing presale!

Don't be late – buy $D2T now! ⬇️https://t.co/PMdwCfAHt1 pic.twitter.com/IcHO6mQ6YZ

— Dash 2 Trade (@dash2_trade) November 30, 2022
Dash 2 Trade will provide in-depth market insights and actionable trading signals to help traders to become consistently profitable. In addition, their intelligence platform is slated to allow traders to make more informed decisions about their trading, leading to a higher win rate percentage.
The presale is gaining significant traction due to the team's successful track record. Previously, the team created Learn 2 Trade, an FX education and signals platform that attracted over 70,000 traders. Their new venture seeks to replicate the same success in the crypto industry.
2.    ApeCoin
ApeCoin is up by a strong 14% this week as it seeks to break back above the $4 level;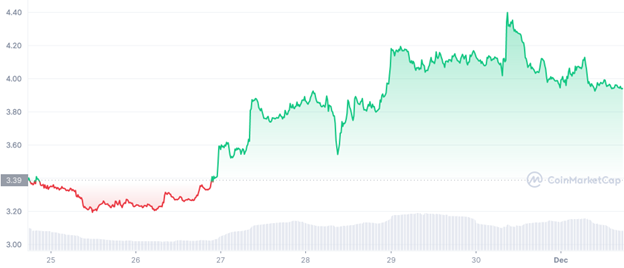 ApeCoin is surging due to the upcoming staking protocol that will be launched for the token in the next few days, providing rewards for users that secure the network.
3.    IMPT
IMPT is gaining significant attention amongst environmentally conscious investors as it seeks to reduce carbon emissions worldwide by providing a straightforward method for businesses and individuals to purchase carbon credits.
Typically, individuals struggle to offset their carbon emissions through carbon credits due to the convoluted nature of the market. The carbon credit market is littered with obscure pricing data, prevalent scams, and fraud – making individuals hesitant to enter the market.
IMPT seeks to change this dynamic by providing an easy way to purchase genuine carbon credits hosted as NFTs on the blockchain for complete transparency.
Furthermore, IMPT will also launch a Shopping Platform that lets shoppers earn carbon credits through online shopping at major retailers. The platform has attracted world-famous affiliates such as Nike, Netflix, Samsung, Puma, Dyson, and New Balance. They continue to announce more affiliates each week.
These brands have allocated a percentage of margin sales for environmental projects like IMPT. When a user purchases on the platform, the sales margin is held as IMPT tokens until they have enough to swap for a carbon credit.
Currently, IMPT has raised over $13 million in its presale. The presale is flying as investors continue to pile into the environmentally-conscious crypto platform.
4.    Chainlink
Chainlink is another altcoin that is performing very well this week after surging by a total of 12% as it heads back toward $8;
Chainlink is another token that is surging ahead of its staking launch, scheduled to go live in December.
5.    RobotEra (TARO)
The final coin to mention is TARO, the in-game transaction token behind the RobotEra multiverse. RobotEra is an exciting play-to-earn sandbox-like world-builder game that allows players to create their worlds.
Players are tasked with rebuilding planet Taro which was destroyed by a cataclysmic event. This metaverse is unique because it is a shared multiverse that is connected to other worlds and existing NFT communities.
Players can earn rewards in the game by participating in activities such as mining, construction, energy collection, and production. They earn more points the more they build and interact with the environment.
The project is currently hosting a presale for the TARO token and is expected to launch in early 2023.