2022 has been a rollercoaster of a year for the crypto industry. Bitcoin started 2022 at a price above $40,000 but continued to decline as the year progressed.
The first significant capitulation occurred in May when Terra's Luna stablecoin collapsed – sending the crypto market into a frenzy and causing BTC to lose ground above $30,000.
Then, in November, the over-leveraged FTX Exchange collapsed, sending BTC well beneath $20,000.
The unraveling of the crypto market during 2022 has been quite astonishing, and many are wondering if tokens such as LUNC and FTT will be here in 2023. On the other hand, others also wonder what will be next to fail.
We have found three potential tokens that might delist from exchanges in 2023 and three more that will have successful listings.
Will 2022 be the end for LUNC and FTT?
Both FTT and LUNC are struggling as they survive on their last lifeline. FTT is the native token behind the now-collapsed FTX exchange, and LUNC is a project trying to rebirth the previous Terra Luna ecosystem. Unfortunately, the failure of both ecosystems has led to disastrous consequences in the crypto markets this year.
All you need to do is look at the chart for FTT to realize it's at the end of its road;
The FTT token is down 94% over the past 90-days. As a result, any chance of rebirth through a Binance buy-out has disappeared.
Exchanges are already beginning to delist the token. Binance has removed most of the FTT trading pairs, leaving only FTT/BUSD active;
At #Binance we conduct regular reviews of listed assets to ensure they meet our standards to protect our users.

Based on our recent reviews, we will remove and cease trading of several $FTT trading pairs on 2022-11-15 04:30 (UTC):

🔸FTT/BNB
🔸FTT/BTC
🔸FTT/ETH
🔸FTT/USDT

— Binance (@binance) November 14, 2022
Furthermore, exchanges like BitMex, KuKoin, and Zipmex have started to delist FTT from all futures platforms and intend to remove the token from spot exchanges.
The same thing is starting to occur with Terra Classic (LUNC);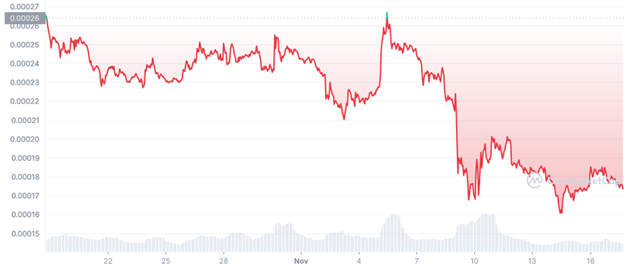 Observing market conditions for both tokens shows that the end is near. FTT certainly shouldn't live to see 2023. On the other hand, LUNC might have a chance to survive but still looks unlikely to thrive.
With tokens collapsing across the industry, it's not just FTT and LUNC in hot water. We have found three potential tokens that might see themselves being delisted from prominent exchanges in 2023.
Three Potential Tokens That Might Be Delisted
The following three projects are on the brink of being delisted from major exchanges as the situation looks dire.
Helium
Throughout 2022, Helium is down by a steep 95% as the token heads toward zero.
Binance already delisted HNT earlier in the year, and it looks like other exchanges will start to follow. The token is still listed on KuCoin, Gate.io, and Crypto.com, but it's closely tied with Solana, which suffers from the FTX fallout.
Stacks (STX)
Stacks is another potential coin that is facing delisting from exchanges, as it drops almost 90% throughout 2022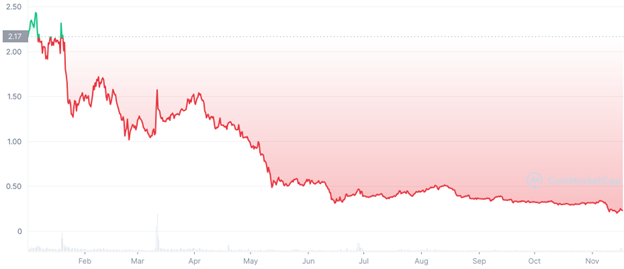 Serum (SRM)
Serum is the final token to mention that is facing delisting after dropping 92% over 2022.
Serum token is closely tied to Solana and is considered one of the "Sam Bankman-Fried" tokens. It will suffer from the FTX fallout in 2023.
Three Tokens Set for a Bright 2023 After Successful Listing
On the other side of the equation, a handful of solid tokens are set to be listed for a bright 2023 ahead.
Dash 2 Trade – Helping Traders Be More Informed
Dash 2 Trade is a world-class crypto analytics and intelligence platform aiming to improve traders' profitability. The dashboard will provide actionable trading signals, market predictions, and social analysis to help traders make informed decisions and become more consistent.
The token is currently undergoing a presale for the D2T utility token, which will be used to power the dashboard. D2T will be required to access the platform and its flagship features. In the short time the presale has been running, D2T has managed to raise well over $6 million;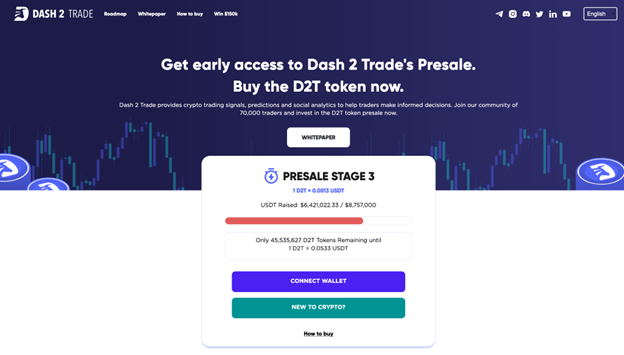 Investors are piling into the presale after learning about the team's successful track record. They previously created Learn 2 Trade – an FX signals and education platform that attracted 70,000 users.
Furthermore, the presale is starting to gain momentum following the FTX fallout, as its bespoke Presale and ICO scoring system can help investors keep away from honeypot presale scams.
The token already has exchange listings lined up with LBank and BitMart Exchange, and they are working on additional tier-1 listings.
📣 Attention #D2T Crew! 📣

First #CEX listing confirmed 🎉

After the presale $D2T will be listed on @LBank_Exchange! 🚀

Join the presale now 💪⬇️https://t.co/ExvBBjKIU6 pic.twitter.com/xOlFPXxFiS

— Dash 2 Trade (@dash2_trade) November 2, 2022
IMPT – Helping Crypto Turn Green
IMPT is a carbon credit platform designed to help individuals and businesses reduce their carbon footprints. The platform allows users to buy genuine carbon credits as NFTs. In addition, using NFTs on the platform helps reduce carbon credit fraud, such as counterfeit credits and double-counting.
It also has a Shopping Platform that allows shoppers to earn carbon credits when shopping online and a Social Dashboard designed to incentivize environmental awareness amongst businesses and crypto projects.
IMPT has already managed to raise well over $12 million in its presale;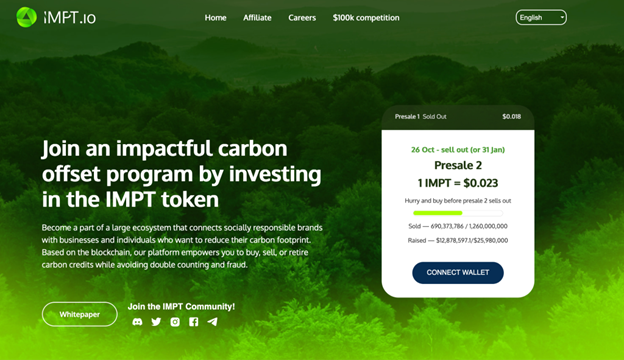 Environmentally conscious investors are rushing to the platform after learning about the world-famous brands affiliated with the Shopping Platform. So far, IMPT has attracted the likes of Netflix, Samsung, Puma, The North Face, Hugo Boss, and Microsoft as affiliates, and they continue to add substantial world-famous brands every week.
Calvaria – Bringing "Normies" into the Crypto Industry
The final project to mention with a solid potential to be successfully listed in 2023 is Calvareria's native token, RIA. Calvaria is an NFT-based P2E battle card game that targets both traditional and crypto gamers.
The great thing about the game is that it doesn't require users to own a crypto wallet to play, allowing non-crypto natives to enter the crypto industry quickly. The team behind Calvaria intends to become a strong ambassador for crypto by attracting an audience that doesn't have a crypto background.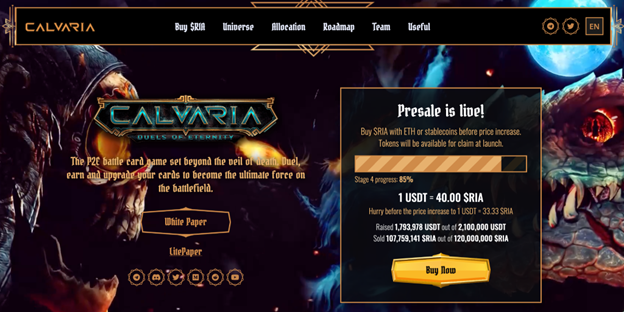 So far, Calvaria has managed to raise $1.8 million in its presale for the RIA token.