There's a lot of pessimism in the crypto market right now, as there is in the global economy as a whole. However, the crypto market is particularly troubled as the collapse of FTX and the Terra ecosystem crash have laid waste to the trust that the public had in it. It's going to take a lot of time for the assets to regain their footing and reach the peaks that they were once at.
It's less of a question of whether the crypto market will go up and more of when it will go up. This is something that most people agree on – after all, this is not the biggest crash that the crypto market has faced. Some of the market's most well-known traders and personalities seem to think this way as well.
In this guide, we look at the question of whether will crypto go back up and what 5 traders think about the future of the market. We also examine where bitcoin is currently and it might look in the near-term and long term. Finally, we provide some alternatives to bitcoin which may be good assets to look at in this market climate.
Where Bitcoin Is Right Now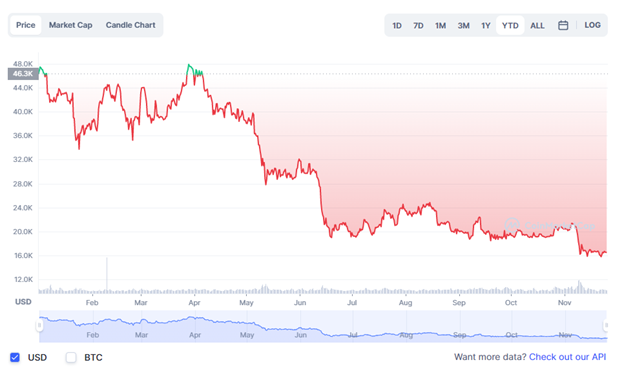 Bitcoin has had a tough 2022 and is testing bottoms.
First, if we want to look at where the market is, we might want to look at where bitcoin is. The crypto asset often leads the market and when there is a bull run, bitcoin is the first to go up. The asset has been particularly difficult to predict in 2022, swinging wildly this year. The effects of the FTX collapse and the incoming heavy regulation in 2023 have made this even more difficult.
All of these will naturally have an impact on the price of bitcoin and by extension the crypto market. Some of these may even have a permanent effect which could drastically affect certain assets more than others.
Here are some things to keep in mind when thinking about putting capital into bitcoin:
Bitcoin is down about 75% from its all-time high.
The market cap of bitcoin is about $318 billion, far from its height of over $1 trillion at the market's peak.
Bitcoin's price rise will depend on several factors, including market regulation and global macroeconomic trends.
Volatility may also be high in the months to come.
As you can see, the state of bitcoin is not the healthiest, but it isn't like there's no hope at all for the asset and the market in general. Speaking of which, how has the market performed in 2022?
How Has the Crypto Market Performed in 2022?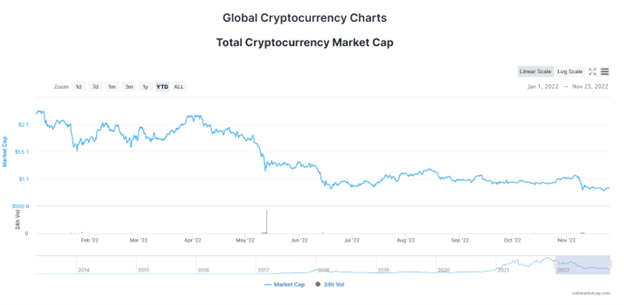 The global market cap is not a pretty sight either.
It's a bit of an understatement to say that the crypto market has tanked in 2022. From over $2.2 trillion at the start of the year to its current value of $828 billion, suffice it to say that there's been some downward progress in terms of price. The market took its biggest hit when the Terra incident took place, which nearly halved the global market cap to $1.2 trillion.
Of course, the FTX collapse also had an effect, but it was nowhere near as pronounced as that initial crash. The collapse caused bitcoin's market cap to drop to where it is now, at just under $320 billion.
These volatile swings have been a very dominant trend in 2022, but that's what macroeconomic conditions and regulatory discussions, along with the crashes, have done to the market.
Despite this, there is still some hope in the crypto market as many analysts and well-known individuals have remarked that the market is due for a boost upward once the effects of this year's incidents pass. After all, bitcoin and the crypto market do tend to bounce back, and this isn't even the biggest decline the market has ever experienced.
What 5 Major Traders are Saying
Satoshi Stacker
Satoshi Stacker is a very well-known crypto trader who has been in the market for years. He has always strongly supported the crypto market, even when the market is already full of staunch supporters.
Satoshi Stacker firmly believes that bitcoin is back on track to grow, pointing to past instances when bitcoin was considered "dead." He doesn't think that bitcoin is going anywhere and that even the FTX collapse and the Terra ecosystem crash can't keep it down for long. He does not say when or how quickly the market will recover, but notes that will it happen inevitably.
IvanonTech
IvanOnTech is another popular crypto YouTuber who is a considerable influence in the market. While he hasn't said too much about where he thinks the market is going, he does believe that the market has a lot of room to grow in the near future.
His thoughts are akin to Binance CEO Changpeng Zhao, who believes that the market crash is "the start of a new chapter." This is the sentiment that others on the list also hold – and one wouldn't expect anything less from some of the biggest traders on the market.
Jason Pizzino
Popular crypto YouTuber Jason Pizzino is somewhat more reserved in his judgment about the future of crypto, saying that Bitcoin's 3-wave pattern is something to make note of.
He instead focuses his attention on such aspects as percentage moves, dollar moves, and the fact that a global recession appears to be forming currently. As it stands, he said that a bottom could appear in December but that bitcoin would bounce back strongly after.
CryptoBanter
CryptoBanter also offers some fairly non-sensationalist views on where the market could be going. They say that around $16,000 bitcoin could still have some potential at its current levels. If it continues upward, bitcoin could have some comparatively high dominance in the market.
Essentially, they believe that bitcoin is the safer asset in the current climate. They are more inclined to believe that bitcoin has reached its bottom and could pull upward, but not entirely sure.
Peter Brandt
Peter Brandt is a legendary trader in the crypto market and has on many occasions made a correct prediction. One particular point worth talking about is the fact this crash is the first time that a bear run has taken prices below the high of the previous bull run.
He has predicted that in the worst case bitcoin could fall to $13,800 or worse $10,350. It's not the most joyful prediction, but it's something worth keeping in mind as Brandt has been known to make a correct prediction or two.
Of course, this is just a prediction there could be many things that change how the market progresses. Brandt is also known to be open-minded enough to recognize that he may be wrong, so investors shouldn't take this to heart.
Some Crypto Tokens Have Potential in 2023
So while established tokens may be facing a tough 2023, there are some newer ones that have the potential to grow tremendously next year. These tokens are operating with new use cases and have some features that distinguish them from the rest.
They operate in a variety of niches and have immense potential to lift the market out of the state they are in. At the very least, they are worth looking into.
IMPT
Making an impact has never been easier!🔥
#IMPT is an efficient, secure, and transparent ecosystem developed to help businesses and individuals reduce their carbon footprint ♻️

🙌🏻 Let's make a change together!

Join the presale now ⬇️https://t.co/8KSvC4Hf9d pic.twitter.com/gpxnPAvXIw

— IMPT.io (@IMPT_token) November 22, 2022
One of the biggest issues the world is facing is climate change and it's something that requires an all hands on deck approach. One project, IMPT, is using decentralized technology to build a carbon credits platform for various stakeholders, including brands, businesses, and individuals.
With this platform, stakeholders can be encouraged to reduce their carbon footprint. The team wants to build a Web3 platform that serves as an example of how projects should use the technology. The social cause of fighting climate change is excellent to create this movement.
Stakeholders on IMPT can buy, sell, or retire their carbon credits to help them reduce their impact. These carbon credits can be burnt, for which the burner receives an NFT that marks the occasion. The NFTs can then be held as a collectible or sold on an NFT marketplace like OpenSea or Rarible.
The IMPT tokens are used to buy carbon credits and they can be earned by participating in various activities in the ecosystem. There are three different ways in which stakeholders can earn carbon credits. Besides purchasing it with IMPT tokens, users can earn it from the shopping platform and businesses can set a portion of their sales margin towards it. We described these in the following section.
The team also is intent on bringing many brands on board, which will go a long way toward creating a solid ecosystem that will encourage users to participate. The entire focus of the project is to encourage everyone to do their bit to help the environment and for that, they need to bring as many entities on board to establish a social revolution.
One of the main features is the shopping platform, which will feature users and brands working together to offset carbon footprints. IMPT plans to bring thousands of brands onto the platform. Users can make purchases from these brands through a shopping platform.
Each IMPT affiliate brand will decide the percentage of the sales margin that is allocated to the carbon credit program. Meanwhile, users will earn IMPT tokens for their purchases, which can be converted into carbon credits.
Users can also choose from hundreds of environmental initiatives to support and make contributions. The team will ensure that these projects are vetted and follow Global Certification Protocols.
Dash2Trade
🚨 ATTENTION 🚨

Only 34,507,881 $D2T tokens remaining until the price increases!

Buy $D2T now ⬇️https://t.co/ExvBBjLgJE#presale #crypto #trading #investing pic.twitter.com/VTAWrGgUgK

— Dash 2 Trade (@dash2_trade) November 25, 2022
Another project that has a lot of scope is Dash2Trade, which is building a platform that allows users to manage their investments better. Features on offer include crypto trading signals, predictions, and social analytics. The contracts have been fully audited by SolidProof and the team's profiles have been verified via CoinSniper.
Users also have access to a strategy builder tool and can keep track of presale launches, both of which are useful whether the market is experiencing a downturn or not. All of these features combined create a one-stop shop for users' needs.
Dash2Trade will conduct its presale in Q1 2023 – which is also when the dashboard will launch and beta testing will take place. The D2T token will be listed on both centralized and decentralized exchanges following the presale.
RobotEra
Join the #RobotEra Army – go on and buy $TARO now! 😎

🚨 $TARO presale is selling out fast 🚨

🔥 Over $190,000 raised so far 🔥

Grab some $TARO now ⬇️https://t.co/UJ3inomU89 pic.twitter.com/kx1vga0OCh

— RobotEra (@robotera_io) November 24, 2022
One of the biggest trends in the market is the metaverse. This niche is all set to pop off in 2023, with many companies both inside and outside crypto looking into it. One major project is RobotEra, a metaverse where players take on avatars of robots and participate in a highly interactive metaverse.
The social aspect of the metaverse is what RobotEra focuses on greatly. There are several features in the project that cater to this, including the ability to create your own social experiences and robot companions. You don't even need any programming knowledge to execute these ideas.
The project could fundamentally change how people interact in the metaverse. As people essentially create their own social experiences, there is a lot of potential in this metaverse sustaining itself, rather than fizzling out because the team has not created enough experiences.
The presale for TARO will take place in Q4 2022, so those interested should gear up for what could be a quick sale. The tokens can be purchased in either USDT or ETH, with the minimum investment being 1,000 TARO.
Conclusion
As you can see, it's not all doom and gloom in the crypto market. Some of the biggest names in the influencer space also believe that the market can only go up, though the exact time frame is uncertain. The point is there's no reason to feel like you should pull out entirely from the market, but rather wait a little bit and see how it develops.
There are also a handful of assets out there that are making waves despite the crypto winter. These are some projects that are working on novel use cases or implementations of the technology and for that reason are catching a lot of attention.