There can only be one top dog. The crypto meme coin market is saturated to the brim with dog-related coins but is there any real variation? Most dog coins are based on the original Shiba Inu "doge" meme, with the two most significant meme coins on the market today, including Dogecoin (DOGE), having it as their mascot.
The meme coin market needs innovation and space away from the doge meme. What better way to innovate than to create something out of this world? That's precisely what Dogeliens (DOGET) have done! They have taken the washed-out dog meme coin trend and flipped it onto a different mission course, creating a meme coin based around adorable-y cool alien dogs.
Dogeliens Is Taking Meme Coins to Outer Space – Only a Luna -Tick Would Miss It
Dogeliens is a pre-sale crypto, a decentralised platform for our users, holders, and investors. The coin is based on the planet Puptopia where all the residents are crazy cool alien dogs. Each citizen knows everything about decentralised finance systems and cryptocurrency, which they all learn at Barkington University.
There are three primary pillars of the Dogliens ecosystem – Spaceship, The university of Barkington and Pupstore. The spaceship is an interactive space for the metaverse. Token holders will have exclusive rights on decisions to further the project. A special wing of the spaceship will be dedicated to those who purchase the Dogliens NFT collection and will be known as the Doglien Army. Ownership of Dogelien NFT will give access to exclusive benefits, discounts, and incentives as the ecosystem grows.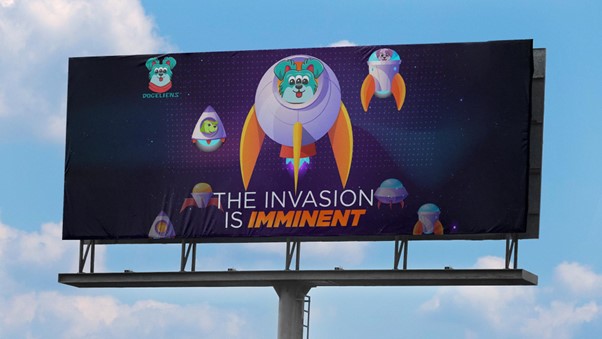 The second pillar is The University of Barkington. As previously mentioned, every resident of Puptopia already knows crypto and the world of DeFi. This is why they were so shocked to learn that not all humans have crypto knowledge, causing them to open up their university to everyone for free! If you have a skill, you can monetise it as anyone can become a teacher or student. Some courses require DOGET to unlock, but the core courses are available for free.
The third and final pillar is the Pupstore. This is a merch store creating Dogeliens-specific merch that DOGET tokens can purchase. This way, you can spread community love wherever you go. With all sorts of resources, it would be a cat-ASTRO-phe if you don't consider investing.
Dogecoin Still Hit Hard After the Crypto Crash – Here's the Gravi-TEA of the Situation
Dogecoin was created in 2013 as a funny response to Bitcoin's launch. Never meant to be taken seriously, the creators were shocked at how successful it has become today. It is officially the first meme coin on the market. Being the first doesn't always mean being the best; it is wildly known that you can't teach old dogs new tricks.
This saying can be seen in action regarding Dogecoin as the coin has latched onto Elon Musk's endorsements and has not attempted to change up or add additional features to the coin. When the product is good, it doesn't need celebrity endorsement. However, seeing Doegcoin fall on Elon Musk's every word, it is evident that Dogecoin's success is due to celebrity endorsement.
After the crypto crash on November 8th 2022, Dogecoin has struggled to make its way back up compared to most other cryptos. The coin claims it wants to be sent to the moon, but it seems like it's already run out of fuel.
Final Thoughts
The meme coin market is over-saturated with the same kind of coin, a Shiba Inu-based meme coin. There is a lack of innovation, and old front-runner Dogecoin hasn't changed to meet the needs of its community. Out of this world, space-based, Dogeliens have changed the dog meme coin game with all kinds of new resources available to investors.
Dogeliens (DOGET)
Presale: https://buy.dogeliens.io/
Website: https://dogeliens.io/
Telegram: https://t.me/DogeliensOfficial
Disclaimer: This is a paid release. The statements, views and opinions expressed in this column are solely those of the content provider and do not necessarily represent those of Bitcoinist. Bitcoinist does not guarantee the accuracy or timeliness of information available in such content. Do your research and invest at your own risk.