A few months back there was a lot of buzz about a new esports blockchain, DreamTeam. The company built an Ethereum based recruiting and management system for eSports. It helps a booming industry with their growing pains in a revolutionary way.
---
It didn't take long for the gaming market to explode into a $100 billion industry. Taken against the whole, esports has a small market share of (only) $700 million, but the untapped market potential has stalled largely due to growing pains in an unstructured market.
DreamTeam helps esports from the ground up by connecting users and rating players. First, it helps players find teammates, coaches, and managers. Second, DreamTeam is a system that helps rate players. Not only does this help players find teammates, but it also provides a pathway for players to move from recreational playing to professional gaming.
The DreamTeam token, DTT, powers the ecosystem. Players and coaches are paid their salaries and bonuses through DTT. Marketing funds and media rights also are paid through DTT.
The DreamTeam blockchain processes payments with smart contracts. These contracts automatically send payments based upon the amount both parties agreed to. Smart contracts guarantee payout and help stabilize a fragile economy where scamming and not paying are the norm.
Just like esports itself, DreamTeam has grown in popularity. As it has grown, the platform has evolved. Over the past two months, more than 35,000 players used the DreamTeam test tokens to pay their teammates or be paid for gaming on the DreamTeam network.
According to Hackernoon, after 45 days of testing, DreamTeam reached 50,000 mined transactions and had over 500,000 registered users at the end of May 2018.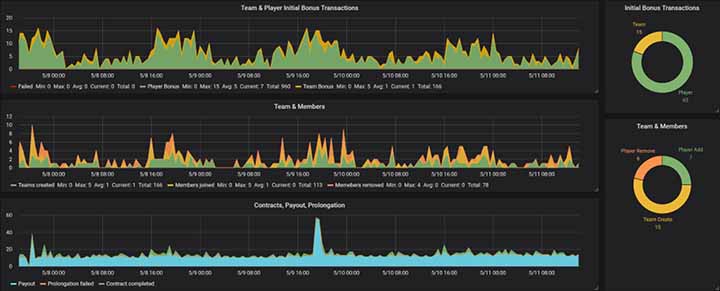 Ethereum is still the go-to network to operate the DreamTeam smart contracts, however, scalability is a concern, along with the price. During peak times, there is a $.25 fee per token transaction. During slow times, the fee is only $.15, but what you save in money you pay for in time, as transaction times can be over 10 hours. Even so, DreamTeam developer Nikita Savchenko is optimistic that Ethereum's upcoming sharding feature will improve the throughput of the network.
The world's first infrastructure platform and payment gateway for esports and gaming, DreamTeam is growing in popularity as well as evolving its scope. Audits are being performed and passed, and smart contracts have been successfully tested. Now that these hurdles are (nearly) in the past, the next step is token generation.
What are your thoughts on DreamTeam? What kind of impact will they have on the esports industry? Let us know in the comments below.
---
Images courtesy of DreamTeam, Wikimedia Commons