In May 2022, the initial crypto crash saw the likes of blockchain networks such as Bitcoin, Ethereum, Solana (SOL) and Cardano (ADA) spiral downhill. The exact cause of these crypto crashes remains a mystery. However, many people speculate cryptocurrencies are impacted by events such as the failure of exchanges or currencies They can also fall if interest rates rise, inflation rises, and other macroeconomic variables impair people's confidence in investing in hazardous alternative assets.
Solana (SOL) and Cardano (ADA) have experienced losses again, prompting some to question if they are still dependable blockchain networks. Meanwhile, thanks to its eccentrically charming image, crypto newcomer Big Eyes Coin (BIG) has gained significant internet popularity. But is it worthwhile to get on the BIG bandwagon?
Cardano Outlines Plans For 2023
Cardano (ADA) is a proof-of-stake blockchain platform that aims to allow "changemakers, inventors, and dreamers" to bring about positive change internationally. It's intended to be a next-generation extension of the Ethereum concept, with a flexible, sustainable, and scalable blockchain infrastructure. ADA has dropped in value since peaking at $3.10 in August 2021. The decline resulted in a minimum price of $0.31 in November 2022.
Despite this low, Cardano is still trading within the long-term horizontal support region of $0.35. While the cryptocurrency industry is still dealing with the fallout from the FTX meltdown, the Cardano (ADA) team is hopeful about the platform's future. While the cryptocurrency industry is still dealing with the fallout from the FTX meltdown, the Cardano team is hopeful about the platform's future. According to Frederick Greegaard, CEO of the Cardano Foundation, the blockchain network wants to meet both short-term and long-term objectives in 2023.
Solana's Price Continues To Fall, But For How Much Longer?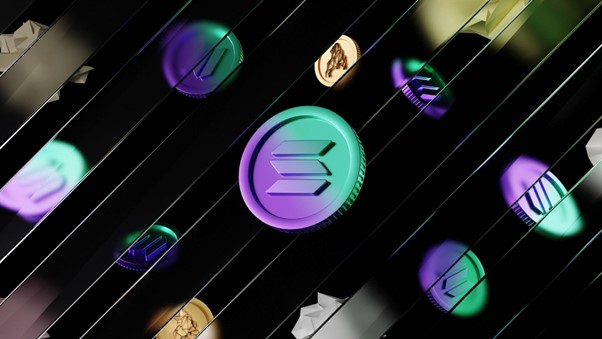 Solana (SOL) is a cryptocurrency that can be used to pay for services. Solana's objective is to enhance blockchain scalability by integrating proof of stake with proof of history. As a result, Solana claims to be capable of supporting 50,000 transactions per second while maintaining decentralization. Solana's hybrid protocol significantly decreases transaction and smart contract validation times. Because of its lightning-fast processing rates, Solana has also grabbed the interest of institutions.
According to CoinGecko data, the 13th-largest cryptocurrency by market capitalization has lost 41.2% of its value in the last week. Nevertheless, Solana remains to be one of the most prominent cryptocurrencies in the market due to its quick transaction speeds, low fees and high efficiency.
Big Eyes Coin Emerges In Times Square, What's Next?
The upcoming meme token Big Eyes Coin (BIG) was shown on a 3D billboard at Time Square, a commercial junction in Manhattan, the richest borough in New York City, on 14 November 2022. This might be Big Eyes Coin's greatest marketing effort yet, as Time Square is one of the world's most famous sites, with around 330,000 people passing through each day.
Big Eyes Coin began to get attention since its inception from crypto enthusiasts due to its adorable avatar, a cute cat with large pupils designed in an anime/manga style. Its popularity has increased due to the advocation of several notable influencers such as Ieda Wobeto, Gino Assereto and StormzETH. As a result of endorsements from these crypto influencers, the meme coin has already accumulated 53,300 followers on Twitter.
Big Eyes Coin is scheduled to appear at London's historical landmark Marble Arch on 17 November 2022, following its debut in New York City's commercial junction. The meme currency has nearly raised $10 million in stage six of its presale and will almost certainly meet that goal if its strong marketing effort continues.
For More Information On Big Eyes Coin (BIG), Click The Links Below:
Website: https://bigeyes.space/
Telegram: https://t.me/BIGEYESOFFICIAL
Twitter: https://twitter.com/BigEyesCoin
YouTube: https://www.youtube.com/watch?v=DxAjrXI_1uw
Disclaimer: This is a paid release. The statements, views and opinions expressed in this column are solely those of the content provider and do not necessarily represent those of Bitcoinist. Bitcoinist does not guarantee the accuracy or timeliness of information available in such content. Do your research and invest at your own risk.