As digital assets gain more adoption, the influence of decentralized finance keeps manifesting. DeFi is a series of alternative financial applications that run on blockchain technologies through the application of smart contracts. These applications offer an attractive opportunity for crypto users to indulge in profitable trades and earn rewards by actively contributing to the ecosystem.
The DeFi solutions are usually fast, open, easily accessible and provide a great deal of flexibility compared to conventional financial services. The emergence of DeFi has encouraged participation among the masses, empowering them to invest, lend, borrow, trade and hold crypto assets.
While the DeFi ecosystem is constantly evolving, there are still certain shortcomings in the existing infrastructure which makes it difficult for everyone to participate and profit from it. The YoBit exchange platform has witnessed these challenges faced by DEXs and its users, influencing them to incorporate various DeFi features within their platform. With these features in place, YoBit DeFi is in a position to offer the best of both crypto and fiat worlds, while offering active as well as passive income-generating opportunities to its userbase.
A Bit More about YoBit Exchange
Founded in 2014, YoBit is a Panama-based crypto trading and exchange platform created by a team of blockchain developers and crypto enthusiasts. With a huge userbase and daily volumes hovering around the $500 million mark, the platform supports close to 8550 trading pairs.
YoBit makes crypto trading accessible and easier to all by offering a user-friendly intuitive interface. The platform is available in multiple languages and incorporates features like automated trading, attractive affiliate programs and a robust customer support infrastructure. Recently, YoBit further strengthened its position by adding DeFi features like swaps and liquidity pools.
As a global platform, YoBit welcomes crypto communities from all geographies. It has a simple sign-up process and supports a wide range of payment options for the convenience of its users.
Some of the outstanding features of YoBit.net include:
Speedy and easy account opening process.
Multilingual platform
24 hours customer support services.
Simple and easy user interface.
Multiple deposits and withdrawal methods such as debit cards, AdvCash, Payeer, etc.
Great trading tools such as charts, candlesticks, and others.
YoBit DeFi Advantages
Users are spoilt for choice with different products and services on the YoBit platform. Some of the benefits of using the platform include:
Fast and timeless crypto transaction executions.
Availability of several crypt-crypto and crypto-fiat trading pairs.
Competitively low transaction fees.
Presence of funds storage on the exchange.
Single screen operations for multiple services.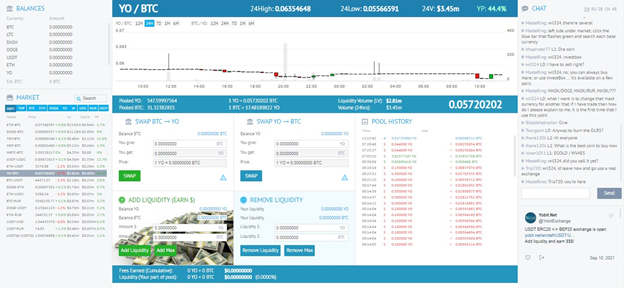 YoBit DeFi packages some of the popular DeFi features on the YoBit.net Exchange platform viz, swaps and liquidity pools. Users on the platform can access all these features over a familiar interface that is designed similar to that one can find on popular DEXs like Uniswap and PancakeSwap. However, unlike these DEXs, all the functionalities are available and readily accessible on a single page.
The similarities between DEXs and YoBit DeFi stops at the user interface level as any transaction on YoBit DeFi doesn't require users to connect to any third-party applications like MetaMask. All transactions for swaps occur instantly from within the platform's wallets at low fees as there is no need for blockchain confirmations. Further, all the operations conducted within the YoBit ecosystem involve real assets, irrespective of their native blockchain protocols. It means users are always in possession of the actual assets instead of wrapped tokens like in the case of DEXs.
Some of the other notable features that make YoBit DeFi better than its alternatives include the low transaction fees of 0.3%, of which 0.05% is spent towards maintaining the platform's native Yo token and another 0.2% for liquidity providers. The ability to withdraw funds from the platform in fiat currency without having to go through the hassles of KYC and AML requirements makes it even more attractive.
How to Use YoBit DeFi
There are many operations and activities available on the YoBit DeFi platform. Here are some guidelines in using the platform:
Sign up on YoBit DeFi
The account opening process on the platform is very simple and requires no verification for AML and KYC. Just click on the 'Registration' button on the top right-hand side of the screen on the website. Fill the on-screen, and you are good to go.
Deposit Funds
You can choose to deposit your funds through fiat or crypto transfer into your account.Just navigate to the "wallets" section and select deposit to access the wallet address. Users can then transfer crypto funds to the wallet address to fund the account.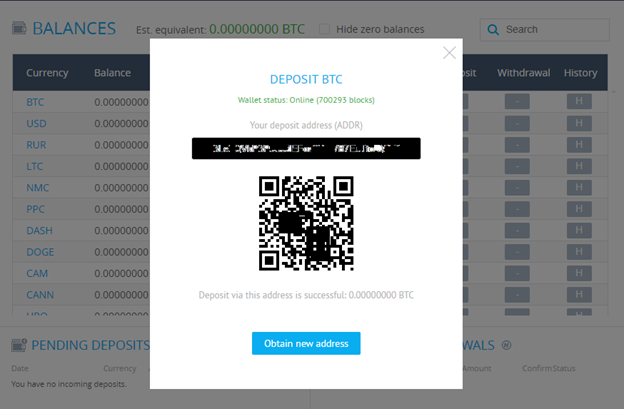 Fiat payment options on the platform include Visa and MasterCard, Webmoney, Yandex Money, QIWI, PerfectMoney, and AdvCash.
Similarly, withdrawals on the platform are processed smoothly in crypto or fiat denominations.
Make Swaps on YoBit DeFi
Users have the opportunity of swapping cryptocurrencies on the platform. The platform currently has a limited number of crypto pairs as part of its DeFi market, which can be accessed from the left-hand side of the YoBit DeFi interface. After selecting the desired crypto pair, users can enter the amount of one crypto they wish to swap for another. The prevailing rate for swap will be displayed on the interface and the process will be executed as soon as the user hits the "Swap" button.
YoBit DeFi will be adding more crypto pairs for swap functionality in the coming days.
Add Money To Liquidity Pools
If you are looking to add money to the liquidity pool, you can do so in really easy steps. When you visit the official website, you'll see two blocks at the bottom of the portal. You can add money to liquidity by inserting your desired amount in the Green Section.
Remove Liquidity
You can remove liquidity following the same way you added liquidity. Put in the desired amount you want to remove in the blue section given at the bottom of the official website.
YoBit DeFi Daily Contest
The exchange rewards its users daily with about 10,000 to 100 USDT. The reward is the top 20 users with the high swap volumes of BTC on the platform. Also, there's no specific time as the exchange takes on random timing for each day's rewards. Any user can participate by swapping on the platform.
YoBit DeFi Reviews
YoBit.net has come a long way with its unique products and services to create a good public perception online. The exchange has a rating of 4 out of 5 on TrustPilot, 8.2 out of 10 on Blockonmi, and 4.4 out of 5 on Cryptowisser.
Watch YoBit review on YouTube – Review 1 | Review 2
Conclusion
YoBit DeFi is a reputable and trustworthy platform that offers users the platform to trade different crypto pairs. Moreover, it has an easy and user-friendly interface for smooth navigation.
Also, crypto transaction fees on the exchange are considerably very low. The account signing up process takes less than a minute for completion and requires no KYC and AML documentation. The overall features on the exchange will amaze you. Why don't you give it a try?