2018 has been a rough year for cryptocurrencies so far as the entire market saw $600 billion erased from its capitalization. However, with the prices swinging up and down furiously, possibilities for quick earnings present themselves. Below are the 10 biggest daily price swings of the leading digital currencies in the third quarter of 2018 and how you could profit from them.
The list was created with a cooperation with SimpleFX WebTrader, a super fast CFD trading tool with anonymous crypto accounts, and a mobile-first design.
Bitcoin (BTC)
Bitcoin's most exciting move up throughout Q3 of 2018 happened on July 17. The price spiked up from $6,767.30 to $7,303.222 in less than 6 hours. The event marked a 10 percent increase in the price. From there, the price went up to $8,303 in a few short days, hence marking the quarter's high.
At the time, news started circulating media that BlackRock, the world's largest ETF provider is looking to get involved in the market. Additionally, one of the largest investment banks – Goldman Sachs announced the appointment of their new CEO who is keen on cryptocurrencies.
Ethereum (ETH)
Ethereum, the world's second largest cryptocurrency, has had an extremely rough 2018 and Q3 was no different. As you can see from the chart below, ETH has been nothing but declining, losing over $300 from its value in the last three months alone.
Not all price swings are positive. One of Ethereum's largest price swings took place on August 13 when the cryptocurrency went on to lose over 10 percent of its value in a few hours. At the time, the price reached its 9-month low while the daily RSI had dropped below 20.
Litecoin (LTC)
The 24-hour period on July 17 and July 18 were also pretty spectacular for Litecoin (LTC), which currently occupies the 7th place in terms of market capitalization.
The cryptocurrency jumped $84.52 to $91.28, which is over 10 percent gained in less than 24 hours. LTC is typically influenced by the behavior of Bitcoin and, naturally, the trigger was purportedly the same.
Zcash (ZEC)
ZEC is another one that marked a lot of swings but most notably the price retraced around September 5. It lost over $30 of its value which, at the time, was worth a little bit less than 20 percent. The movement took place in under 24 hours, erasing over $100 million of the cryptocurrency's entire market capitalization.
Dash (DASH)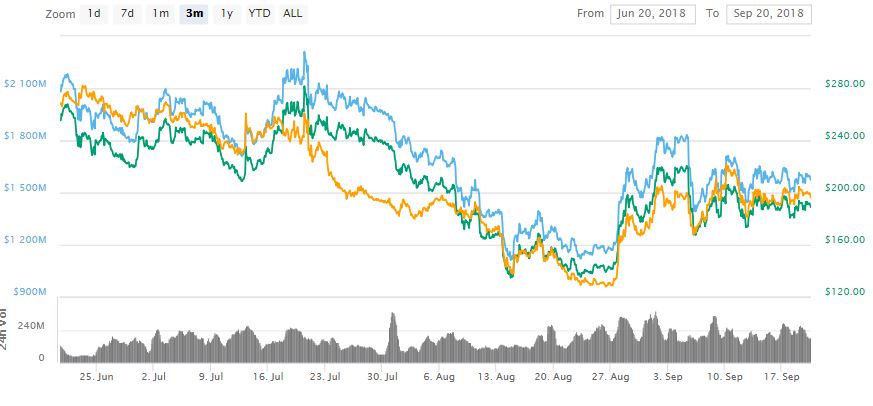 Currently staying at a market cap of well over $1.5 billion, Dash is the 11th largest cryptocurrency out there. The last three months have been like a rollercoaster ride for DASH.
On August 27, the cryptocurrency was trading at $146.66. On August 28, DASH was standing at a little over $195, gaining a little shy of 30 percent in 24 hours.
On the other hand, though, DASH lost around 15 percent of its value in a day on September 5th. Both represented some of the largest swings the digital currency saw in the last three months.
Ripple (XRP)
Ripple made one of its biggest quarterly moves just a few days ago. On September 18, the cryptocurrency spiked from $0.27 to $0.32, which is almost 20 percent increase in just a few hours.
A day before the spike, news broke out Ripple's xRapid payment network will be launched within "the next month."
Monero (XMR)
As evident from the chart, the last three months have been fairly wild for Monero. However, there was some serious price action early September.
In the period between September 2 and 4, the price went up from with upwards of 10 percent. Nevertheless, the following 48 hours weren't as great for XMR as the price tumbled with more than 20 percent, erasing all gains acquired the days before.
Bitcoin Cash (BCH)
One of BCH's wildest moves throughout the last three days was a decline. On September 5th the cryptocurrency stood at $628 while the following day it had dropped with about 12 percent to $535.14. This marked a downhill price movement and which led to the current price of $426.15 at the time of writing this.
NEO (NEO)
NEO has also been declining steadily throughout Q3 of 2018, losing almost half of its total value. One of the biggest drops was marked on September 5th when it lost more than 20 percent in less than 24 hours.
At the same time, though, the cryptocurrency saw strong upwards movement at the beginning of the third quarter, as it increased with more than 23 percent on July 2nd.
Cardano (ADA)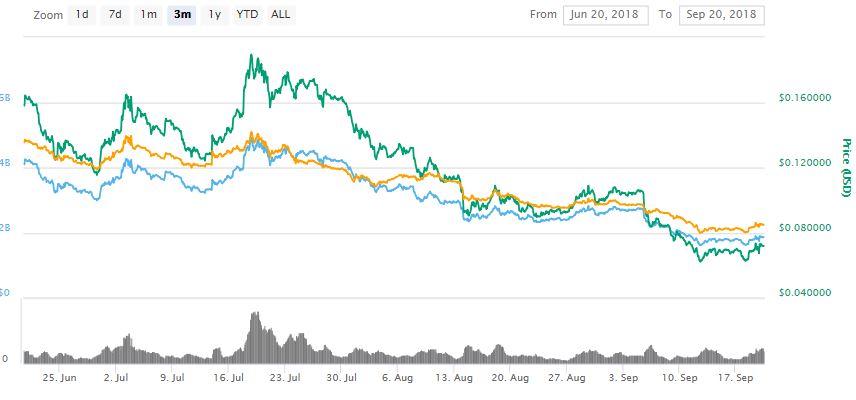 Cardano saw a couple of rapid changes in its price during the third quarter of the year. On July 13th the price jumped with a little over 10 percent in just a few hours. The cryptocurrency also had its tough moments, though. The most serious decline was observed on August 13th when it went on to lose almost 20 percent of its value within 24 hours.
How to Profit From Daily Price Swings?
As it's evident from the above, daily price swings are no news to the cryptocurrency market. Moreover, though, they are usually triggered by a certain event – be it news or technical factors. In other words, if a trader is able to react to the event in time, he'd be capable of executing the right trade.
One of the things that you can do is create Google alerts for crypto-related news in order to get notified as soon as the news break out. Additionally, creating alerts for price changes is going to notify you if the price of a monitored cryptocurrency begins to swing violently.
Be Prepared
In order to profit from short-term price volatility, it's essential that you are well prepared. Obviously, it's important to have money already available on an easily accessible account. SimpleFX is a cryptocurrency and forex CFD broker which has recently announced its new trading API which has improved user-experience and seamless navigation.
Having your funds there will ensure that you'd be able to react in time. As soon as a triggering event takes place and you are notified about it, you should open an order. Doing so on SimpleFX Web Trader is particularly easy.
When you open the web trader, you will quickly understand how comprehensive the interface actually is. It should look like this:
Now you'd have to open a position. Using LTC as an example, you'd first have to navigate to the left side of the interface and select the desired pair. Once you click on it, you should choose the "New Order" which will get you to the following screen: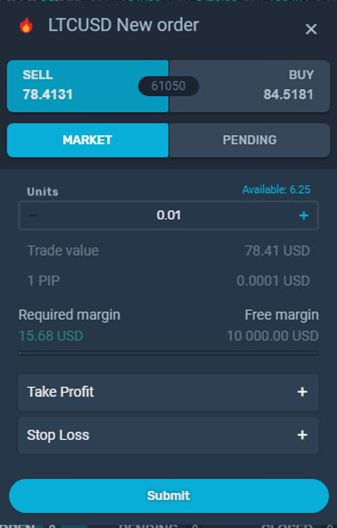 From there, you are free to choose whether you want to go for a "buy" or "sell" position, depending on the event which triggered the trade.
You can also choose to put a "Stop Loss" or a "Take Profit" option, hence putting your trade within certain limits and reducing your downside.
That's pretty much everything there is to it. Using SimpleFX as a fast and reliable trading tool which offers anonymous accounts allows you to access the market from wherever you are so you don't miss price-changing events.
The platform has both iOS and Android applications and more than 50 percent of its users take advantage of them.
You can open an account with SimpleFX in a few short steps. You can also take advantage of the demo version in order to get a hold of the existing technical tools to advance your trading.
What do you think of SimpleFX's trading platform? Don't hesitate to let us know in the comments below!
---
Images courtesy of CoinMarketCap.com.