After days of consolidation, Bitcoin experienced a crucial breakout over the past few hours.
The cryptocurrency just minutes ago tapped $9,800, the highest price it has traded at in over 10 days.
With this latest move higher, the cryptocurrency is up approximately 5% in the past 24 hours. This is strong, especially when compared to altcoins — most of which are up 2-3% in that same time frame.
Bitcoin's latest surge higher resulted in the liquidation of millions of dollars worth of future positions.
In the past hour alone, $10 million worth of shorts on BitMEX has been liquidated. This adds to the approximately $5-7 million in BitMEX shorts liquidated since June 22nd started.
The reason why more hasn't been liquidated is due to the relatively slow pace of this move compared to previous liquidation events. 
The Start of a Greater Move Higher
Bitcoin's rally to $9,800 is signaling to some that a greater move to the upside is in the works.
Microsoft AI/Cloud specialist Joe McCann wrote in his Telegram channel that a key bull signal is about to appear.
The signal in question is the  Moving Average Convergence Divergence (MACD) printing a bullish crossover. A bullish cross in the MACD signals that Bitcoin's trend is to the upside.
Case in point: BTC rallied over 50% in the six weeks after the signal appeared in March of this year.
Also indicating that Bitcoin has room to rally is the relative strength index (RSI).
A pseudonymous trader noted that the measure recently broke out of a symmetrical triangle pattern to the upside. That suggests a BTC uptrend could form.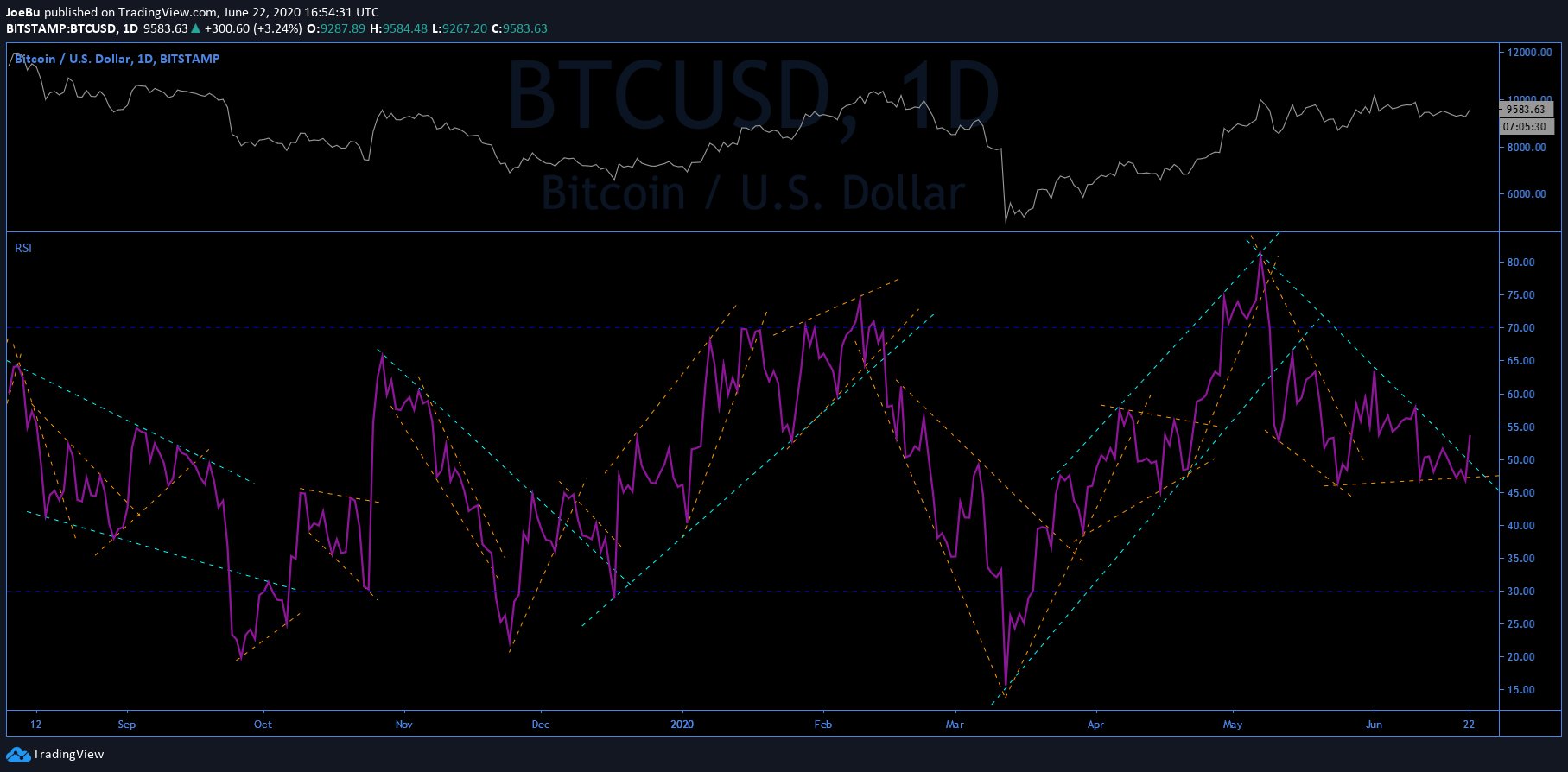 What's Behind Bitcoin's Bullish Price Action?
Behind Bitcoin's bullish price action today seems to be a confluence of trends.
First and foremost, the S&P 500 and other financial markets have seen a boost. The Nasdaq has once again set a new all-time high as Microsoft and Netflix rocket to new heights, despite the pandemic.
The Federal Reserve last week announced that they will be buying individual corporate bonds; some see this as a sign that the Fed may cave and buy individual stocks, hence the rally.
As reported by Bitcoinist previously, an analyst observed that Bitcoin has a macro and short-term correlation with the S&P 500.
Also bullish is the news that PayPal is looking to allow users of PayPal and Venmo to directly purchase and sell cryptocurrencies in-app.
Sources told CoinDesk: "My understanding is that they are going to allow buys and sells of crypto directly from PayPal and Venmo. They are going to have some sort of a built-in wallet functionality so you can store it there."
Featured Image from Shutterstock
Price tags: xbtusd, btcusd, btcusdt
Charts from TradingView.com
$15m Liquidated as Bitcoin Surges to $9,800 After Multi-Week Consolidation