Enjoy the excitement of the World Cup and boost your winning chances with 1xBit.
---
The World Cup is an international event that breaks the boundaries of football and manages to get everyone involved, no matter if they're football fans, punters, or simply have nothing to do with the phenomenon. And that's the way you can best describe the promotion that 1xBit designed for the World Cup, easy to access and use by anyone, no matter the experience with sports betting or cryptocurrency.

How Does it Work?
Before jumping into the actual mechanism of this promotion 1xBit prepared in order for their players to take maximum advantage of the World Cup matches, it is very important to know that it can only be accessed by registered members. So, the first step you need to take to be able to multiply your chances to win is to register an account with 1xBit. If you're worried about a time-consuming operation or the request of any sensitive information, you can forget all about that since all you need to do in order to create an account is access the website and click registration. You will be assigned with a username and a password, that you can change afterward, and start betting right away.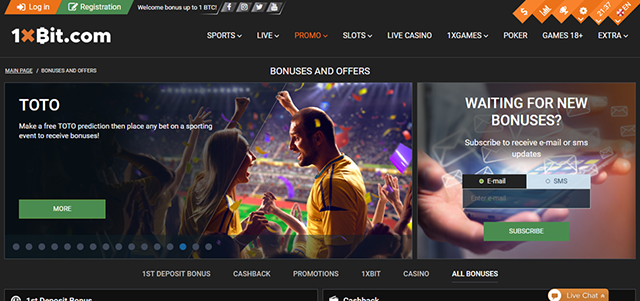 Now, that you know how easy it is to create an account and enjoy this very appealing promotion, let's discuss the advantages you have by taking part in it. One of the main perks of participating in the 1xBit World Cup promotion is that you won't need to do anything special, you become eligible simply by placing bets on the World Cup matches.
Any bet of 2 mBTC or higher will get you lottery tickets that automatically qualify you to the daily raffles equipped with very generous prizes. The promotion takes place between the 13th of June and the 15th of July and all the bets of at least 2 mBTC will get you tickets. For each day of the competition, the draw will take place on the following day at 15:00 UTC and all the competitors will be able to track the results of the raffle on the promotion page.
More Tickets = More Chances to Win
It goes without saying that the more tickets you have, the more likely it is to score one of the 116 prizes that are offered in the World Cup lottery. And, in order to help you collect more tickets and increase your winning chances, 1xBit prepared a special system that grants you more tickets for different total amounts you bet, as follows:
| | |
| --- | --- |
| Total Daily Bet Amount | Number of Tickets |
| 2 mBTC | 1 |
| 4 mBTC | 3 |
| 8 mBTC | 5 |
| 10 mBTC | 10 |
| 15 mBTC | 20 |
| 20 mBTC | 30 |
| 30 mBTC | 40 |
| 40 mBTC | 50 |
| 50 mBTC | 80 |
| > 50 mBTC | 100 |
What Are the Prizes?
Just as mentioned above, each day will have a total number of 116 winners and the prizes are designed equally distributed so that everyone is a winner. Keep in mind that, besides a good chance to win a big prize in the raffle, you also have huge chances of winning the original bets placed so it's a win-win situation. The prize pool for the World Cup promotion 1xBit prepared looks like this:
1st place – 100 mBTC – 1 winner
2nd place – 1000 Bonus Points – 5 winners
3rd place – 500 Bonus Points – 10 winners
4th place – 200 Bonus points – 20 winners
5th place – 100 bonus points – 30 winners
6th place – 50 Bonus points – 50 winners
So, now that you know the prizes and how easy it is to get on board, there is no reason why you shouldn't multiply your winning chances while enjoying the matches of the most important football competition of 2018. Place your bets and win big at 1xBit!
---
Images courtesy of 1xBit