Bitcoin has rallied 2.5% in the past 24 hours as a surge in the stock market and precious metals have wrested it higher. The cryptocurrency trades for around $9,350 as of this article's writing.
Despite a mixed technical case, on-chain indicators suggest the asset is on the verge of a bull market.
Further supporting the bull case, the fundamentals seemingly seem skewed in favor of Bitcoin bulls. Namely, more stimulus in the U.S. is expected in the weeks ahead.
While the recent rally in the Bitcoin price has been welcomed by bulls, the cryptocurrency remains locked in a macro consolidation pattern. Just check the chart below, which shows the asset basically flatline on a macro basis.
A majority of traders have thus been split over what comes next: polls asking investors if they think Bitcoin will break higher or lower yield 50-50 draws. And data from Bitcoin futures markets indicate that the funding rates of these markets are neither too far positive or negative.
On-chain data, though, is showing that the leading cryptocurrency is on the verge of a strong rally.
Bitcoin Could Be on the Verge of a Surge, On-Chain Data Shows
Multiple on-chain metrics and signals indicate that Bitcoin is on the verge of rallying, according to Ki Young Ju. He is the chief executive of Crypto Quant, a digital asset data platform.
On July 20th, he shared the charts below, identifying three on-chain indicators suggesting it is time to "BUY" BTC. They are as follows:
Bitcoin miners are not selling coins, with addresses tied to these entities not withdrawing many coins.
There have been "no significant exchange inflows from whales so far."
"All exchanges' reserve hit the year-low a month ago and [have kept] that low." This suggests that investors in cryptocurrency are accumulating rather than selling their coins.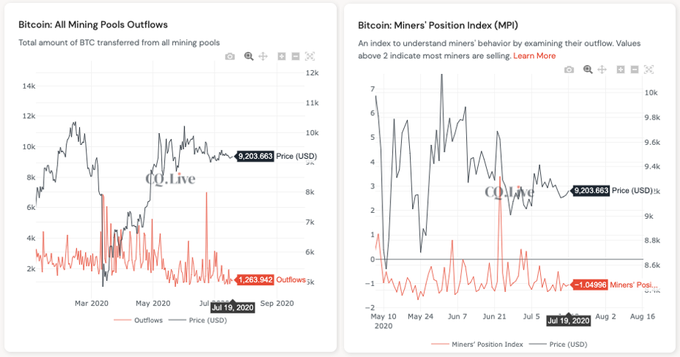 Don't Forget the Strong Fundamentals
Further bolstering the BTC bull case is an ongoing stimulus bill being worked on by Washington. Treasury Secretary Steven Mnuchin says that this bill will start at around $1 trillion, smaller than the last one but still one of notable size.
Analysts in traditional finance and in crypto say that the vast amount of money printing boosts the value proposition of Bitcoin.
As reported by Bitcoinist, the chief investment officer of Hayman Capital Management, Kyle Bass, recently said:
"Silver, Gold, Bitcoin, etc all look to be ready to make explosive moves higher given the sheer amount of money printing going on around the world. Here is a chart or front-month silver going back 10 years."
How far this money printing will push the asset, though, remains to be seen.
Featured Image from DepositPhotos
Price tags: xbtusd, btcusd, btcusdt
Charts from TradingView.com
3 On-Chain Indicators Suggest Bitcoin Is on Verge of a Bull Market