UK's biggest travel management company is now accepting bitcoin for payments after "increasing demand" from clients. The move also hints that its retail travel giant parent-company Flight Centre Group could soon accept BTC company-wide.
---
UK's Biggest Travel Management Company Accepts Bitcoin
Corporate Traveller is the UK's largest travel management company dedicated to partnering with companies with small – medium travel spend requirements.
Now it will be accepting Bitcoin (BTC) and Bitcoin Cash (BCH) payments for its services via third-party payment processor BitPay.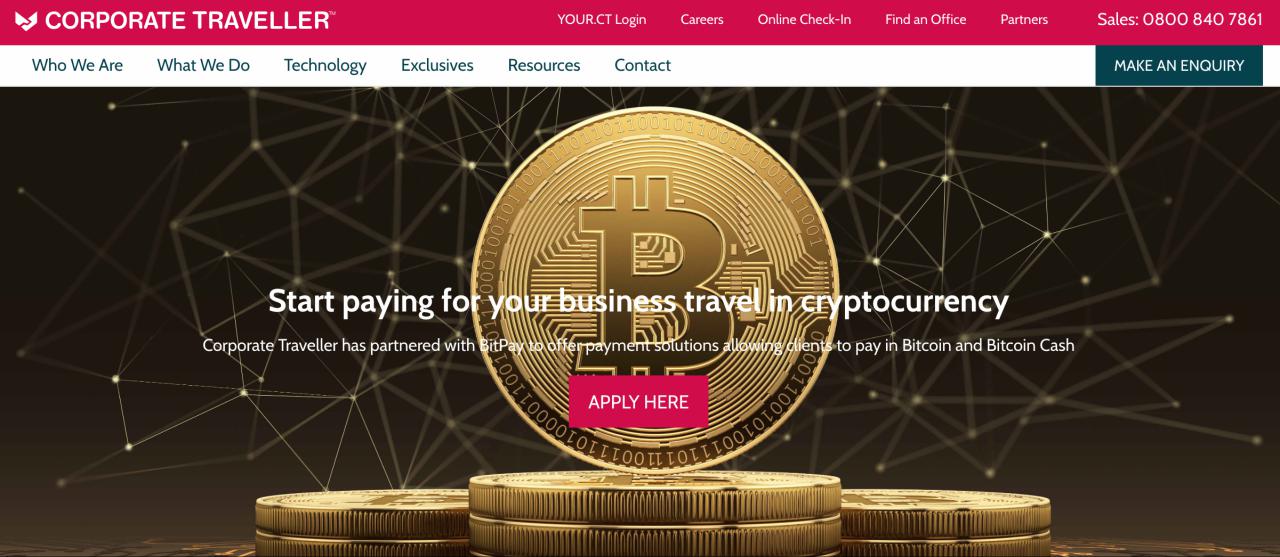 Corporate Traveller UK General Manager, Andy Hegley said:
We identified an increasing demand from our clients for the option to pay in Bitcoin for business travel bookings made by our travel consultants.
"We chose BitPay to manage our merchant processing because they make it easy and handle the entire process of getting the Bitcoin or Bitcoin Cash from the customer and depositing cash into our account," said Hegley.
By using BitPay, Corporate Traveller won't be subject to bitcoin price volatility. The tradeoff, however, is that it won't benefit from Bitcoin network's speed (10-30 minutes) since BitPay's settlement into GBP will take about 2 business days.
Ultimately, though, accepting bitcoin seems more like a PR move. BTC is merely just another payment option for the company who still receives fiat into their bank account without ever handling bitcoin.
Hegley adds:
The blockchain industry is growing exponentially and we are excited to be able to offer our clients the ability to pay in bitcoin, whilst having the reassurance of our settlement from BitPay being in pounds sterling.

We believe Corporate Traveller is the first business travel management company to offer this payment option to SMEs in the UK.
Flight Centre Travel Group Next?
Corporate Traveller operates offices in 20 locations across the UK. At the same time, its parent company Flight Centre Travel Group (FCTG) is the largest retail travel service provider in Australia.
The Brisbane-based retail travel outlet is listed on the Australian Stock Exchange and has around 2,800 retail locations globally. Besides Australia and the UK, it has presence in New Zealand, United States, Canada, South Africa, Hong Kong, India, China, Singapore, United Arab Emirates, and Mexico.
Corporate Traveller, therefore, is testing the waters for possible company-wide adoption of bitcoin.
"All the time people ask if we accept Bitcoin… Mainly international students and tourists already here trying to book more flights," an employee at an Australian fight centre travel agency explained.
Management knows about it, they'll probably see how it goes at Corporate Traveller, before they let our customers pay with Bitcoin.
Travel Industry Pioneering Bitcoin Adoption
Paying with bitcoin for flights, hotels and travel services in general, has already been possible for years. One of the first companies to pioneer bitcoin acceptance since 2014 was CheapAir.
Last year, CEO Jeff Klee told Bitcoinist that accepting bitcoin has been a "positive experience" for the company, despite issues with third-party payment processors.
Open-source (and self-hosted) solutions such as BTCPayServer can provide merchants with a more custom solution while retaining more control over the processing experience such as better fee estimation.
Kllee explained:
Every new payment method has its own challenges, but accepting Bitcoin has been quite a positive experience for CheapAir overall. Any technical challenges we've faced have been overcome, and have mostly been met with patience and an overall team mentality from the BTC community.
Other platforms such as Travelbybit, and even airlines such as Japan's Peach and AirBaltic have been accepting bitcoin for quite some time now.
Klee also believes that "the longer crypto currencies are around, the more stable they seem and the more likely we'll see additional buy-in from other travel retailers."
Before long, crypto will just be another form of payment. It's going to happen.
Will Flight Centre Travel Group accept bitcoin company-wide? Share your thoughts below!
---
Images via Shutterstock, Corporate Traveller