This may sound like a broken record but it's been a strong year thus far for altcoins compared to Bitcoin. Just look at the chart below, which shows that since the start of the year, BTC has underperformed many altcoins.
Yet an analyst is expecting a strong correction in the altcoin market over the coming months, echoing the sentiment of many commentators.
Altcoins May Plunge Against Bitcoin, Analyst Warns
According to the trader that accurately predicted that Bitcoin would bottom 2019's bear trend at $6,400, altcoins could see a "large correction."
He shared the chart below on July 4th, showing that Bitcoin dominance — the percentage of the crypto market made up of BTC —  could hit 76% in 2020. That would result in a massive correction in the altcoin industry, with most likely falling by ~30% or more.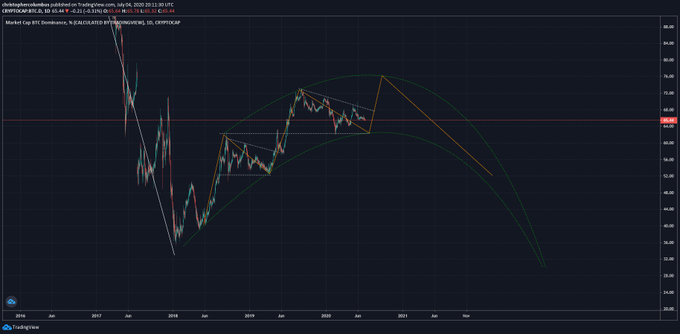 The analyst who shared the chart above isn't the only current bear on altcoins.  Jason Calacanis, a prominent angel investor well known for investing in Uber, Robinhood, and Trello. He said late last month:
"Historically, 99% of crypto projects are garbage run by unqualified idiots, delusional but below average founders or grifters… the 1% that are not, could change the world. I'm waiting for that 1% to deliver their product so I can talk to their customers. you got customers?"
Prominent Crypto Fund Begs to Differ
Despite the sentiment against altcoins as investments, a prominent industry fund is still optimistic about digital assets aside from Bitcoin.
Pantera Capital, one of the earliest blockchain-centric funds and the earliest in the U.S., released its June report two weeks ago.
In it, company CIOs Dan Morehead and Joey Krug said that while they see upside in Bitcoin, they expect lots of value to accrue in altcoins.
"With proper selection, one can outperform bitcoin with a diversified portfolio including both large caps like bitcoin and ethereum and small to mid-cap alts even in the early innings of a bull market."
The duo said that fundamentally speaking, the crypto ecosystem has "matured over the past three years," separating the "wheat from the chaff."
What they see as "wheat" is "non-debaseable store-of-value and decentralized finance." Morehead and Krug explained further:
"We're also focused on protocols that are enabling real world financial use cases and believe that most value will accrue to these assets on a long-term basis compared to utility/payment tokens."
As an aside, the company's outlook on Bitcoin is rather bullish.
They wrote in a separate letter earlier this year that BTC is likely to hit a new all-time high in 2020 or by early-2021.
The predicate of this optimism, according to them, is the fact that central banks are now printing more money than ever before. With BTC touting a fixed supply cap of 21 million coins, it stands to greatly benefit from an injection of literally trillions of dollars into the world economy.
Featured Image from Shutterstock
Price tags:
Charts from TradingView.com
An Accurate Bitcoin Analyst Expects a "Large" Correction in Altcoins