Bitcoin is stagnating in the high-$11,000s once again despite Ethereum breaking higher.
BTC trades at $11,800 as of this article's writing, meaning the asset remains below the critical $12,000 level.
An analyst thinks Bitcoin is poised to move to $14,000 in the near future.
The analyst in question is one that has been historically accurate with his price calls. He famously predicted BTC would bottom 2018's bear trend at $3,200 months before it did.
Others think that BTC is primed to move to $14,000, citing technical and fundamental reasonings.
Bitcoin Could Move to $14,000 Very Soon: Analysts
There have been multiple bearish analyses thrown around over recent days as Bitcoin fails to break above $12,000. According to one trader, though, these analyses should be of no concern.
He shared the message and chart below on August 14th. It suggests that Bitcoin's current price action looks like textbook re-accumulation in an uptrend. Periods of re-accumulation are often followed by strong uptrends, as the trader depicts in the chart below.
Discussing how Bitcoin could soon reach $14,000 due to the ongoing re-accumulation, the trader wrote:
"#btc daily looks amazing now, more sideways in what imo is reaccumulation above a key breakout and I'm seeing beras not only posting bearish charts but some even calling for sub 3k again. What planet are you guys from?"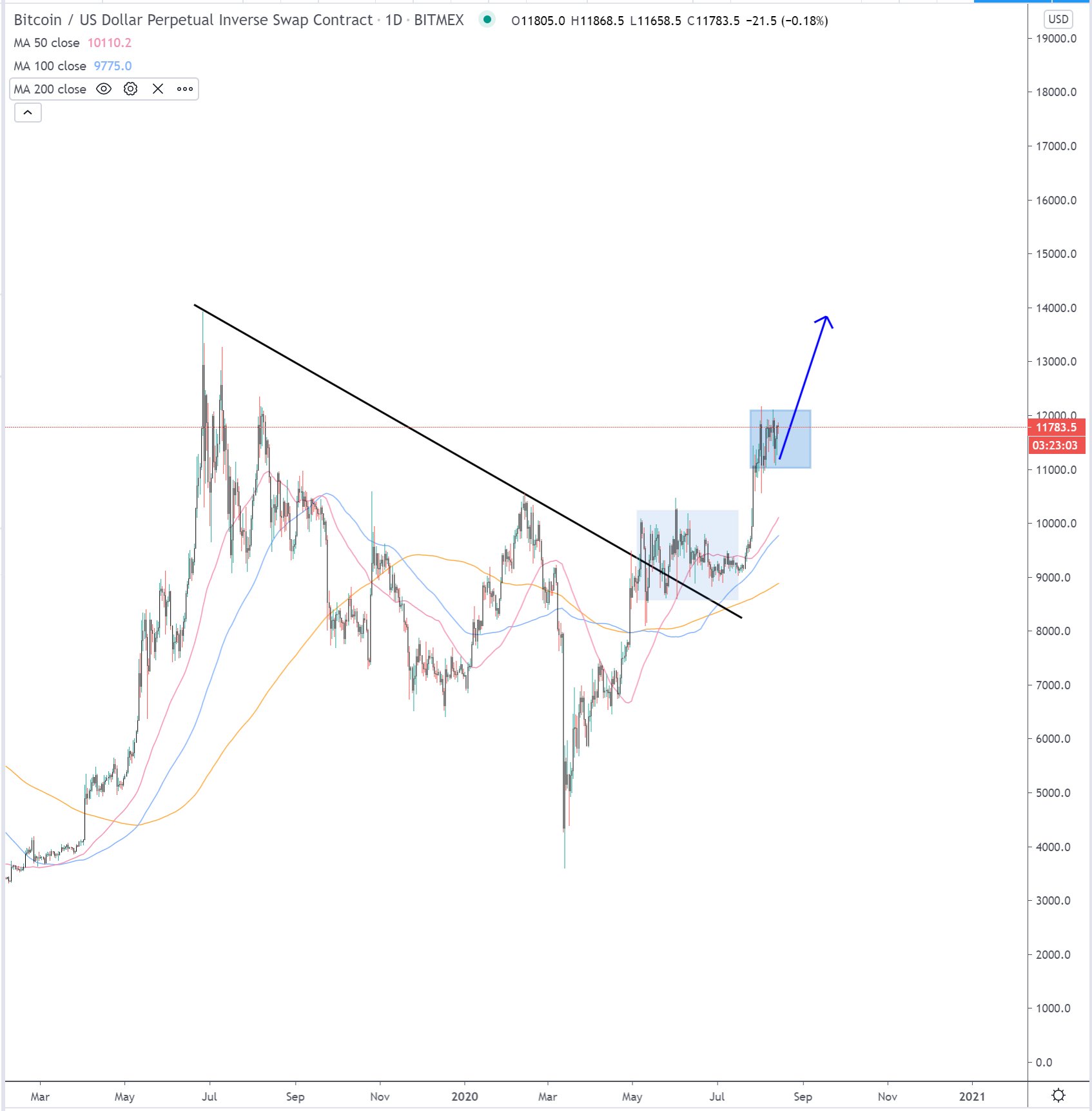 Chart of BTC's macro price action (since the start of 2019) with an analysis by crypto trader "SmartContracter" (Twitter handle). Chart from TradingView.com
The aforementioned trader isn't the only historically accurate individual to have made the call that Bitcoin is likely to move higher.
An individual that predicted Bitcoin would see a V-shaped reversal at the March lows shared the below analysis at the end of July, before the ongoing rally:
"$BTC giving the cleanest breakout-retest setup I have seen in a very long time whilst each corrective wave since 4K has been vertical re-accumulation This has all characteristics for a strongly extended fifth – aside from BTC generally loving extended fifths."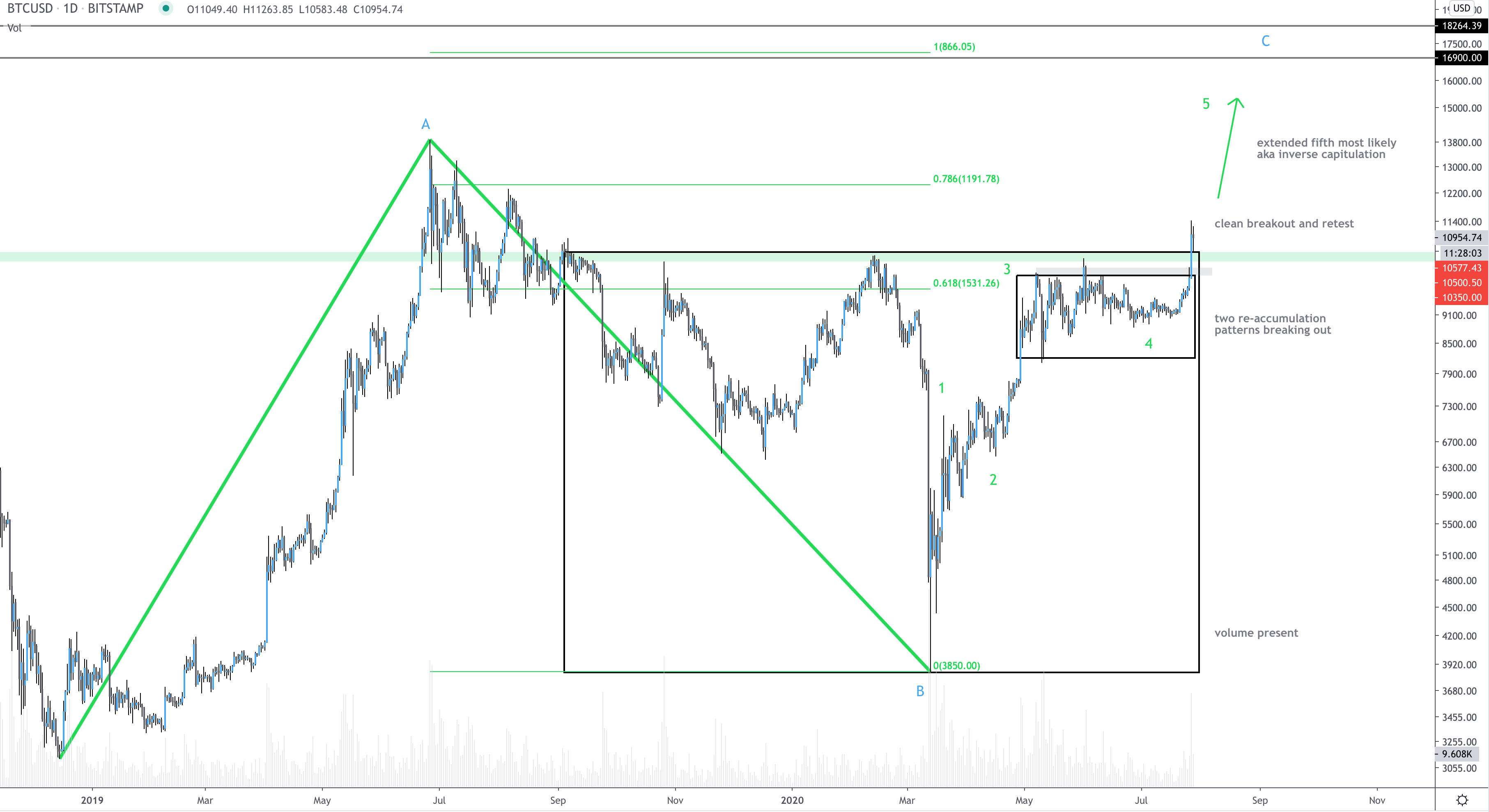 Macro Trends Are in BTC's Favor
A key reason why there are so many Bitcoin bulls is due to macro factors and the fundamentals of the cryptocurrency.
Mike Novogratz, the chief executive of Galaxy Digital, said to CNBC earlier this month that he thinks the Federal Reserve's money printing is driving capital and interest towards gold and Bitcoin.
Novogratz added that he thinks the asset is poised to hit $14,000 in the coming months, then $20,000 before the year ends.
There's also the news that the company MicroStrategy bought $250 million worth of Bitcoin that should help to bolster the bull case.
Featured Image from Shutterstock
Price tags: xbtusd, btcusd, btcusdt
Charts from TradingView.com
Analyst Who Predicted Bitcoin's 2018 Bottom Expects a Move to $14k