All cryptocurrencies, from Bitcoin and Ethereum to smaller altcoins, have been rallying over the past few weeks. Just last week, Ether hit a high of $225 — up more than 150% from the lows seen during March's capitulation.
This move has convinced analysts that more upside is in the works for all cryptocurrencies. Yet an accurate trader that managed to predict price action that others didn't is fearful of an Ethereum crash.
Ethereum Could Plunge, Top Analyst Suggests
In the middle of February, when the cryptocurrency market was at a multi-month high, a majority of investors were calling for new highs.
So when a prominent crypto trader said that XRP, then at $0.27, was on the verge of falling by 50% towards a "potential long-term bottom" between $0.13 and $0.15, many shunned the sentiment.
The same trader is now calling for Ethereum to fall to $40-45, noting how the cryptocurrency is in a textbook "corrective pattern." The prediction that Ether will fall 80% in the months ahead was found using Elliot Wave analysis.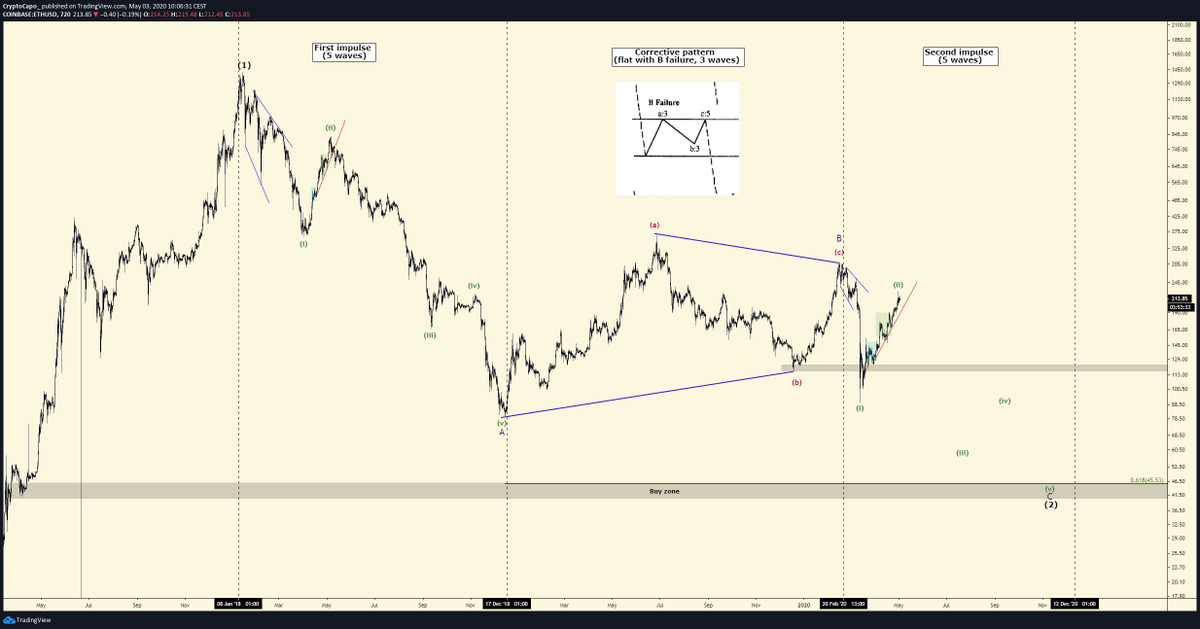 All Eyes on Bitcoin
While the trader's abovementioned analyst has credence due to his track record, Ethereum's trajectory is largely dependent on Bitcoin.
And right now, Bitcoin's trajectory is bullish.
Per previous reports from Bitcoinist, the MACD just flipped bullish on Bitcoin's one-week chart, suggesting a medium-term bull rally.
The MACD turning bullish on the one-month has marked the start of strong rallies in the past.
In 2017, the indicator flipped green at $2,000 to mark the start of a 1,000% rally to $20,000. At the start of 2019, Bitcoin rallied 300% when the indicator trended green in January. And just recently, it flipped green prior to BTC rallying from $8,000 to $10,500.
Ethereum Gets Massive Fundamental Boost
This bearish analysis aside, Ethereum has recently seen an influx of positive fundamental events.
Announced by Katie Haun and Chris Dixon, Andreessen Horowitz (a16z) — a VC firm known for its investments in Twitter, Slack, Lime, Instagram, and many other big companies — just finished its fundraising for the firm's second crypto fund.
Venture investor Andrew Kang believes that Ethereum could be one of the biggest beneficiaries of this new fund.
The investor interpreted a16z's announcement that it will be focusing this capital on "next-generation payment" projects as a sign that they will be "investing in ETH, the stablecoin settlement layer."
A16Z is investing in payment blockchains

AKA

A16Z is investing in $ETH, the stablecoin settlement layer https://t.co/JfQGEkeFtq pic.twitter.com/xDIkbNy40v

— Andrew Kang (@Rewkang) May 1, 2020
Considering a16z's previous investments in the space, Kang's assertion may be correct.
The venture fund's first crypto fund made large investments into Ethereum, stablecoins, and decentralized finance.
A16z's Ethereum wallet, for instance, holds $19 million worth of ERC tokens like MakerDAO's MKR and Synthetix, while the fund made direct investments into Ethereum projects like Compound, dYdX, and TrustToken.
Should a16z's Crypto Fund II follow a similar format, countless projects based on Ethereum and potentially Ether itself could benefit greatly once investments start rolling.
Photo by Francisco Gonzalez on Unsplash