Bitcoin is just half a day into this week, but the cryptocurrency is already off to a bad start.
As of this article's writing, BTC is trading at $8,600 — just shy of 10% below last week's high around $9,500 and 4% lower than where the asset started the week. It's a reversal that has analysts fearing a larger drop.
Despite the drop thus far, a simple yet notable technical factor just appeared that could boost the efficacy of the bull case. The factor is the same one that marked the start of an over 300% rally in Bitcoin's price during 2019.
Bitcoin Flashes Notable Buy Signal
With there being no cash flow statements and balance sheets to scrutinize to value Bitcoin, analysts have turned to the next best thing: technical analysis.
A staple indicator to TA is the Moving Average Convergence Divergence (MACD), which is described as an indicator revealing "changes in the strength, direction, momentum, and duration of a trend."
Just recently, as Bitcoinist marked in the chart below, the MACD flipped bullish on Bitcoin's one-week chart, suggesting a medium-term bull rally.
The MACD turning bullish on the one-week has marked the start of strong rallies in the past.
In 2017, the indicator flipped green at $2,000 to mark the start of a 1,000% rally to $20,000. At the start of 2019, Bitcoin rallied 300% when the indicator trended green in January. And just recently, it flipped green prior to BTC rallying from $8,000 to $10,500.
This historical precedent suggests that the crypto market is on the verge of its next parabolic rally.
The MACD Is Backed Up By Other Signals
The MACD cross into the green territory is part of a wider convergence of positive fundamentals and technicals for Bitcoin in the past few weeks.
Per previous reports from Bitcoinist, Bitcoin closed its monthly candle for April above one of the Ichimoku Cloud's key levels.
This is relevant for BTC because the last time Bitcoin claimed this technical level was in early 2016. What followed this occurrence last time was a nearly 4,000% rally from around $500 to the $20,000 all-time highs within 20 minutes.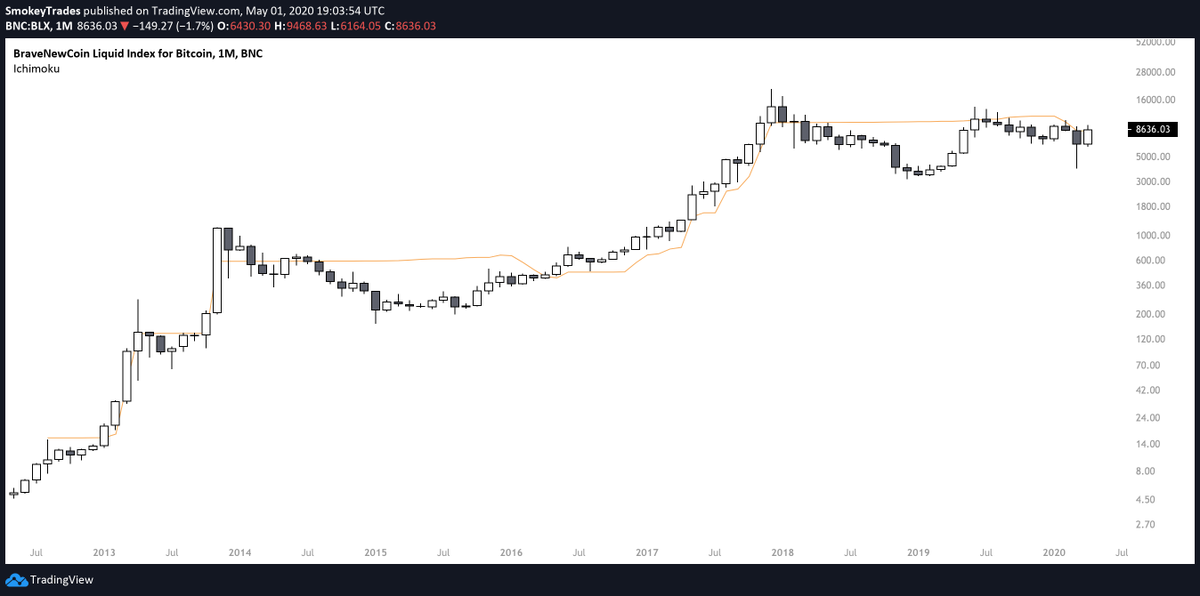 Also bullish, Fundstrat Global Advisors — a top market research outfit in New York — wrote in a note last week that it expects for Bitcoin to hit $14,350 in the coming 12 months. That would be almost a 100% rally from current levels.
The firm cited the halving as a positive catalyst:
"We're bullish over the next 12 months and expect prices may continue moving up into the [halving] and possibly after."
Thomas Lee, a co-founder of Fundstrat Global Advisors, also mentioned that Bitcoin's year-to-date performance proves that it is not only benefiting from the halving, but is also acting as a "solid risk-on asset and as a hedge against calamity."
#Bitcoin has acted extremely well. YTD, it is outperforming equities by a sizable margin. So proving itself both as a solid risk-on asset (look at today) and as a hedge vs calamity.

– we are also positive on the supply/demand impact from the upcoming halvening

we are #BTFD

— Thomas Lee (@fundstrat) April 30, 2020
Photo by Waranont (Joe) on Unsplash