Just 3 days after their clash with Sacramento Republic FC at home, LA Galaxy continue their bid for the US Open Cup as the grueling rematch against the San Jose Earthquakes approaches on Saturday, July 1, 2017. A perfect opportunity to catch a saucy bet on either end of the spectrum of this battle. Click here for some incredible odds.
---
Epic Rematch: LA Galaxy vs. San Jose Earthquakes
Following Galaxy's defeat to Sporting Kansas on Saturday after an 8 game winning streak in MLS, the Los Angeles-based soccer team have a serious statement to make. Since La Galaxy's lead up to their first competitive clash with Sacramento Republic FC, the build-up to take on the Quakes has not been lacking for the fans, similarly to punters across the community looking to profit from the series of stakes lined up.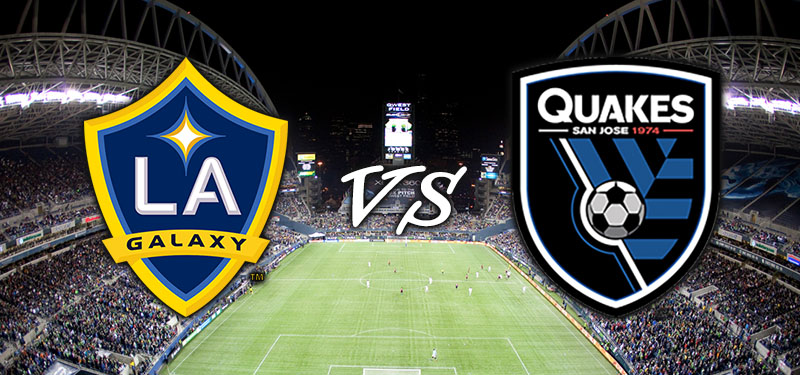 Saturday 1st will mark the second California Classico of 2017 following LA's 4-2 win over the opposition at the Avaya Stadium earlier this year as Giovanni Dos Santos pulled Galaxy to victory with increasing build-up in attention around the 28-year-old Mexican Midfielder. Can he repeat another impressive performance and create the difference in this weekend's clash to edge LA Galaxy forward above the San Jose Earthquakes?
With not much rest on the books either, the San Jose Earthquakes are also kept on their toes for this weekend's clash. After the Seattle Sounders failed to leave in impression unable to recover from an early yellow card, the San Jose boys are enjoying a morality boost against Galaxy due to their 2-1 win on Wednesday. Bookies have been extra generous, it's an excellent time to have a punt with a spare coin or two. Asian Handicaps are also available here.
Copa Brazil: Palmeiras vs. Gremio
While the US Open Cup may seem like the limelight event of this exciting weekend of sport, there is plenty more to be excited about. There are eight teams left viciously facing off in the exciting as always Copa Brazil draw this year, arguably one of the hardest titles to win across the globe. While being Brazil's second most important league, the promising match-up of Palmeiras vs. Gremio in this weekend's Brazilian Serie A clash will offer some equally succulent odds to punt on. Betting with Bitcoin has never been more eventful looking at the impressive roster presented for the weekend.
With an impressive line-up, Palmeiras got the better of Cruzerio to earn their spot as the respected opposition of Gremio. This year, the Brazilian Serie A would be an ideal opportunity for a cryptocurrency accumulator, due to generous odds on either side of the table. Seasoned punters will without a doubt be diving head in for a Brazilian Serie A accumulator to spice up the weekend.
Tightly compared to LA Galaxy's obstacle in the form of San Jose, Palmeiras certainly do not have a smoother sail ahead – that would be biased, to say the least. Comparing the US Open Cup to the Brazilian Serie A  is like critiquing a dessert contest between Tiramisu and a bowl of fruit. While both leagues are prestigious in their own ways, the latter has a unique legacy which has been keeping the spirit of fans all over the world alive. How about a combination of scorecasts from the two? Click here to see some incredible options.
Last weekend's 2-1 scorecard respectively gave Palmeiras a boost to 4th, however with 10 points behind the leaders there is no time to rest. Purely judging from an on-paper perspective as well as this season's hints as for future events so far, it is clear that the visitors are in for a difficult evening with Palmeiras looking like favorites.
The Brazilian battle looks to present fans with some of the best attacking players in the league, which will surely leave no lack of goals to be scored from the early stage of the game. Four of the last five games with both teams scoring has created an average of almost 3.5 per game – a perfect opportunity to multiply your coins. Our personal prediction will be a 4-1 victory for Palmeiras, what is yours?
In a betting mood? For the best odds in town, visit SportsBet.io. They offer an easy to use interface that is lightning fast and the most flexible Bitcoin betting options. You can wager as little as 0.1 mBTC all the way up to 100 BTC. Sign up today for exclusive welcome offers and other bonus promotions.
---
Images courtesy of Shutterstock