On-chain data suggests Binance has seen some sharp growth in its Bitcoin dominance over the past couple of years, leading to the crypto exchange now holding more than 22% of the total reserve.
Binance Observes Growth Of 120% In Bitcoin Balance In Just The Last 2 Years
According to the latest weekly report from Glassnode, the crypto exchange now holds 22% of the total exchange reserve, a pretty significant amount.
The "all exchanges reserve" is an indicator that measures the total amount of Bitcoin present in the wallets of all centralized crypto exchanges.
The BTC "dominance" of an exchange here refers to the percentage share of the all exchanges reserve that the firm in question holds.
At present, the largest crypto exchange by market volume is Binance; here is how its Bitcoin dominance has changed over the last few years: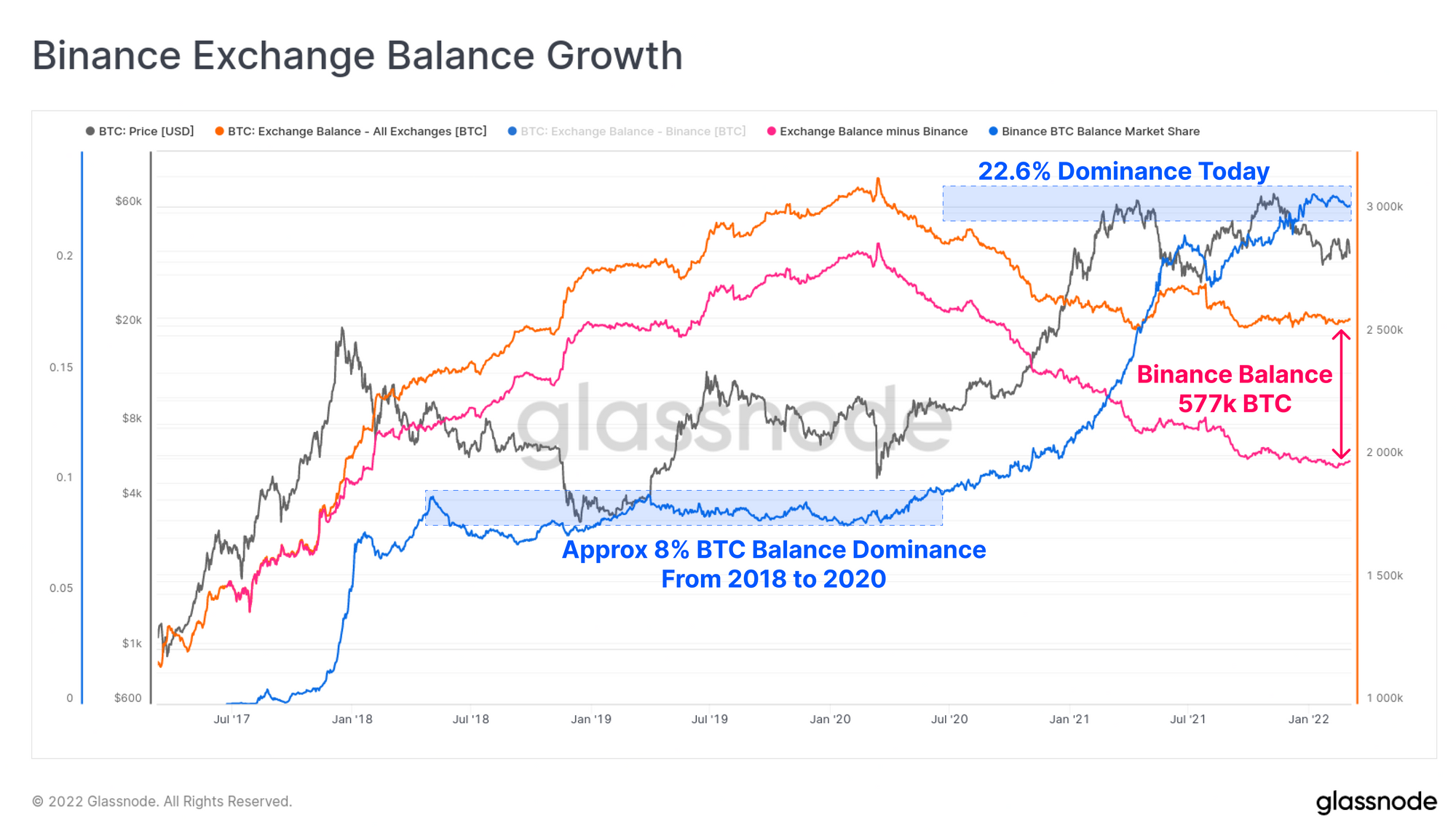 Looks like the value of the indicator has gone up over the past two years | Source: The Glassnode Week Onchain - Week 10, 2022
As you can see in the above graph, the Binance Bitcoin domination used to be around 8% from 2018 to 2020. However, in the last couple of years, the exchange's dominance broke the stagnation and enjoyed some sharp growth.
The crypto exchange's BTC balance now stands at 22.6% of the total exchange supply, meaning it holds around 577k BTC today.
Related Reading | No. 2 Target? Russian Binance Users Reportedly Blocked From Buying Crypto With Ruble
Other than Binance, three major exchanges have also observed growth during the period. Namely, FTX, Bitfinex, and Bittrex.
Some popular exchanges like Coinbase, Gemini, Huobi, and Kraken, however, have seen diminishing dominance in the past two years.
Huobi's decline, especially, has been the largest out of all these, going from about 400k BTC in March 2020 to just 12.3k BTC at the moment.
Related Reading | Bitcoin For A Tank – Hacker Group Offers $52,000 For Russian Troops To Surrender Their Tanks
The report suggests that half of this decline seems to have been caused by China's crackdowns on Bitcoin mining.
BTC Price
At the time of writing, Bitcoin's price floats around $38.9k, down 10% in the last seven days. Over the past month, the crypto has lost 11% in value.
The below chart shows the trend in the price of the crypto over the last five days.
BTC's price seems to have mostly moved sideways in the last few days | Source: BTCUSD on TradingView
The price of Bitcoin saw a plunge a few days back, but has since consolidated sideways in the past couple of days. At the moment, it's unclear when the value of the coin may break out of this range, or which direction it might escape into.
However, considering the macro uncertainties looming over the market due to the Russian invasion of Ukraine, signs aren't looking in the crypto's favor.
Featured image from Unsplash.com, charts from TradingView.com, Glassnode.com