Binance Coin (BNB) is standing out as the best performing cryptocurrency among the the top 10 right now, having secured a 29% gain over the last 2 weeks. Analysis suggests further upside movements could play out over the coming days and weeks.
---
Binance Coin Daily Analysis
On the daily chart, we can see the pull-back stemming from 0.0044 sats at the beginning of July that resulted in price levels retracing back to the current market price. This pull-back resulted in BNB losing over 40% of its value.
Since then, the volume on BNB has seen the largest spike in recorded history around the current market price, resulting in little to no immediate impact on price levels. This leads me to believe heavy accumulation is occurring.
Price action appears to have formed a descending wedge with the resistance line sitting around the 0.5 fib at 0.0030 sats. Providing this resistance point is broken soon, and the large volume spikes continue it's highly likely a breakout will take price levels to back up towards their ATH at 0.0048 sats. POC (Point of Control) at 0.0038sats will be a realistic short-term target to pursue in the meantime.
Hourly Analysis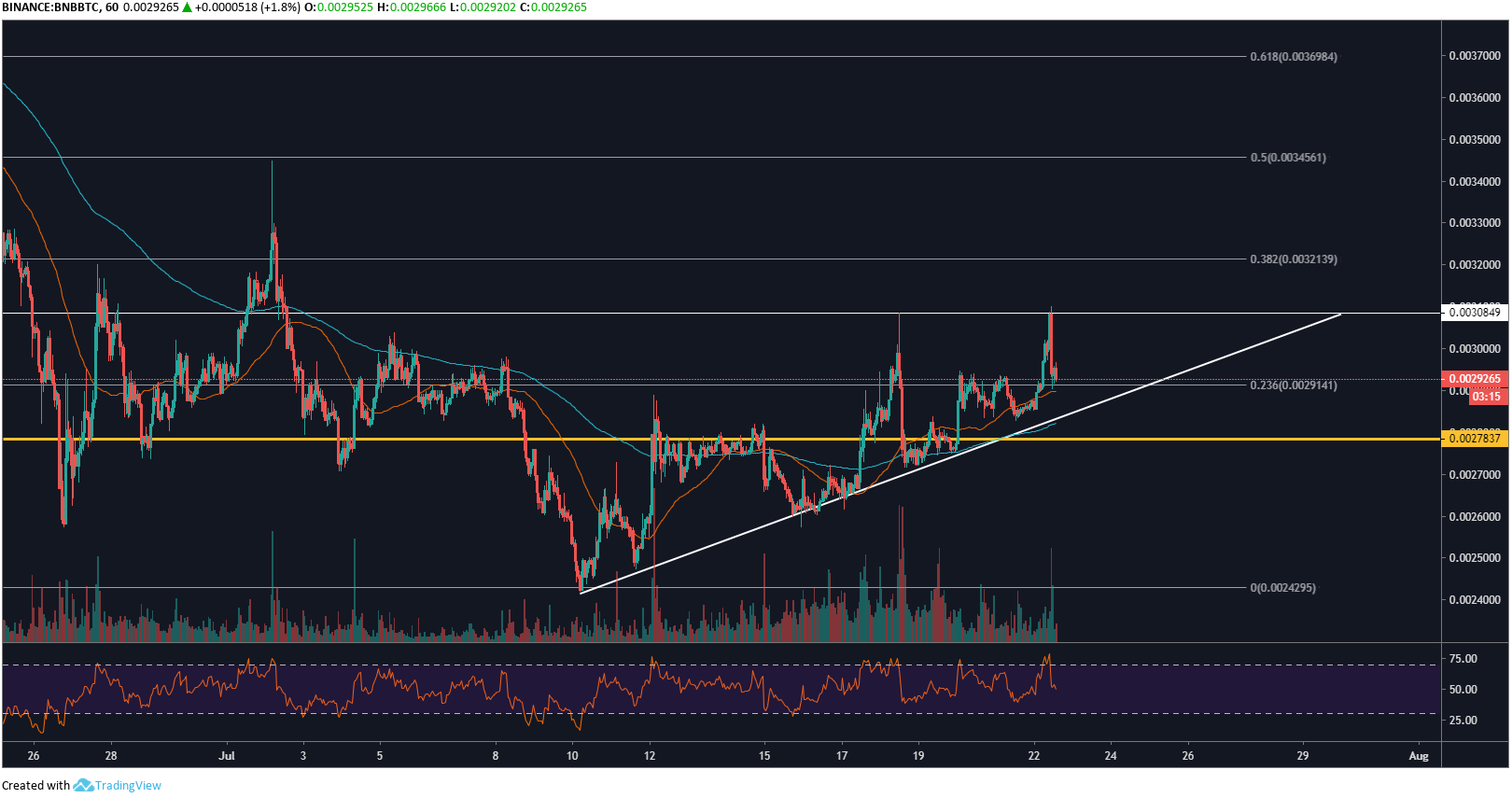 On the 1 hour chart, we can see an ascending triangle has formed in the most recent 29% move to the upside. Clear ascending support highlighted on the chart provided can be used to gauge whether Binance Coin will likely break resistance at 0.0030sats, or break-down and create a new lower low presenting an easy stop loss. Volume is noticeably higher than volume levels seen throughout June and the beginning of July. Since the volume levels are so high it's crucial to monitor BNB's price action for entry to capitalize on the new influx of volume.
In my previous analysis on Binance Coin just 9 days ago, I pointed out a potential bullish divergence. This seems to be playing out perfectly so far as price levels have risen drastically since then.
In order for a bullish break of the ascending triangle to play out and consequently result in price levels rising, there will need to be a continuation of the growth of the current volume levels. If volume levels plateau here and proceed to drop back to volume levels seen throughout the beginning of Summer, it will likely not be enough to sustain a bullish breakout.
Do you think the new influx of volume will be enough to drive price levels back towards the all-time high? Please leave your thoughts in the comments below!
The views and opinions of the writer should not be misconstrued as financial advice. 
---
Images via Shutterstock, BNB/BTC charts by tradingivew