Despite the 150% rally from the March capitulation lows, there remain many that remain macro bearish on Bitcoin.
Take the example of Peter Schiff, the CEO of Euro Pacific Capital and a prominent gold proponent. He recently argued that while he expects gold to rally, he still thinks Bitcoin is embroiled in a bear market. Schiff went as far as to say that BTC's 2018 lows of $3,200 are unlikely to hold for much longer.
Fortunately for the bull case, a crucial technical signal that preceded BTC's macro rally in 2016/2017 is about to be registered by Bitcoin.
Bitcoin Will Soon Confirm a Crucial Buy Signal
According to a crypto analyst, Bitcoin's macro Moving Average Convergence Divergence (MACD) is about to cross green on the monthly time frame.
Should this take place, it will mark a large win for the bull case. For instance, prior to the rally from under $1,000 to $20,000 in late-2016/2017, BTC formed this signal. And prior to the rally to $14,000 in 2019, this signal was formed.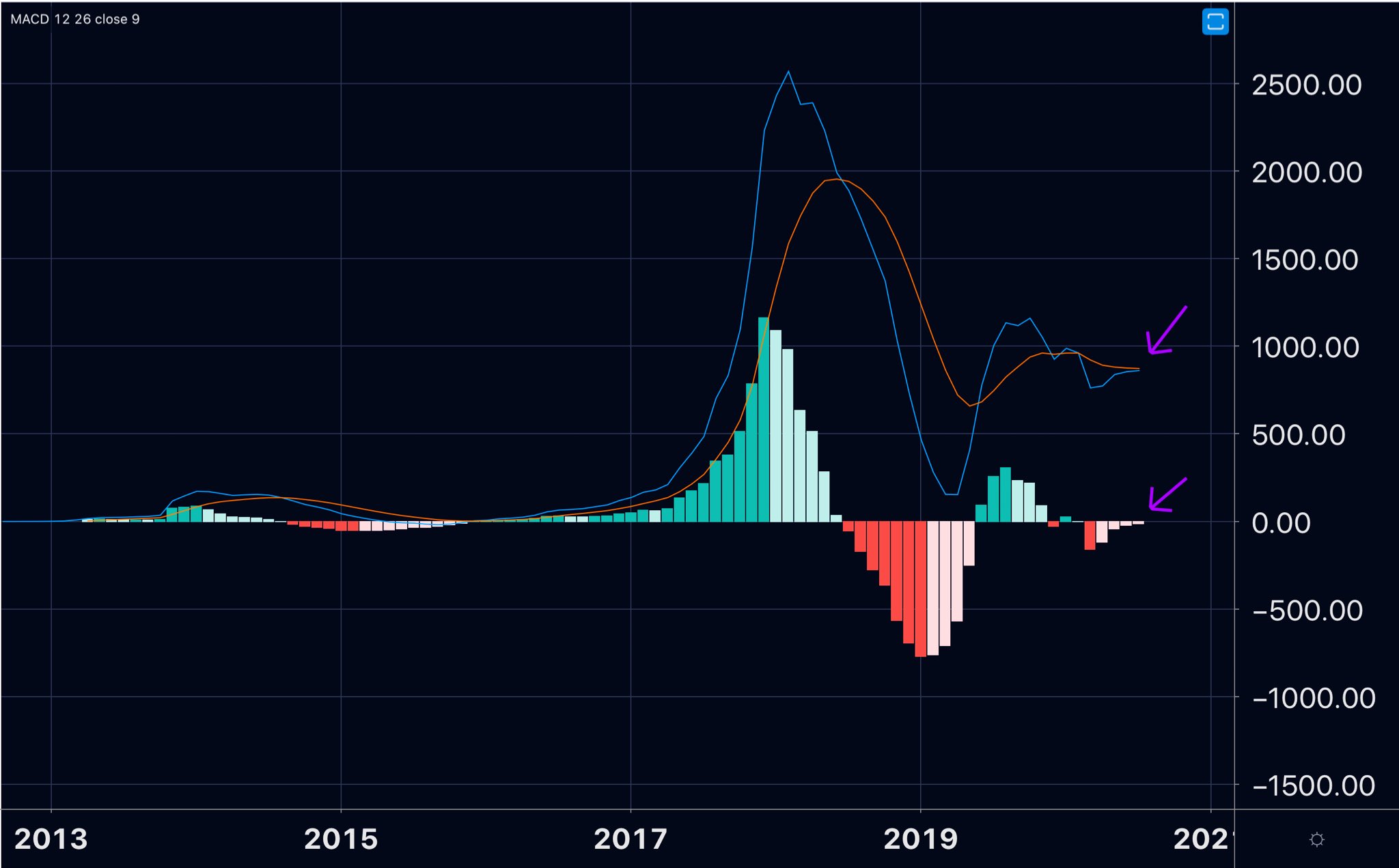 The potential cross in the MACD isn't the only signal that is supporting the long-term bull case.
This past Sunday, digital asset manager Charles Edwards noted that his indicator, the Hash Ribbons, printed a "buy" signal:
"#Bitcoin Hash Ribbons "Buy" signal just confirmed. The post-Halving signal is particularly special.  It will probably be a very long time until the next occurs. …and so the great bull run begins."
This is important as the signal has preceded parabolic rallies in the price of BTC. Edwards found in an analysis published last year that the gain-to-peak of the indicator's "buy" signals comes out to an average of 5,520%.
Booming Fundamentals
The fundamentals are equally as bullish, analysts have said.
As reported by Bitcoinist previously, Nexo's Antoni Trenchev argued that Bitcoin is still poised to hit $50,000 by the end of 2020. He attributed this strong sentiment to the presence of money printing by central banks and the block reward halving:
"So yes, I'm sticking to my prediction of 50K until the end of the year. I appreciate that it is a bold statement, but the fundamentals are there and the momentum is shifting there as well," Trenchev concluded to the Bloomberg journalist.
This optimism has been echoed by Adam Back, the chief executive of Blockstream.
The long-time industry executive and programmer told Bloomberg in a July interview that BTC will hit $300,000 in the next five years. Like Trenchev, Back also mentioned money printing, but added that bonds and real estate likely have low risk-return ratios.
Back is also a fan of PlanB's stock to flow model for the Bitcoin price, which predicts that the asset will rally to $100,000-288,000 in the coming years due to the halvings.
Featured Image from Shutterstock
Price tags: xbtusd, btcusd, btcusdt
Charts from TradingView.com
Bitcoin to Soon Confirm Buy Signal That Preceded 2017's 2,000% Rally