Last week was a miserable week for Bitcoin and crypto investors as the markets continued to shed their market cap. This week the bears have continued to win the battle against the bulls pushing the price of BTC and most altcoins further South. Questions remain unanswered, what is causing the drop in the markets? And are positive signs on the horizon?
---
The State of Bitcoin
The bulls were stampeding in the final months of 2017. The month of December saw Bitcoin approach $20,000. The following month of January saw a correction of epic proportions concluding in February when BTC dipped under $6,000. This was a percentage decrease of over 70% from BTC's December highs to their February lows. The bears seemed to have taken full control of the market back from the bulls.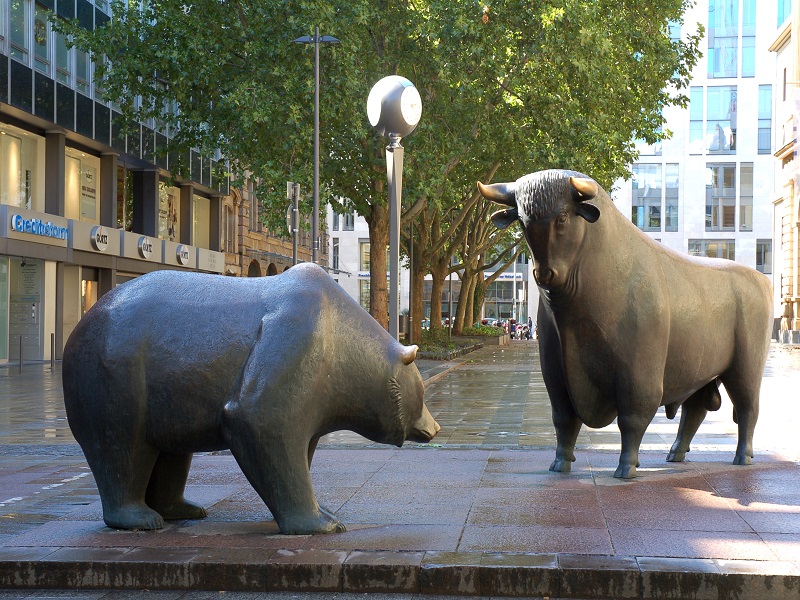 February through the beginning of March saw the bulls build some momentum with BTC building significant steam following the Chinese New Year. This was a short-lived rebound with BTC going from its February lows of under $6,000 to a March 5, 2018, high of $11,600.
By March 9, 2018, Bitcoin was back to under $8,400 and it seemed the bears had regained full control. Today, March 15, 2018, BTC resides at a price of $8,200, only slightly lower than where it was exactly a week ago.
The most important questions to ask are: What events are currently impacting Bitcoin and where is it likely to go in value from here?
Events Negatively Impacting Bitcoin Prices
The last ten days have been filled with multiple negative news events that continue to drive down the value of BTC in the short term. Much of this negative sentiment is caused unnecessarily by the light in which articles are written.
Other events are indeed negative, dramatically shifting the total numbers of buy and sell orders on the market. This prior bearish turn in the market has been precipitated by four large events:
These four events all dramatically shifted the price of Bitcoin and the overall cryptocurrency markets downward in the prior ten days.
Growing Regulatory Framework
Bitcoin was originally developed as a way to revolutionize payment platforms while being able to completely avoid centralized banks. This anarchist mentality is what drove initial cryptocurrency adoption but with major institutions looking to get involved there needs to be a better regulatory framework in place.
Each time the SEC, or any regulatory body for that matter, announces new regulations, even if supporting crypto, the markets react negatively. This negative sentiment surrounding regulations needs to be alleviated as regulations will be the only way institutional investors can add hundreds of billions, if not trillions, to the space.
This week saw the SEC reiterate comments about analyzing ICOs more closely and further regulations of the crypto markets. Bitcoin fell based on this news and drove down the entire crypto market with it.
The SEC was not the only group to comment this week. In the U.K., The Governor of the Bank of England, Mark Carney, called for greater regulation of cryptocurrencies and in Japan, punishment notices were issued to several exchanges while forcing some to halt trading entirely.
Regulations will only benefit and bring legitimacy to the cryptocurrency markets that have been plagued with scams.
Scam ICO – GIZA
Even as the SEC is cracking down on ICOs there are still scams stealing millions of dollars. Giza's recent ICO promised a super secure cryptocurrency wallet and raised over $2 million for it. Then the founders slowly started to disappear and it became evident that Giza was a scam. Another scam ICO, another tarnish on Bitcoin and the crypto world's reputation.
Each scam in the crypto space is publicized multiple times leading to negative sentiment and a drop in the value of Bitcoin.
Mt. Gox Bitcoin Dump
Mt. Gox closed in 2014, filing for bankruptcy after losing approximately 850,000 bitcoins. A trustee of the exchange's assets has been selling large amounts of Bitcoin to pay back creditors.
These tens of thousands of bitcoins being dumped onto the open market have been pushing the price of BTC down for weeks. A recent court holder has demanded that Mt. Gox stop selling any of their assets until their following court date in September.
The massive dump of the Mt. Gox bitcoins onto the open market has resulted in an increased supply without the corresponding increased demand, resulting in Bitcoin's price plummet.
Alphabet Bans Crypto Advertisements
Alphabet is the parent company of Google and earlier this week, they announced that they were going to ban all crypto related ads. Facebook recently did this and Google following suit is not a positive sign for the crypto space.
However, real teams with great projects do not need to advertise to the masses. I do not see stock IPOs advertising on Google or Facebook. It seems U.S. based companies are slowly starting to limit the advertising outreach of crypto, which is clearly negatively impacting market sentiment.
There are still plenty of ample places for crypto ICOs and coins to advertise their platforms and attain market penetration.
A Rebound is Imminent
Bitcoin's price may have taken a beating the past ten days due to major events negatively impacting market sentiment and the price of BTC. However, one thing remains exceptionally clear. Blockchain technology is here to stay.
This week may have had negative events but there were also very positive occurrences, such as Lightning Network mainnet going live, which many investors have not even realized yet.
After countless late nights, lines of code, bug fixes, and memes…

We finally released Lightning for bitcoin mainnet!!! ⚡️⚡️⚡️https://t.co/EsyXWpxIUY

— elizabeth stark (@starkness) March 15, 2018
With SEC regulations come institutional money, so expect a flood of funds to enter the space in the coming months. Mt. Gox cannot sell any of their assets for another six months limiting one of the largest holders of Bitcoin to stagnation.
Lastly, the conference schedule demonstrates that not only are there blockchain and crypto conferences but cryptocurrencies are attending the most expensive and prestigious conferences of the year (example: Money 20/20 Asia).
This week was seen as a negative one for BTC and the price illustrated this. However, the months looking forward look very positive. Market sentiment is exceptionally negative. Fading market sentiment would say to accumulate mass quantities at these levels.
Buy low, sell high. BTC is due for a lovely rebound.
To read the King's prior articles, to find out which ICOs he currently recommends, or to get in contact directly with the King, you can on Twitter (@JbtheCryptoKing) or Reddit (ICO updates and Daily Reports).
Do you agree with the King's findings? Are there other factors at play that are driving down prices? Let us know what you think in the comments below.
---
Images courtesy of Shutterstock