Bitcoin's price has dropped since the highs of this week close to $10,900.
As of this article's writing, the leading cryptocurrency trades for $10,500, a few percent shy of those highs.
Despite this, Bitcoin is actually holding up better than some first thought it would.
The cryptocurrency's ongoing decline comes in the face of a number of fundamentally bearish trends for BTC and the rest of the industry.
These trends are the hack of KuCoin for over $200 million in cryptocurrency, BitMEX getting charged by American regulators, and President Trump catching the illness circulating the globe.
Analysts think that Bitcoin dropping a mere 3-4% in light of these news events is bullish.
In late-August and early-September, the cryptocurrency lost 20% due to failed stimulus talks.
Bitcoin's Resilience In Face of Three Fundamentally Bearish Events Satisfies Analysts
Bitcoin currently trades for $10,550, down a handful of percentage points from the weekly highs near $11,000.  While this price performance is far from bullish, analysts say that it is an extremely positive sign in the macro context.
Bitcoin is down this handful of percentage points despite three fundamental news events that would have sent the cryptocurrency reeling in 2018 or in 2019. These news events are as follows:
President Trump tested positive for the disease currently spreading across the globe, resulting in a loss of bid in markets.
BitMEX is being charged by the U.S. Commodities and Futures Trading Commission over derivatives and anti-money laundering concerns.
KuCoin was hacked for over $200 million worth of cryptocurrency in late September. Such a news event in recent years would have resulted in a strong correction but Bitcoin and altcoins were largely resolute.
It's worth noting that altcoins have not held up as well as Bitcoin has. Top altcoins, including Ethereum, are down over 10% from their local highs while BTC has only slipped 3-4%.
Responding to Bitcoin's resilience in the face of these pivotal news events, one trader shared the chart below: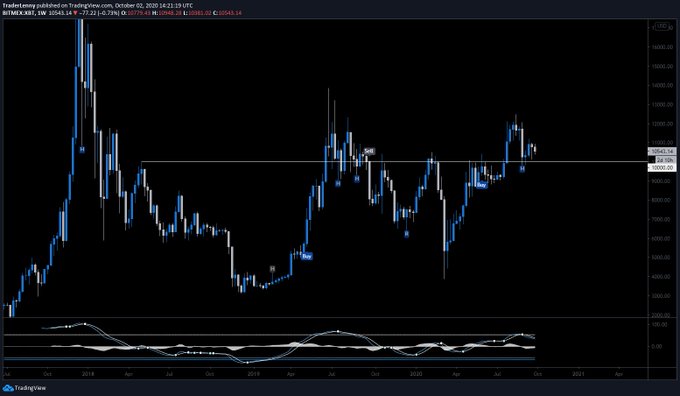 Chart of BTC's macro price action with analysis by crypto analyst Lenny (@TraderLenny on Twitter). Chart from TradingView.com
BTC Must Hold $10,500
The cryptocurrency, even though it remains in a good position in the face of the news, should hold $10,500 moving forward. Analysts have said that $10,500 is an important price level for Bitcoin on a weekly and monthly scale.
First and foremost, the cryptocurrency topped at $10,500 across three separate rallies over the past 12 months. Secondly, $10,500 is where the monthly candle of June 2019 topped, suggesting it is an important technical level for Bitcoin to hold.
Featured Image from Shutterstock
Price tags: xbtusd, btcusd, btcusdt
Charts from TradingView.com
Bitcoin Didn't Plunge Despite 3 Bearish News Events—and That's Bullish