Bitcoin underwent a strong drop last week on news of BitMEX getting charged by the U.S. CFTC.
The cryptocurrency fell from its $10,900 highs to a local low around $10,400. This marked a drop of around 5%.
Bitcoin has since recovered as legacy markets have moved higher, seemingly due to the potential for more stimulus and the safety of President Trump.
BTC may unfortunately revert lower as the asset forms pivotal short-term bearish technical signals.
So many signals appearing in tandem suggests that the cryptocurrency's trend is bearish.
In addition to the pure technical signals, the coin has formed a CME futures gap over the weekend to the downside.
Bitcoin Forms Bearish Short-Term Technical Signs
Bitcoin has climbed a few percent higher since the recent lows around $10,400, to the point where just a day ago, BTC moved just shy of $10,800. The leading cryptocurrency currently trades for $10,740 as it tries to fend off another decline in the wake of the BitMEX news.
According to one trader, the coin is forming a series of bearish short-term technical signals. There purportedly are five signals that he spotted, meaning there's a confluence indicating Bitcoin will move lower.
Signals in this confluence are as follows:
Bitcoin has formed a "gravestone doji candle," marked by a tall upside wick. This wick is a sign that an asset has rejected a range it was attempting to break into.
A Tom Demark Sequential "sell 9" candle. "9" candles as per the sequential are often seen at the inflection point of a trend.
Bitcoin undergoing a rejection at the upper bound of an ascending triangle that has formed from the local lows.
Bearish crossovers in the Stochastic Relative Strength Index and the Fisher Transform indicators on the four-hour chart. These two indicators are indicative of the trend.
He added that Bitcoin has formed a CME futures gap to the downside, as a result of a rally over the weekend. Three-quarters of all of these gaps fill within the week they are formed.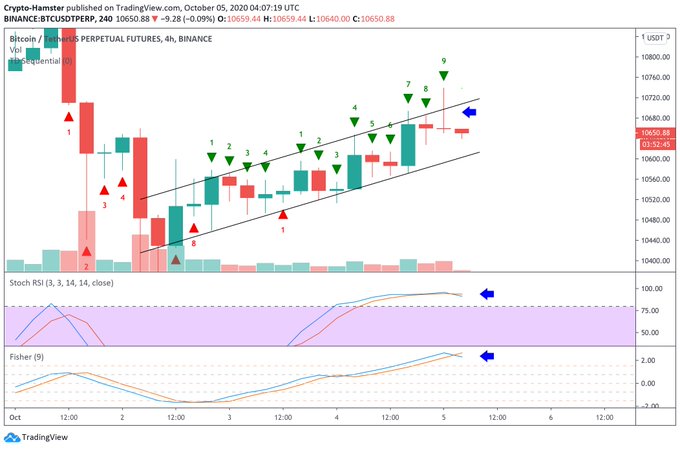 Chart of BTC's price action over the past few days (since the start of October) with analysis by crypto trader Crypto Hamster (@CryptoHamsterio on Twitter).
Chart from TradingView.com
The Resilience of BTC
While BTC does face these technical signs of downside, the asset has been extremely resilient over recent weeks.
Bitcoin is only down a few percent from its local highs despite the three following bearish news events: President Trump catching the disease spreading around the world, BitMEX charged by the CFTC over derivatives and anti-money laundering concerns, and KuCoin getting hacked for over $200 million in cryptocurrency.
Analysts say that the fact BTC is only down a few percent is a good sign that there is an underlying bid in the market.
Photo by Alex H. Pflaum on Unsplash
Price tags: xbtusd, btcusd, btcusdt
Charts from TradingView.com 
Bitcoin Forms Series of 5 Worrying Signals Despite Reclamation of $10,700