Bitcoin price drew closer to $9000 May 30 as fundamentals data revealed the network was nearing new records for hash rate, daily transactions, and block size.
---
Fundamentals Drive BTC Price Higher
According to monitoring resource Blockchain.com, as of press time, Bitcoin's hash rate had beaten off its bear market slump from 2018 to approach a new all-time high.
On Wednesday, the overall hash rate reached just short of 58 million terahashes per second, a number surpassed only a handful of times – such as at the beginning of this month.
The impressive performance follows a slow clawback from activity lows, with hash rate 'bottoming' around the second week of December last year. At the time, BTC was approaching its bear market low of around $3100.
Now, Bitcoin price [coin_price] has rebounded to $8730, but is still far below levels seen in 2017 – despite that, at the time, hash rate was considerably weaker.
As Bitcoinist reported, such a status quo has given rise to suggestions Bitcoin is undervalued, and that its technical strength is now unsurpassed compared with any point in its history.
While the BTC bull market continued through May, sources further noted hash rate was becoming more distributed among smaller mining participants.
"As Bitcoin's Hash Power continues in steady growth nearing highs, major pools whose tussle for solving blocks looks all but plateaued month in, month out," crypto industry newsletter Diar reported.
Smaller mining pools have made significant gains in the past few months as unknown miners either drop off or join a tribe.
At the same time, mining pools overall saw a sharp decline in 2018, likely due to bear market pressure, with the number of functioning pools dropping 40 percent through the year.
Block Size Challenges 2019 Record
Hash rate is becoming a distinguishing factor for Bitcoin versus altcoins, with Bitcoin Cash's recent 51 percent attack sparking accusations its lower hash rate made it more susceptible to malicious actors.
Bitcoin's all-time highs meanwhile saw a mirror move by Litecoin, which hit new records of its own throughout the past several weeks, data shows.  
In other words, economic activity is consistently increasing on the Bitcoin blockchain based on the number of daily confirmed transactions.
As Bitcoinist previously reported, Bitcoin's economic activity is now over 30 percent higher than it was at its all-time high price of $20,000 in December 2017.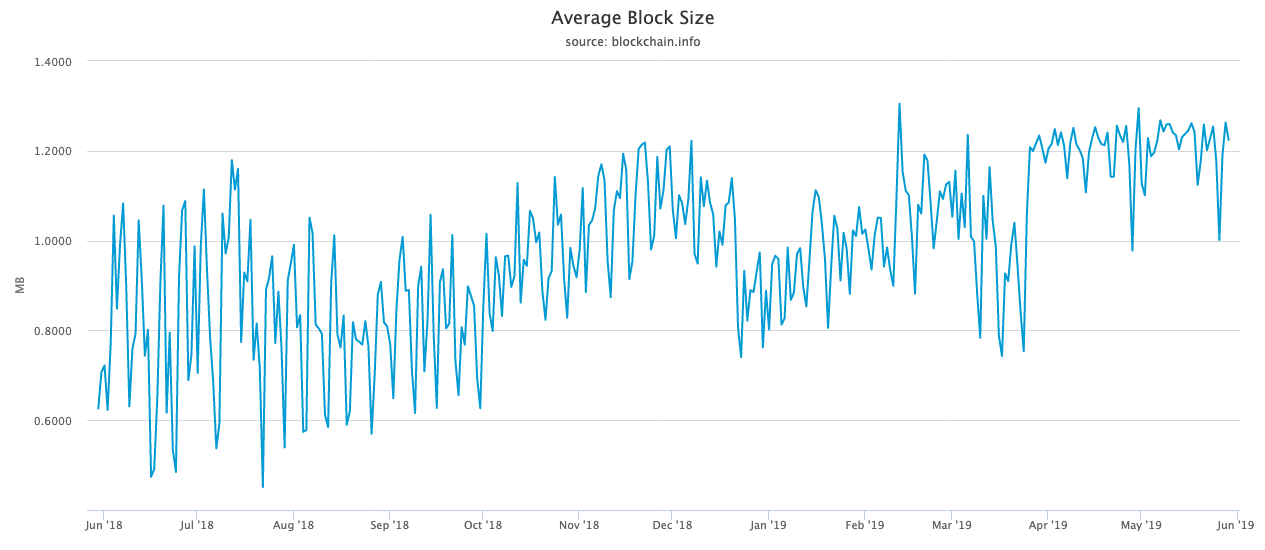 Coming in tandem with hash rate and transaction highs are  also block size highs, Blockchain.com confirms. On Thursday, the Bitcoin network was producing blocks of around 1.25 megabytes each – a phenomenon which only began to appear in 2019.
The largest block ever mined remains that from mid February, which clocked in at 1.305 megabytes, Bitcoinist revealed at the time.
What do you think about Bitcoin's fundamentals? Let us know in the comments below!
---
Images via Shutterstock